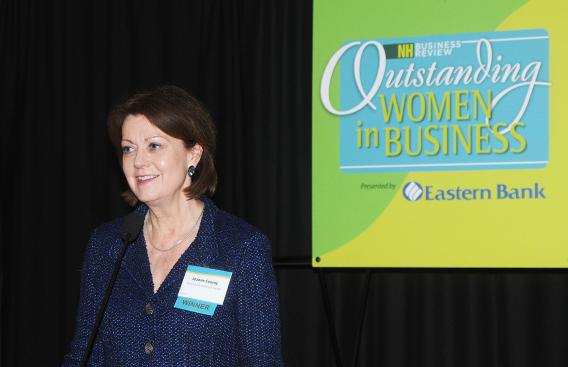 On Wed., February 13, Joanne M. Conroy, MD, CEO and President, of Dartmouth-Hitchcock and Dartmouth-Hitchcock health was named one of NH Business Review's 2019 Outstanding Women in Business during a ceremony at the Manchester Country Club in Bedford, NH. Dr. Conroy, along with five other women business leaders from across the state, was recognized for her professional accomplishments and as a leader and role model.
As noted in the event's program:
When Dartmouth-Hitchcock Health was looking for a dynamic president and CEO during a challenging time, the organization found a leader who exceeded its expectations: Dr. Joanne Conroy.

Having previously strengthened the operational infrastructure and facilities while serving as CEO of Lahey Hospital and Medical Center in Burlington, MA, Dr. Conroy was familiar with prioritizing services yet also recognized that I was through communicating with the board and employees that she would learn what was most important to D-H's team.

Dr. Conroy increased employee engagement through her responsive leadership: expanding D-H's health care plan for employees to cover diabetes medication, for example. She also continued her lifelong goal of encouraging mentorship, educational assistance and the promotion of women to leadership roles.
Each recipient was honored with an award and video presentation from their colleagues, friends and family. They also will be profiled in NH Business Review. Read Dr. Conroy's article here.
For more information about the other recipients and this recognition, visit https://www.nhbr.com/Outstanding-Women-in-Business-Awards/.