By

Bonnie Barber

Photography by

Mark Washburn

February 27th, 2019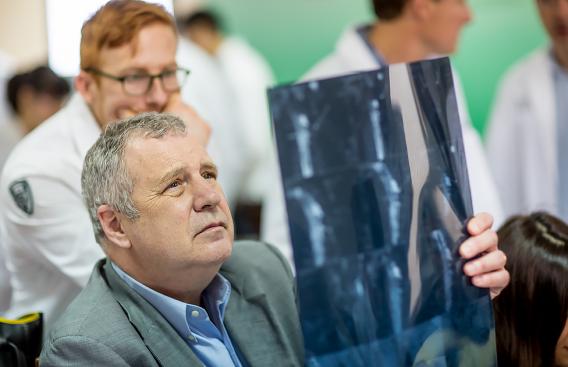 Helping to give children the ability to have a normal smile is pretty incredible.
Gary Freed, MD
A group of 30 volunteers from Dartmouth-Hitchcock (D-H), hospitals and academic medical centers from across the country are headed to Vietnam with D-H plastic surgeon Joseph Rosen, MD, for an annual two-week medical and educational mission. Rosen and his team will be performing reconstructive March 1-15.
"We perform a lot of surgeries where we are creating ears for children born without ears, as well as surgeries for kids born with misshapen heads or deformities of the skull, face, neck and jaw," says Rosen. He adds that he and the volunteers also work with local surgeons on hand reconstruction surgery, which could be transplanting a toe in place of a thumb.
Rosen has been leading trips to Vietnam since 2001 through the Reconstructive International Cooperative Exchange (RICE), an organization he founded to enable surgeons, nurses and residents to volunteer their time and skills. Vietnam National Hospital of Pediatrics in Hanoi was his first partner, because a training program was in place, advanced surgery could be performed there and the hospital and its clinicians were eager to work with RICE. Julien Klaudt-Moreau, MPH, one of Rosen's former research assistants, helps organize the trip as RICE's program coordinator.
While the American medical volunteers perform complex surgeries for grateful patients, medical education is their primary focus. "Our goal is to work with and teach the Vietnamese surgeons so eventually they can perform these surgeries without our assistance," says Rosen, whose team also volunteers at Viet Duc University Hospital, the national trauma hospital, Saint Paul Hospital, and Hong Ngoc General Hospital, a private hospital. "These hospital's surgeons are doing a lot of microsurgery on their own now. And there are many procedures that we were initially showing them how to do that they are now doing better than us."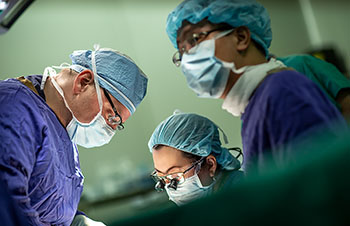 Gary Freed, MD, D-H's Plastic Surgery Residency program director and medical director of the Comprehensive Wound Clinic, first participated in RICE as a resident in 2010. He is making his sixth visit to Hanoi, where he has performed a number of facial nerve reconstructions, that enable more balanced facial movements.
"Helping to give children the ability to have a normal smile is pretty incredible," says Freed. "What also makes this trip great is that the team goes back every year, so we get to follow-up with patients. We'll do nerve grafting one year and then go back the following year and do the muscle graft. So, you get to see the results over the years as the patients recover."
Freed describes the Vietnam medical mission as a "two-way interaction—the Vietnamese surgeons are incredibly skilled and have techniques and skills to offer us. But we can offer treatments that patients may not have been able to afford and that's very rewarding. And because the team knows you're coming back, there's a good trust with the Vietnamese physicians, and you get to have discussions with them about patients throughout the year."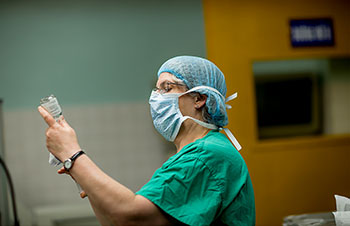 D-H Perioperative Services nurse Diane Beattie, RN, has been going to Hanoi with RICE for nearly 15 years and will return again this year, arriving a few days early to help set up. "The Vietnamese people are the best and they're very appreciative," she says. "The residents are learning surgery without 21st century equipment. The Vietnamese clinicians use what they have and do whatever's best for their patients. They are truly an inspiration."
Mark Washburn, D-H's staff photographer will document the trip for a second time, after accompanying the team to Hanoi in 2016. "They're seeing a lot of patients, many of them with complex problems, so it can be pretty intense," says Washburn, who will also record audio interviews for a future podcast about the experience. "The RICE volunteers are passionate about their professions and this is a chance for them to work in an environment that's really challenging and rewarding. It's an amazing place and we're all really looking forward to it."