Photography by

Mark Washburn

March 5th, 2019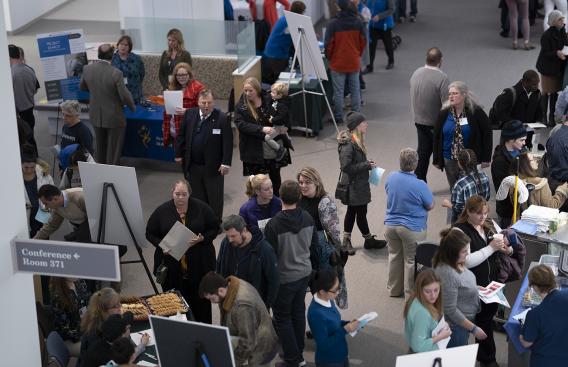 Is it time for a career change? Are you a single parent seeking a better job, but don't have the flexibility to return to school? Are you graduating from high school or college, or transitioning back to civilian life after military service? The Dartmouth-Hitchcock (D-H) Workforce Readiness Institute offers an alternative to traditional career pathways, with five training programs that launch meaningful careers in the health care industry.
Since the D-H Workforce Readiness Institute's launch in 2013, more than 450 people have completed these ready-to-work training programs and apprenticeships—with every successful graduate being offered employment within D-H.
These training programs vary in duration by role, lasting between seven weeks and 11 months and provide participants with:
Full-time employment with benefits
Technical and professional skill development
Access to college credit
National certifications and recognition
The D-H Workforce Readiness Institute currently offers programs that prepare participants for careers as medical assistants, pharmacy technicians, surgical technicians, ophthalmic assistants and licensed nurse assistants (LNA). A competitive summer internship program for high school and undergraduate students is also available.
Candidates do not need to have past experience in health care but do need to have a desire to help, be motivated to learn and be excited to be part of a team. Technical skill can be taught through training, but the desire to care and help others is important to anyone working in health care.
Providing opportunities for career development
In addition to these core training programs, over the past four years, D-H has expanded its college partnerships to include an LPN to RN (registered nurse) program. This program, in partnership with Vermont Technical College, encourages career growth of existing D-H employees by providing career counseling, scholarship support and tuition reimbursement. D-H is also investing in several youth internships and partnerships with high school, vocational/technical and community organizations to attract young people to careers in health care.
Confidence gained through these experiences often encourages program graduates to further their education and to continue to grow in their careers. Many program graduates have chosen to continue their education and complete degrees using the support of D-H's employee tuition reimbursement benefits.
"Furthering my education was not something I thought I would be able to do. I just didn't see how I could afford to continue my education and not have a paycheck. Then I heard about the Medical Assistant Apprenticeship Program. It was a win-win situation. I was able to earn money while I learned. I'm excited to be at the beginning of a long career where I'm learning more every day. I wake up wanting to go to work," says Cheyanne Armstrong, former medical assistant apprentice.
As New Hampshire's only academic health system, D-H is committed to supporting a culture of continuous learning for its employees. Along with full-time employment, benefits, and technical and professional skill development, most program participants have the opportunity to earn college credit through their training. The D-H Workforce Readiness Institute program is a licensed career school with the New Hampshire Department of Education, and maintains close relationships with members of the Community College System of New Hampshire, Granite State College and numerous out-of-state colleges, including Vermont Technical College and Columbia College in South Carolina. We are constantly looking for new and innovative ways to expand career pathways and help employees grow within our system.
Building community
The vast majority—more than 95 percent—of program participants are women, with eight percent veterans, and 27 percent over the age of 40. This is a great opportunity for people of all ages and stages of life; some participants are just graduating high school, while others are single parents or those planning for a second career.
"This apprenticeship has helped me become more professional; it changed the way I communicate and the way I present myself. It has changed my future in such a positive way," says Chelsea, a former full-time baker, apprenticed as a pharmacy technician in the Outpatient Pharmacy at Dartmouth-Hitchcock. "The on-the-job training was incredibly beneficial, and the shadowing made me feel like I was already part of the team."
In addition to professional growth, the participants form a sense of community and collaboration. Program participants have included mothers and daughters, sisters and spouses—many of our best candidates have been referred to us by former students. The training program experience also builds friendships and connections that transcend age and background. For example, in a room of over 200 candidates, two women happened to sit next to each other. While they did not know each other that night, they were both selected for the program. They were hired, went through the training and became best friends—two years later one was even a bridesmaid in the other's wedding! There is a significant amount of research that indicates employees work harder and are happier in an environment where they feel a sense of camaraderie and support. We work hard to help build that in our programs.
Transform your future today!
The D-H Workforce Readiness Institute is currently recruiting for all programs. To register for an upcoming information session, or to learn more, visit https://dhwri.org.
By: Sarah Currier, Vice President of Workforce Strategy, and Carolyn Isabelle, Workforce Development Consultant, Dartmouth-Hitchcock