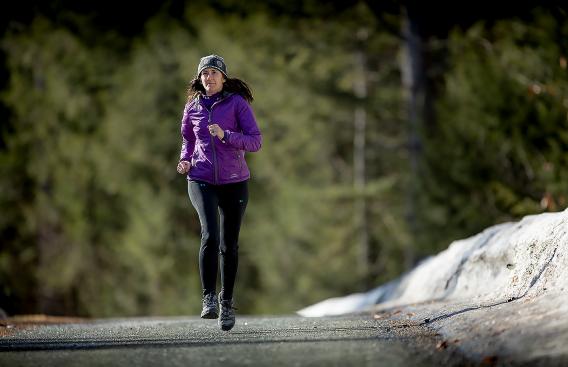 Krista Duval of Charlestown, New Hampshire, never had reason to suspect something was the matter with her heart. She was fervently devoted to fitness, rarely running fewer than 10 miles at a time. "Exercise was my life," she says.
In the fall of 2017, she began experiencing unusual bouts of fatigue, which her doctor simply attributed to getting older, suggesting she consider slowing down a bit. Duval wasn't so sure, "I just got the feeling that something was wrong," she says.
But it didn't curtail her plans to compete in a snowshoe race to the top of Mount Washington in New Hampshire the following March. "After the race, I felt fine," she recalls, "but probably that extreme exertion was what pushed my heart over the edge."
The day after the race, Duval, who works as a resource coordinator for Dartmouth-Hitchcock's (D-H's) Women's Health Resource Center, was in the middle of an evening prenatal care session with patients on the birthing pavilion at Dartmouth-Hitchcock Medical Center (DHMC) when she was overcome with a sudden spate of dizziness, back pain, chest tightness and nausea.
"I told my coworkers that I needed to get some fresh air," says Duval, knowing now how lucky she was that someone saw her as she was stepping onto the outdoor patio.
Obstetrician/Gynecologist faculty member Tim Fisher, MD, passed by just then and remembers thinking something wasn't right. "Usually so vibrant and outgoing, she looked pale and unwell," he says. "And she wanted to lie down on the patio, but I said, 'How about no?'"
Fisher and Duval's colleagues insisted that she get into a wheelchair and took her straight to the Emergency Department. The patio encounter, the quick response and close proximity to care very likely saved her life.
Doctors found Duval's blood pressure to be dangerously low, and her electrocardiogram (EKG) results, measuring her heart's rate and rhythm, were even less encouraging. But a computed tomography (CT) scan showed no sign of an aortic aneurysm or other indicators of coronary disease. "It just didn't add up," says Duval.
The cardiologist on the case, James DeVries, MD, ordered Duval's transfer to the Catheterization Lab for a closer examination of her arteries. Based on the EKG and inconclusive lab results, he had a suspicion that she was experiencing a highly uncommon condition known as spontaneous coronary arterial dissection (SCAD).
SCAD occurs when the innermost layer of the artery tears, or dissects, and allows blood to pass and build up underneath that layer, causing a bulge that blocks the artery. When blood flow becomes totally restricted, a heart attack results.
As DeVries discovered with Duval, SCAD can be difficult both to diagnose and to treat. "The challenge is to have a high index of suspicion, because it's still not a well-known disease," he says. "And for someone like Krista, who doesn't present any signs of coronary disease, you have to consider other mechanisms that put her at risk."
Studies show a higher occurrence of SCAD among women during childbirth, or who are close to a menstrual cycle—yet who are otherwise very healthy. SCAD can also affect people following extreme exertion, such as mountain snowshoeing.
Duval ended up receiving three stents (tiny mesh wire tubes that restore blood flow) inside her left anterior descending artery, which supplies blood to the left side of the heart. DeVries says it was an extremely difficult situation to maneuver. "With a dissection, you're trying to steer [the balloon catheter] through an invisible web of membranes, and there's often no way to tell if you're in the right spot."
After a three-hour procedure, Duval recovered in the Cardiac Critical Care Unit for a few days before discharge and the beginning of cardiac rehabilitation at DHMC. "I was already so anxious to get back on my feet."
While she feels very fortunate to be alive, learning to accept a limited exercise routine—no more marathons or mountain climbs—hasn't been easy. "I've hired a personal trainer to help me design a different workout routine. I'm trying to find my new normal."
The experience has also led Duval to learn more about SCAD and how to live with it. In her case, another underlying condition known as fibromuscular dysplasia, an abnormality in the artery walls that causes narrowing, contributes to that risk of another dissection.
"She has been a real star in helping my understanding of SCAD," he says. "We need champions like Krista who say this is a real disease process and that it demands a management plan."