Photography by

Mark Washburn

March 5th, 2019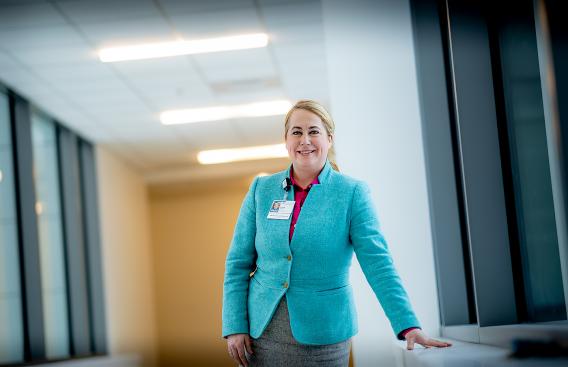 The research that happens here, and the ability to participate in clinical trials, leads to a regional impact and new and differentiated opportunities for our patients.
Leigh A. Burgess, MHA, MEd, MA
Leigh A. Burgess, MHA, MEd, MA, vice president of the new D-HH Office of Research Operations, shares an update on our operational and administrative research efforts, and outlines the next steps and exciting investments in research.
As an academic health system, Dartmouth-Hitchcock Health (D-HH) has a three-pronged mission that includes patient care, research and education. In 2017, the Office of Research Operations was formed with a focus on the operational and administrative needs of the basic, clinical and translational research community across D-HH.
Since that time, the D-HH Office of Research Operations recently achieved a milestone on December 31, 2018, when it successfully transitioned a portfolio of grants ranging up to $24 million that was previously managed by Dartmouth College. This also included the creation of the new Office of Sponsored Projects Administration that administratively oversees and supports the grants and contracts across D-HH. This grants and contracts office supports all divisions with embedded divisional grants and contracts administration.
The transition of the grants and contracts was just one of the large projects completed during the foundational year of planning for the advancement and evolution of the Office of Research Operations. This investment and work, as well as other core administrative and operations projects, is bolstering the supports to the core mission of research across D-HH.
Leigh A. Burgess, MHA, MEd, MA, vice president of the new D-HH Office of Research Operations, who was recruited from the Duke Cancer Institute in 2017 to create and lead the D-HH Office of Research Operations, recently shared an update on our operational and administrative research efforts, and to outline the next steps and exciting investments in research.
How long did it take to create a centralized research operation and why is it important for D-HH?
Burgess: Standing up a centralized research operation to support grants and contracts is incredibly complex, and our teams and leadership managed to do this in a year and a half. Huron, an organization that collaborates with higher education academic medical centers said, "The team at D-HH is very focused on the continued growth of research. The commitment to ensuring that there is a strong foundation of knowledge and expertise to launch and facilitate continued growth is commendable. The D-HH leadership team continues to develop strong collaborative partnerships in the region which can only serve to foster innovation and ultimately improve patient care throughout the organization."
What work was done to establish a foundation for research at D-HH?
Burgess: Research isn't new to D-HH. In addition to the grants and contracts portfolio now managed and growing at D-HH, more than 500 studies or trials are actively enrolling across the system. D-HH supports a multitude of experts in research, including researchers and scientists and supporting staff across basic, clinical and translational areas of research. The Office of Research Operations is the centralized administrative and operational "hub" across all departments and is working to create mechanisms for connectedness to all research sites across D-HH. We have created centralized mechanisms of support for our research operations across D-HH, which includes intentional partnerships between the Clinical Trials Office, the Sponsored Projects Administration for grants and contracts, Research Finance, the Norris Cotton Cancer Center Office of Clinical Research, Investigational Pharmacy, Research Informatics, Technology Transfer and the newly forming D-HH Institutional Review Board (IRB). Currently in the growth phase, and gaining new abilities and agility to grow the portfolio, we are already seeing the impact with increased grant submissions and awards as well as a healthy clinical trial pipeline that is growing.
What types of roles contribute to the Research Operations team across D-HH?
Research Operations is supported by teams dedicated to basic, clinical or translational science and include operational expertise in areas such as, pre- and post-award management of clinical trials, grant and contract submission and management, lab staff and scientists, research nursing, research finance, pharmacy, information technology, information services, regulatory coordination, quality and safety, education and professional development and overall research study coordination. We also partner with staff who are knowledgeable in licensing and patents and who work with entrepreneurs, scientists and engineers. It takes a well-rounded team of expertise and skills to support the research community, and we are investing in, advancing and evolving the teams across D-HH.
How will the work of Research Operations support translating cutting-edge research in discovery, delivery science and health professions education for all of our patients across the D-HH system?
Burgess: Our administrative and operational teams are supporting bench-to-bedside research by developing processes that bring researchers and clinicians together. Central to that is providing resources for those interested in research. We want our research community to feel and be supported, as well as understand the processes and pathways for advancing their research interests. Examples of this include knowing how to search for and submit a grant, initiate a clinical trial, file a patent or license for a scientific idea or finding a mentor who can help review a new concept that could grow our investigator-initiated led research portfolio. We are creating mechanisms for these pathways to be integrated and for systems to be interoperable. Based on building these systems together, D-HH will be poised to be at a level of interoperability and efficiency that other institutions are not capable of which will differentiate us from others for speed to activation, enrollment accomplishment, grant funding and publications.
It's important to remember that D-HH is the only academic medical system in New Hampshire and one of the major health care providers across the region. The research that happens here, and the ability to participate in clinical trials, leads to a regional impact and new and differentiated opportunities for our patients.
The D-HH System also is building its southern region research strategy. How does Research Operations' growth align with that strategy?
Burgess: Just as D-HH delivers care as near to a patient's home as possible, we want to provide research opportunities in the southern region hospitals and clinics as well as at Dartmouth-Hitchcock Medical Center in Lebanon. Patients who live in southern New Hampshire do seek out chances to participate in trials or new types of care, and we are making research excellence available close to home, wherever home may be, with an extension of the research studies and trials available to other sites across New Hampshire and Vermont. We also want to share the accomplishments of our research with those across the region and allow them the opportunity to understand the impact research has on our region and communities.
You have mentioned that a big part of the growth phase is expanding our abilities to open investigator initiated studies and work more with our pharmaceutical and industry sponsors that support research. How will Research Operations encourage that growth?
Burgess: We knew that we had to reduce the time it took to activate research projects. Science moves fast, and sponsors want to be sure studies can be open to patients as soon as possible. In general, we want to activate new trials or studies within 90 days or less of submission. In the first quarter of this year, we had already reduced activation time over the prior year and are continually working to create new processes for efficiency to continue the trend, as well to invest in resources and systems to support our research community.
We're also strategizing with divisions across D-HH to prioritize trials in a way that assists with streamlining activation. We're reaching out to those organizations to share how research is changing at D-HH. We want our sponsors to know how we are different from where we were in 2016, what systems and processes we have added and invested in, and how we are now more poised for activation to occur in 90 days or less and enroll 100 percent of the patients projected. We now have opportunities for systematic interoperability that others do not have and we are driving improvement based on data driven advancements.
When you have those conversations, how do you differentiate D-HH from other research institutions?
Burgess: Because D-HH is the only academic medical system in northern New Hampshire. That's a big differentiator in itself. As important, D-HH has the ability, due to our size, to be agile. We think of D-HH as a large organization, but our size enables us to make decisions and have an impact on research opportunities quickly. We should be able to innovate more quickly than other institutions. Already we've shown that we can stand up a Research Operations Office, an Office of Sponsored Administration and an IRB in a year and a half. That proves the point and demonstrates not only our abilities, but our commitment to the mission.
Additionally, we have made significant investments to the supports for research, including additional staffing, resources and infrastructure. Examples in these areas include, investment in new systems for grants and contracts pre- and post-award management, the review and advancement of our clinical trials management system, including e-regulatory binders with new processes for patient reimbursement and improving enrollments, and dedicated expertise for speeding up the budgeting and contracting process for clinical trials to open in 90 days or less.
There is no shortage of improvement and focused innovation across the Office of Research Operations. As a researcher recently stated to me, "It is an exciting time to be a researcher at Dartmouth-Hitchcock!"