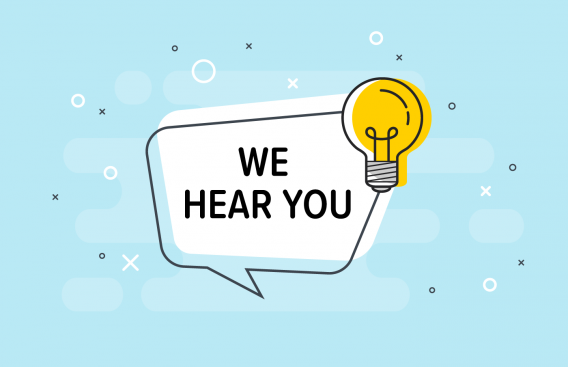 Scheduling an appointment, checking in and patient surveys are all areas that you have given us your feedback and suggestions on how we can improve your experience. Here's how we've addressed each area.
Scheduling Appointments Online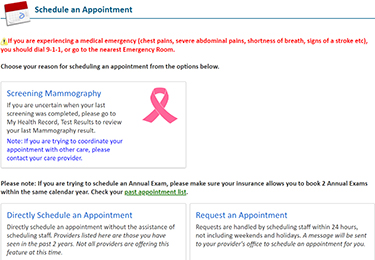 Scheduling appointments of any kind can be difficult if you don't have time to call during regular business hours. In January 2016, we piloted online scheduling through myD-H, our online patient portal, for Dartmouth-Hitchcock (D-H) patients. The pilot launched with just a few services and providers and now, online scheduling is being offered by nearly all of our primary care practices at Dartmouth-Hitchcock Medical Center (DHMC), D-H Heater Road and D-H Nashua. Other D-H locations offer the option to request an appointment online and D-H staff provide available dates and times. Some of our specialty services are even offering this option to their patients. Patients have been enjoying this new flexibility to schedule appointments when they have time, which often is after the work day or on weekends. To see if your provider offers online scheduling, visit mydh.org.
Self Check-In Stations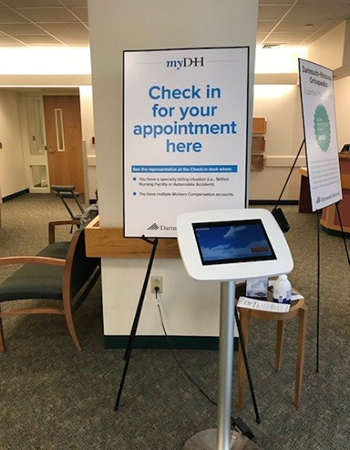 Satisfaction survey comments from patients prompted us to look even closer at making the check-in process more private for patients. Some patients expressed concern about stating their name, date of birth, address and phone number out loud when others were nearby. In the last year, we have begun to offer self-check in stations at many of our clinics at DHMC, D-H Heater Road, D-H Nashua and D-H Bedford.
These stations allow you to check in using a tablet affixed to a stand or at a computer kiosk so that you do not need to state your name or other identifying information out loud. Self-check in stations continue to be added at more DHMC clinics and will be added at D-H Concord during the new front entrance renovation.
You have told us that you love the self-check in stations and will certainly use them again. And, there are always staff available at reception desks to welcome you. Self-check in stations are simply a second option if you do not want to wait in line to be checked-in at the reception desk.
Online Surveys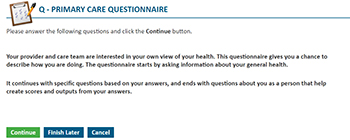 If you have an account on myD-H, you can move more quickly and easily through our pre-registration process when you use the pre-check in system through myD-H. With a myD-H account, you can fill out questionnaires before your appointment from the comfort of your home instead of having to come in early to fill out surveys in the waiting room. To sign up for myD-H, you can visit: www.mydh.org.
About the "We Hear You" Series
"We Hear You" is a series about and for our patients and their families. Have you offered feedback or given us a suggestion to improve and wondered if we ever acted on it? We want you to know that we are listening and to share what we are doing to better meet your needs.
We invite you to keep your suggestions coming by using our feedback form.