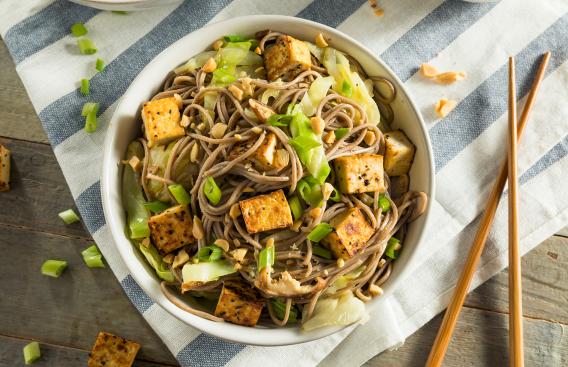 Recipe adapted by Wm. David Jones, Executive Chef, Food and Nutrition Services, Dartmouth-Hitchcock.
Servings: 10 (12 ounce)
Ingredients
1.25 pounds spaghetti pasta
2 ounces garlic chili sauce
3 ounces creamy peanut butter
1.5 ounces lite soy sauce
1.5 cups cold water
20 ounces extra firm tofu, cut in ¼ inch cubes
½ pound red peppers, diced
½ pound green peppers, diced
½ pound Spanish onions, diced
1 ounce sesame oil
½ teaspoon salt
½ teaspoon black pepper
Cut tofu in ¼ inch cubes
1 and ½ cups frozen green peas, thawed
¾ pound dry roasted peanuts
¾ cups fresh chopped mint
2 cups black turtle beans
2 cups water chestnuts
Instructions
Step 1: Cook spaghetti and set aside.
Step 2: Mix together garlic chili sauce, peanut butter, soy sauce and cold water and heat in saucepan. Keep hot until needed.
Step 3: Toss tofu, veggies, and salt/pepper in the sesame oil and place on a sheet pan. Bake in a 375 degree oven for 20 minutes. Set aside.
Step 4: Rinse, drain water chestnuts and black beans. Toss water chestnuts, peas thawed, dry roasted peanuts, chopped mint and black turtle beans together. Leave at room temperature until ready to serve.
In large serving bowl, mix all ingredients together.
Nutrition (per serving) approx. 640 Calories, 76 g Carbohydrate, 27 g protein, 26 g Fat, 12 g Fiber, and 824 mg Sodium.
Find more recipes and healthy eating tips in the Cooking Up Health section of D-H Health and Wellness News.