In This Section
Joanne's Journal Digest April 2019 - Dartmouth-Hitchcock Health and GraniteOne Health Letter of Intent
By

Dr. Joanne Conroy

Photography by

Mark Washburn

April 1st, 2019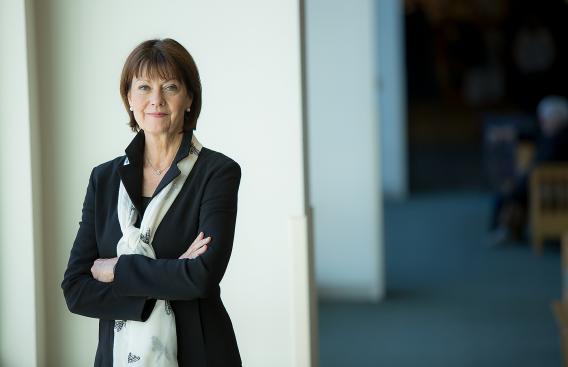 Since we announced the letter of intent (LOI) to create Dartmouth-Hitchcock Health GraniteOne by combining Dartmouth-Hitchcock Health (D-HH) with GraniteOne Health, Joe Pepe, MD, (CEO of GraniteOne Health) and I have been getting lots of questions about how this all is going to work. So I'd like to share with our readers how our two organizations are getting  to know each other better—and I've got a link to a video interview with Dr. Pepe and me too!
I've been to Catholic Medical Center (CMC) and the other GraniteOne Health hospitals (Monadnock Community Hospital and Huggins Hospital) a few times over the last couple of months. I've been learning a lot about their organization and their culture. You'll see from the examples below that there are themes that show how both of our organizations have very similar cultures.
GraniteOne Health employees have a strong sense of community. They really understand what they give to the community and what the community gives to the hospitals. This kind of dedication is something D-HH has in common with them.
Their employees take pride in the hospital and the communities in which they live. Many of their employees are long-term employees who have had generations of their family members work at their hospitals, which instills a great sense of pride in where they work. We have that too!
Our anchor hospitals (CMC and DHMC) have something in common—both organizations had gone through tough financial times—but have a similar resilience to get through those hard times and still be very committed to their patients. Employees at all of our organizations have a real sense of purpose from the moment they walk in the doors to the end of their shifts and workdays.
Dr. Pepe says that GraniteOne employees don't stick to their job descriptions—they go above and beyond the call of duty—during and after work to serve their patients, each other and serve their communities. That is something very familiar to those of us at D-HH.
Our communities are similar but different—at CMC they serve a more urban area, and we at D-HH (along with Huggins and Monadnock) are more rural. But improving patient access is so important everywhere, as is making sure that we can care for our patients as close to home as possible.
When Dr. Pepe and I sat down together to be interviewed for this video series, we talked about what it has been like for our organizations since we made the announcement in January. We've been getting a positive response to our announcement—externally from legislators, partners, business leaders, patients—everyone has been very enthusiastic.
The good news is that both of our organizations have some experience collaborating together for 15 years—long before Dr. Pepe or I arrived. And we both believe that the secret ingredients for making this combination work is the collaborative relationship between our providers and employees and the mutual respect we have for each other. Together, we have created a strong foundation for success in meeting our mutual goal of improving the health and health care of our patients and the communities we serve in southern New Hampshire. 
I've said many times that our goal in creating a system is not to just get bigger but to get better. And that means working together to improve patient access, create a rural safety net, decrease health care costs and improve the quality of our care. And I will tell you with confidence that both of our organizations are committed to delivering on our promise to our patients and to the communities we serve.
If you'd like to hear more from the conversation I had with Dr. Pepe about our future, check out our first video in an ongoing series here. Another great place to get updates is our shared website www.ForahealthierNH.org .