By

Heather Wolfe

April 1st, 2019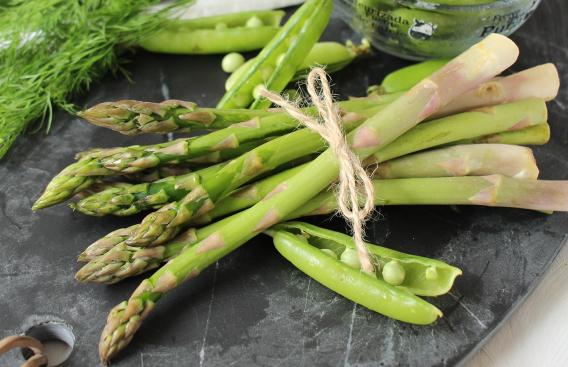 Celebrate spring by roasting up the first veggies of the growing season. After mixing with pesto and beans there are many things you can do with this dish- eat as is, top a pizza, mix into pasta, add to soup, use as a sandwich filling.
Makes: 6 servings
Serving Size: 1 cup
Ingredients
6 cups spring veggies (such as parsnips, asparagus, radishes, new potatoes)
1 (15 ounce) can cannellini beans, drained and rinsed; or ½ cup dry beans that you've soaked and cooked
1 tablespoon olive oil
¼ teaspoon salt
¼ cup pesto (see homemade recipe below, this will make more than you need, freeze extra in ice cube trays for later use)
Instructions
Preheat oven to 450°F.
Chop vegetables into even sizes for even roasting. Toss with oil and salt.
Roast for 20 minutes or until veggies are tender. Stir about halfway for even browning.
Remove from oven and mix in beans and pesto.
Serve as is for a tasty veggie side dish or use as a delicious topping such as on a white pizza or over pasta.
Pesto recipe
Blend together 2 cups basil (or other green), ¼ cup olive oil, ¼ cup nuts (such as pine nuts or walnuts), ¼ grated parmesan cheese, 1 clove garlic, salt and pepper to taste.
Nutrition (per serving)
Nutrition (per 1 cup serving): Calories 160, Total Fat7 g, Saturated Fat 1g, Carbohydrates 19g, Protein 6g, Fiber 6g, Sodium 270mg
Heather offers these additional tips for greening your diet:
Choose organic
Compost
Eat in-season
Eat a plant-based diet
Eat local
Plant a garden
Minimize food waste and packaging waste
Support B-Corps
Find more recipes and healthy eating tips in the Cooking Up Health section of D-H Health and Wellness.
Heather Wolfe, MPH, RDN, LD, CHC, is a registered dietitian and certified health coach with Dartmouth-Hitchcock's Live Well Work Well Employee Wellness Program.