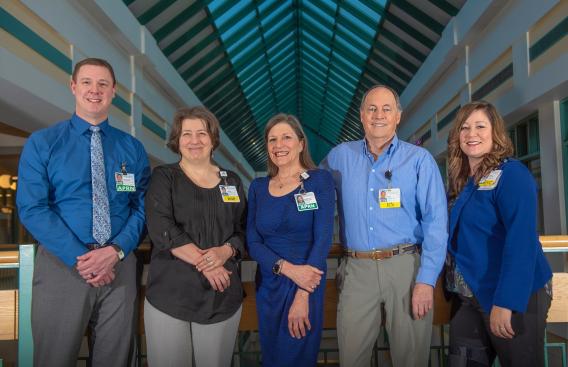 Ericka Bergeron, Paul Hodgdon, Kathleen Broglio, Daniel Moran and Daisy Goodman have won Excellence in Nursing Awards from New Hampshire Magazine in partnership with the New Hampshire Nurses Association. Now in their second year, the Excellence in Nursing Awards highlight New Hampshire nurses from 13 nursing specialties. This year, over 140 nominations were reviewed and winners were selected by an independent committee of nurse leaders from adjoining states. Winners are featured in the current issue of New Hampshire Magazine and will be honored at a special event in Manchester this May.
Ericka Bergeron, MSN, RN, nurse manager for pediatric specialties, won the nurse leader award.
Paul Hodgdon, RN, VA-BC, clinical nurse for the vascular access service, won the medical-surgical nursing award.
Kathleen Broglio, DNP, ANP-BC, ACHPN, CPE, FPCN, an advanced practice nurse for palliative care, won the hospice and palliative care nursing award.
Daniel Moran, MSN, APRN, advanced practice registered nurse in general internal medicine and faculty of the Dartmouth Centers for Health and Aging, won the gerontologic and long term care nursing award.
Daisy Goodman, DNP, MPH, MSN, APRN, CARN-AP, CNM, a nurse midwife in obstetrics and gynecology and director of the multidisciplinary Moms in Recovery program, won the advanced practice registered nurse award.