By

Bonnie Barber

Photography by

Kata Sasvari

April 18th, 2019
Volunteers are the backbone of every single hospital.
Joanne M. Conroy, MD, Dartmouth-Hitchcock Health and Dartmouth-Hitchcock CEO and President.
More than 100 Dartmouth-Hitchcock (D-H) volunteers and guests honored longtime volunteer Nancy Bassett of Pomfret, Vermont, and D-H Palliative Care physician Charles Whang, MD, at the annual D-H Volunteer Awards Luncheon on April 12 at the Hilton Garden Inn in Lebanon, NH. Bassett received the Edith Amsden Award for Outstanding Service, while Whang was honored with the Anne-Lee Verville Award, which recognizes a staff member who "demonstrates leadership in the integration, education and ongoing support of volunteers in D-H health care settings."
"Volunteers are the backbone of every single hospital," Dartmouth-Hitchcock Health (D-HH) and D-H CEO and President Joanne M. Conroy, MD, told the assembled volunteers during the luncheon, and Edward Stansfield, vice chair of the D-H Board of Trustees, noted that there are 900 volunteers across the D-HH System.
President of the D-H Volunteers Leadership Board Gretchen Maynard introduced former D-H Board of Trustees chair Anne-Lee Verville, who presented Whang with the inaugural award named in her honor. The board of trustees created the award in 2018 to recognize Verville's 10 years of service as a board member. Verville noted that Whang has helped integrate volunteers into all cultural and operational aspects of his division's work and includes volunteers in the Palliative Care team's weekly "Wisdom Wednesday" meetings.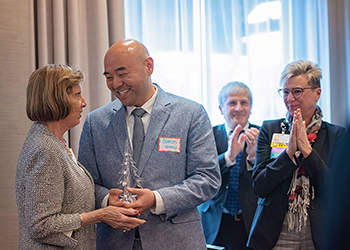 (Dr. Whang, second from left, receives award from Anne-Lee Verville, far left.)
"Dr. Whang is considered by the volunteers to be 'unfailingly open, cheerful and helpful, going well beyond what one would expect. He leads by example and patiently and sincerely explains a medical situation,'" Verville said. "So, thank you Dr. Whang for all your incredible service and partnership, not just to your patients, but to the community members, the volunteers and the staff."  
In accepting his award, Whang thanked the volunteers for their daily "acts of kindness" and said, "I've had such a privilege in the Palliative Care department and beyond to work with such amazing volunteers. It can stem from the melodious songs of Bob in our services of remembrance as he sings to the families who have had recent losses, to walking into a patient room and seeing Alice holding the hand of a patient, sharing a smile or sharing a story." He added that these "small and sometimes very large acts of kindness can go infinitely far."
Maynard noted in her introduction of Bassett that the Edith Amsden Award is given to individuals who show a remarkable dedication to service that Edith Amsden herself embodied during her 45 years as a D-H volunteer. "The recipient sets a high standard of volunteerism with loyalty and dedication, which inspires other volunteers," Maynard said. "The award recognizes a commitment of time and an extraordinary desire and ability to improve the quality of life for those in need through compassion and caring when working with patients, staff and visitors. This year's winner hits each one of those benchmarks many times over."
Bassett has served for more than 20 years as a Patient and Family Advisor in the Patient and Family Voices (PFV) volunteer program in D-H's Office of Patient and Family Centered Care. She has logged 4,919 hours of service to date and has served as a patient and family advocate and advisor to countless D-H staff on hundreds of projects.  
"I cannot tell you how much my volunteer hours have added to my life," Bassett said. "The meetings with patients and their families and the nurses that I have worked with have just enriched my life enormously. It's been my privilege and honor to be with them. And when I leave a room and a patient says, 'Thank you for asking me those questions, thank you for caring,' it means everything in the world. Thank you all."