In This Section
John Broderick: From Chief Justice to Mental Health Crusader
By

Rick Adams

April 30th, 2019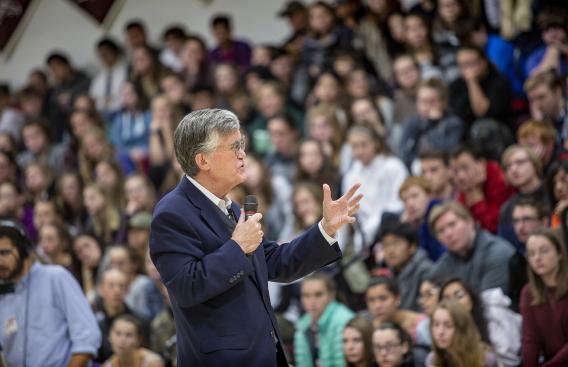 John Broderick is the Senior Director of External Affairs for Dartmouth-Hitchcock Health, and has a distinguished legal background that includes serving as Chief Justice of the New Hampshire Supreme Court.
But over the past two-and-a-half years he has stood before more than 70,000 students in more than 80 New Hampshire and Vermont high schools – where he is simply John Broderick, father and husband, who has a story to share and a challenge to issue: Change the conversation on mental health.
A new short documentary, produced by Dartmouth-Hitchcock's Creative Productions team, tells the story of Broderick's family's struggles with mental illness – struggles that, in 2002, led to an assault by his eldest son that nearly cost Broderick his life, and sent his son to prison.
While in prison, his son was diagnosed with depression and anxiety, and the Brodericks came to the realization that mental illness had been there all along. They saw their son's alcohol abuse, but it was the depression, anxiety and sheer panic that afflicted him. In prison, he received treatment and medication, and the family began to mend.
In early 2016, Broderick decided to bring his family's story into the light as the chairman of "Change Direction NH." From there he created his own initiative, now sponsored by Dartmouth-Hitchcock Health, called REACT, a campaign to educate people on the signs of mental illness and how to help (themselves or someone else), in an effort to end the social stigma of mental illness.
Broderick is relentless in his efforts. He calls it "the most important work I have ever done." To spread this message, he has driven more than 25,000 miles annually to give more than 175 presentations, speaking to more than 35,000 students annually. 
See the full documentary here. 
Learn more about REACT and John Broderick's mission with this media kit. If you are interested in having him present to your organization, please contact Karen Borgstrom at Karen.J.Borgstrom@hitchcock.org.
About Dartmouth-Hitchcock Health
Dartmouth-Hitchcock Health (D-HH), New Hampshire's only academic health system and the state's largest private employer, serves a population of 1.9 million across northern New England. D-H provides access to more than 2,000 providers in almost every area of medicine, delivering care at its flagship hospital, Dartmouth-Hitchcock Medical Center (DHMC) in Lebanon, NH. DHMC was named again in 2020 as the #1 hospital in New Hampshire by U.S. News & World Report, and recognized for high performance in 9 clinical specialties and procedures. Dartmouth-Hitchcock also includes the Norris Cotton Cancer Center, one of only 51 NCI-designated Comprehensive Cancer Centers in the nation; the Children's Hospital at Dartmouth-Hitchcock, the state's only children's hospital; affiliated member hospitals in Lebanon, Keene, and New London, NH, and Windsor, VT, and Visiting Nurse and Hospice for Vermont and New Hampshire; and 24 Dartmouth-Hitchcock clinics that provide ambulatory services across New Hampshire and Vermont. The D-H system trains nearly 400 residents and fellows annually, and performs world-class research, in partnership with the Geisel School of Medicine at Dartmouth and the White River Junction VA Medical Center in White River Junction, VT.