Photography by

Mark Washburn

May 9th, 2019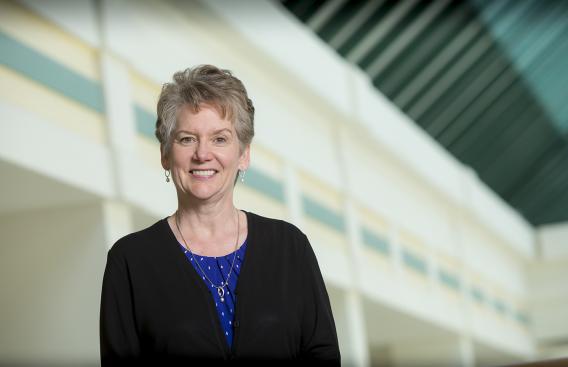 Allow me to extend my personal thanks, as well as the gratitude of the entire Dartmouth-Hitchcock Health leadership team, for the tremendous contributions that our nursing workforce makes to our ability to deliver on our member organizations' missions all through the year. Throughout our Dartmouth-Hitchcock Health system, nurses are providing exceptional care to the patients and families we serve, all day and every day. They are teaching students and other learners from all of the health professions as part of their work. They are active in our discovery mission, working to improve care and care delivery. And, in immeasurable ways, they are adding value within the communities in which they live by serving on various civic and other community-based groups. To borrow (and gently tweak!) a quote from former United States President George H.W. Bush, our nurses, the largest workforce within our health system's engine, provide more than 3,400 "points of light" for our region. Honestly, where would we be without nurses?!
Which, by the way, gets me to a 2019 Nurses Week "challenge" that I would like to issue to all of the nurses within our health system. A few weeks ago, I was attending my professional organization meeting. It was held in San Diego, California, and in attendance were more than 3,000 nurse leaders from around the country. As we broke into regional groups to discuss pressing issues on which we hoped the organization would focus its attention and advocacy efforts, the mounting pressures related to the nursing workforce shortage quickly rose to the top of the concern list. One could practically feel the rising blood pressure in the room. There was no one in the room who didn't have nursing workforce shortage as a top concern for their respective organization. As I sat and listened to my colleagues voice the various dimensions of this era's particular shortage (point-of-care nurses, nurse managers, nurse educators, school-based nurses, long-term care nurses, home-care nurses, etc.), I was struck by the sense of urgency that was building in the room…clearly we had to DO something! 
At the same time, I was similarly struck by the notion that oddly, I had not yet perceived this same urgency outside of the health care sector of our society. With the exception of a few isolated instances, I had not heard "severe nursing shortage" coming forth as a top concern of our legislators and government agencies. I had not seen media coverage calling for action. And, I had not yet read economist projections forecasting how the mounting shortage was poised to impact the rising costs, as well as the quality of health care in our country. Was it possible that they didn't know?! Or, more likely, is it probable that WE have to be better at communicating the vital and multi-dimensional role that nurses play in our health care system? Perhaps we need to better illustrate what a shortage of nurses means for health care in this country. And after further reflection, I came to the realization that I personally needed to challenge myself and all of my nursing colleagues to do whatever we can to get this ball rolling! 
Case in point. In the last few weeks, courtesy of social media and the digital age, we were witness to a rather sizeable gaffe made by a Washington state senator who, in deliberations about legislation concerning meal-breaks and rest periods for nurses in small hospitals, commented that such laws weren't necessary as nurses in these facilities, "probably played cards for a considerable amount of the day." Yikes! How is it possible that someone in a position such as hers could be so misinformed (AND, be in a position to affect a nurses' work environment with her vote)? And, how could I expect that this person would be concerned about the impact of a severe nursing shortage if this was her view of nurse work? 
Surely, there was a swift and sizeable response by nurses from across the country to this individual's blunder. Among the more positive responses were offers to have the senator come alongside and shadow a nurse for a day to learn about what nurses do. 
So here's the challenge. I personally would like to think that we don't have to wait for another incident like this to galvanize our nurses into taking action…that during this Nurses Week, we will each commit to considering ways to help to inform our families, our friends, our colleagues, our communities and yes, our legislators, about the crucial role that nurses play in our health system. Here's just a few of my ideas about how every nurse in the Dartmouth-Hitchcock Health system can find a way to rise to this challenge.
Whenever you have the opportunity (and, of course respecting confidentiality), please:
Find ways to communicate broadly about the ways that you provide comprehensive physical, emotional and spiritual care to the patients entrusted to you. Answer the question, "What do nurses do?" in ways that enlighten people.
Describe, to those who might not know, the complexity of delivering this care in ways that keep our patients safe and in ways that help them achieve a high-quality outcome. 
Be willing to discuss the contributions you are making to prepare the next generation of health care professionals as you teach them in your everyday work. 
Seize every opportunity to describe and disseminate innovations that you are making to improve how care is delivered.
Publish the discoveries you are making as you conduct the investigations that nurses are so perfectly prepared to lead.
Join and participate in your local, regional and national nursing organizations, especially the New Hampshire and Vermont nursing associations. These are the groups that give voice to nursing concerns in the legislative and regulatory arena in our states.
Be active in your organization's nursing practice governance structures and let your nursing leaders hear your voice…I assure you, we are listening. 
I firmly believe that the more people who know what nurses do and how they contribute to our nation's health care system, the more urgency we will begin to experience in our society regarding needed solutions to our growing workforce shortage. Do let me know about your progress and successes in meeting my 2019 Nurses Week Challenge. One of the VERY best parts of my job is talking about how vital (and amazing) you all are!
Again, my very best wishes to all of our nurses during the 2019 National Nurses Week. 
Sue Reeves EdD, RN, CENP, D-HH System Chief Nursing Executive