By

Dr. Joanne Conroy

Photography by

Mark Washburn

June 2nd, 2019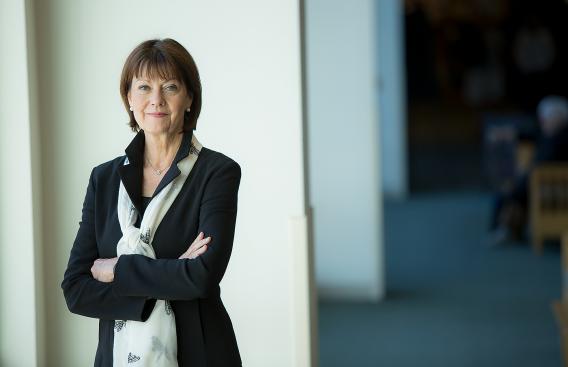 This is the season for graduations! Amid the associated mayhem, it is very exciting to see graduates beginning the next phase in their careers and lives.
I was honored to receive an Honorary Doctor of Public Service from the University of South Carolina (USC) earlier in May. I spent a lot of time thinking about what to say…remembering that the ceremony is not about me…but about them!
Below is the text of my address for the College of Medicine Graduates at USC. 
First of all, take a moment and appreciate where you are. Close to 150 graduates…and within this group, I predict you will have one who will become a Dean at a medical school. At least three will be academic chairs, and 15 of you will become medical staff leaders and department chiefs in the community institutions where you practice. Several of you will pursue research careers and make a real difference in our understanding of disease and effective treatments. At least one of you will run for elected office. One of you will leave medicine to launch a successful startup company. Several of you will be involved in medical mission work outside this country, and it will transform how you see global health care needs. Many of you will become leaders in your communities, providing outstanding care and contributing in many ways to the fabric of the lives of others. I bet that most of you are type-A overachievers and are already mentally preparing for the celebrations that will happen this afternoon. 
Many of you are also taking the time right now to tick off the to-do's in your head: pack up your apartment, sign the lease on your new condo, drive to your new training program…get settled in, schedule cable service, electricity, establish bank accounts, change your driver's license and car registration…because internship starts with orientation in less than a month!
But here's what you should do today. Stop and appreciate the moment…look at the people around you and understand what you have accomplished together. Whether you stay connected in the future is absolutely up to you (and Greenville's Development office!)…but the shared memories and the experiences you have gone through together are already making you the incredible physicians you will be.
I know the next four to seven years (depending on your specialty of choice) will be a blur…the hours will be long, and at the same time, you will be trying to build a life outside of work!
Thirty-six years ago, I was sitting where you are sitting—in the hot South Carolina sun—already beginning to go through the checklist of the rest of my life…out the gate and halfway around the track. So, here are four things to remember!
Be Committed to Something Bigger than Yourself:
You will be both well respected and well compensated for your work. That is not enough. What will your contribution be in your career, in your life and to this world? Declare that you are here for something that is larger than individual agendas…it will naturally inspire others. All of you can choose to make a positive impact on individuals and communities by the care you give, your discoveries that improve lives and your personal leadership.
Be Authentic:
Lead without pretense, be who you hold yourself to be. Be forthright without using force. Say what might be unpopular instead of seeking admiration or trying to avoid conflict. Be genuine and real–with your colleagues, communities and patients and their families. There is nothing more valuable than being real with the people around you. We do not expect physicians to be perfect…in fact, the most effective physicians, laugh, cry, apologize and celebrate with their patients.
Lead with Integrity:
Your character is what you really are, while your reputation is merely what others think you are. To have integrity in how you relate to everyone around you…in both large and small issues…gives power to your words and actions, in every area of your life.
Be 100 Percent Responsible for Where You Are:
You will make choices. Outside factors can have an effect…but they don't have to affect you. Own where you are and how you got there. Remember, the purpose of life is not to be happy. The purpose of life is to matter, to be productive, to have it make some difference that you have lived at all.
I acknowledge, there is a lot wrong with health care in the United States: it costs too much, wastes a lot and at its worst, can be harmful. But there is even more right with medicine in America. The science is breathtaking. The technological advances are incomprehensible. The compassion is heartwarming. We can be the best of the best in the world of health care, but still treat every patient with incredible humanity.
Class of 2019…go forward and make your families, your institution and your state proud!