By

Jillian Belmont, APRN

June 2nd, 2019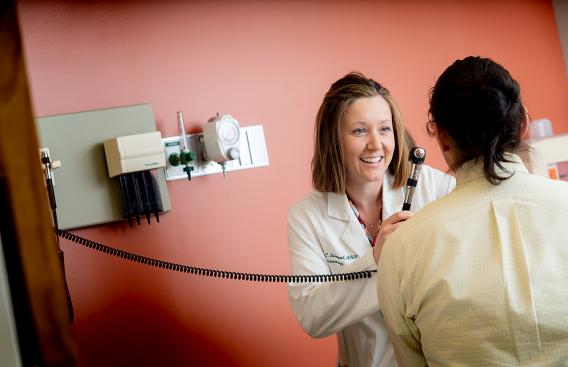 Surviving a stroke is a traumatic and life-altering experience. Strokes are a leading cause of long-term disability and the fifth leading cause of death in the U.S. Not surprising, survivor's experience a wide range of physical and emotional challenges once discharged from their hospital stays. Some individuals are able to return home, but most enter inpatient rehabilitation facilities—acute care or skilled nursing, depending on their needs.
The type and degree of disability is unique to each person depending on the location of stroke in the brain, but common worries include, "Will I ever drive again?" and "Can I return to work?" It's also normal for survivors to struggle with situational depression and anxiety, and medical providers are trained to discuss those feelings and recommend counseling and/or medical therapies.
The majority of survivors also have some degree of motor weakness, trouble swallowing and difficulty maintaining their typical activities of daily living. The first four-to-six weeks after stroke are intensely focused on rehabilitation and postsecondary stroke prevention including education, medication adjustments and caregiving support.
Treatment depends on the cause
Top Tips for Post-Stroke Care
Monitor your blood pressure and keep a log to identify trends/patterns.
Take your medications as prescribed and understand why. Talk to your provider before stopping any medications.
Make sure your provider is monitoring your cholesterol.
Eat a healthy diet.
Exercise regularly: 3 - 5 times weekly.
Stop smoking.
If you have diabetes, make sure your sugars are well-controlled.
Let your provider know if you are having feelings of anxiety or depression, which is very common and normal after having a stroke.
Successful post-stroke care is decided by the factors that caused the stroke. Hemorrhagic strokes are caused by ruptured blood vessels, most commonly because of hypertension (high blood pressure). Maintaining blood pressure readings of generally less than 140/90 is imperative for hemorrhagic stroke survivors, and blood pressure medications are adjusted accordingly.
The majority of strokes are ischemic, which are caused by blockages in blood vessels to the brain. There are many causes for this type of stroke: hypertension, hyperlipidemia, atrial fibrillation, diabetes and smoking are some of the common ones. Post-stroke care includes medication monitoring, maintaining an ideal body weight through diet (lean meats, fresh fruits and vegetables, low sugar) and regular exercise (three-to-five times per week), curbing alcohol intake (two or fewer drinks per day for men and one or fewer drinks for non-pregnant women) and eliminating any smoking habits.
Making an IMPACT
Dartmouth-Hitchcock (D-H) works to rapidly address the needs of stroke survivors, as they are at high-risk for readmission. The D-H IMPACT (Improving Post-Acute Care Transition) Clinic in Lebanon contacts patients by phone within two business days of their hospital discharges, and a provider sees them one to two weeks afterward.           
The clinic takes an interdisciplinary team approach, working closely with each patient's primary care provider and specialists (cardiologists, endocrinologists, etc.). It focuses heavily on patients and caregiver education, maintaining neurology exam stability, medication compliance, helping to manage modifiable risk factors, assessing for any social worker or home support needs and coordinating rehab therapy—physical, occupational, and/or speech as needed.
Stroke survivors are empowered to regain as much independence as possible through clinic participation. D-H also offers the Upper Valley Stroke Support and Education Group for survivors and caregivers. These opportunities help stroke survivors to engage with others who have experienced similar health situations through activities including cooking, yoga, art and gardening. With dedicated health care resources and strong support networks, stroke survivors can enjoy brighter futures.
For more information, visit dartmouth-hitchcock.org/neurology.