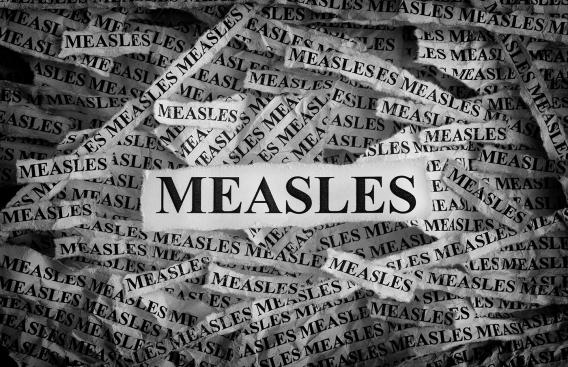 In 2000, the United States declared measles no longer a public health issue. This viral, respiratory illness is the most highly-contagious disease in the world—and it's back. An international traveler recently brought it to the U.S., and the disease has been spreading in tight-knit communities of unvaccinated people.
Nine-out-of-10 people that are not vaccinated against measles will develop the disease. It spreads through very fine particles that remain in the air up to two hours after an infected person leaves an area. Dartmouth-Hitchcock (D-H) is taking a proactive role in keeping the local population safe from the measles.
Born between 1957 and 1968?
The measles vaccine was introduced in 1963, but the current formulation replaced it in 1968. Anyone vaccinated since 1968 should be fully immune. Typically, the first dose is given to infants between 12- and 15-months of age, and the second dose is between four- and six-years of age. The first dose provides a 93 percent protection rate, and the second delivers 97 percent protection.
People born before 1957 likely had measles—or were exposed to it—making them immune. It's unclear if the vaccine used between 1963 and 1967 was effective enough to protect against today's measles outbreak. As a result, individuals born between 1957 and 1968 should try to find their immunization records and consider talking to their primary care providers about revaccination. One dose of the current MMR vaccine is sufficient for most. Those at high risk for infection as described below, should receive two doses, 28 days apart.
Ensuring immunity
There are three high-risk categories of people who need measles immunity: students living communally (college or boarding school), health care workers and anyone traveling internationally. According to Antonia Altomare, DO, MPH, Hospital Epidemiologist, Dartmouth-Hitchcock Medical Center (DHMC), New Hampshire rarely sees measles cases resulting from someone traveling to another country. But the recent U.S. surge makes it critical for everyone to make sure that they are immune.
"The CDC (Centers for Disease Control and Prevention) has criteria to prove measles immunity," Dr. Altomare explains. "Written documentation is required to prove that a person is immune. This is either documentation of vaccination, laboratory confirmation of infection with measles, laboratory was vaccinated, had a positive antibody blood test (immunization titer), had the measles or was born before 1957. Most of the current population has not lived through the eras when diseases like measles and polio were rampant," says Dr. Altomare. "When vaccinations stop, we start to see people with these dangerous diseases reappear. Any disease that has a vaccine has been proven to cause significant disability and even death—otherwise, a vaccine would not have been developed."

People at greatest risk for measles complications include children under the age of five, pregnant women, those with compromised immune systems and the unvaccinated. Measles can turn into pneumonia, ear infection, meningitis or encephalitis—and can result in death.
Suspect the measles? Do's and don'ts
Initially, measles symptoms are similar to those of a cold: cough, runny nose, conjunctivitis, fatigue and fever. A full body rash then begins on the face or head, moves to the trunk and finally to the extremities—and lasts a week. The disease is highly contagious from four days before the rash until four days after the rash. There are no antiviral medications to treat it.
Measles can easily spread through talking, coughing and sneezing, so those suspecting it should call their provider before visiting a health care facility. People with measles should stay home until symptoms are gone. If you think you may have been exposed, you should contact your primary care provider, as you may be able to receive prompt vaccination for prevention of infection. Unvaccinated high-risk individuals who cannot receive the vaccine, can receive immunoglobulin infusion treatments at a hospital to possibly prevent infection after exposure.
Altomare urges understanding that vaccine side effects are minimal, if any. The body aches and fevers some people experience are simply signs the immune system is producing antibodies to protect against the disease.
If you have questions, please contact your primary care provider for more information or to schedule vaccination.