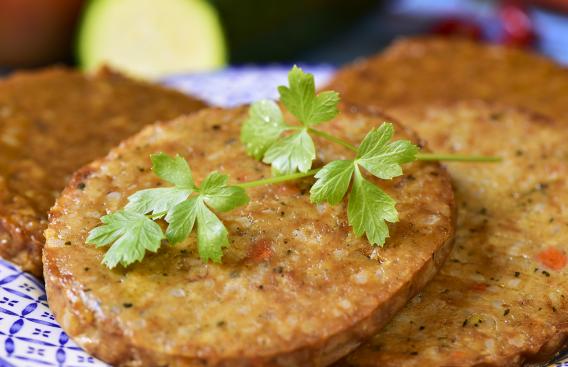 Bring the tofu back! Make these tasty additions for a classic barbeque or for an easy make-ahead dinner. The recipe makes 8-10 burgers, so you'll have plenty to freeze or enough to feed a crowd.
Portion size: 8-10 servings
Serving size: 133g or ⅓ cup portions
Ingredients
14 ounces tofu, firm or extra firm
1 tablespoon oil (canola, sunflower, or safflower)
1 teaspoon curry powder
1 teaspoon ground cumin
1 cup diced red bell pepper
¾ cup diced yellow onion
1 large carrot, shredded
1 tablespoon tamari or fish sauce
1 ½ teaspoons Dijon mustard
2 medium eggs
1 cup (4 ounces) loosely packed shredded cheddar or Monterey jack cheese
1 cup bread crumbs
1-2 cups quick oats
Cooking spray
Instructions
Place tofu in a clean dish towel and place between two cutting boards. Top with heavy book or object and let sit for 30 minutes.
Preheat oven to 375°F.
Place oil in small non-stick sauce pan, heat to medium-low. Add curry and cumin. Cook for about a minute, or just until fragrant.
Add red peppers, onion and shredded carrot. Allow to cook for 5-6 minutes, or until onions appear translucent but not browned. Set aside.
Transfer tofu to a food processor or large mixing bowl. Process, blend or mash until tofu appears smooth. Add tamari, Dijon mustard and eggs to food processor (or bowl) until combined. If using a food processor, transfer to large mixing bowl. Mix in sautéed vegetables.
Stir in cheese. Stir in breadcrumbs.
Add 1 cup of quick oats and stir to combine. Assess consistency: If burgers hold together in your hands and aren't too sticky, they are done (if they hold together but feel sticky, that's ok). Add additional oats if needed.
Line cookie sheet with parchment paper and lightly oil it.
Make patties the size of desired "burger" – no shrinking will occur during cooking.
Place formed patties gently onto the cookie sheet and bake for 12-15 minutes. Lightly spray tops of burgers and flip, cook other side for 12-15 minutes. Burgers should have a light golden crust on each side.
Nutrition (per serving)
Calories 205, Total Fat 8g, Saturated Fat 2g, Carbohydrates 21g, Fiber 3g, Protein 13g, Sodium 265mg

Source: modified by Hannah Brilling, former Dietetic Intern with LiveWell/WorkWell. Adapted from a recipe made in the COOP Food Stores Commissary and sold in stores. Reprinted with permission.
Find more recipes and healthy eating tips in the Cooking Up Health section of D-H Health and Wellness.