In This Section
Law Enforcement and Judicial Leaders Discuss Mental Health at D-H Panel Event
By

Mike Barwell

June 13th, 2019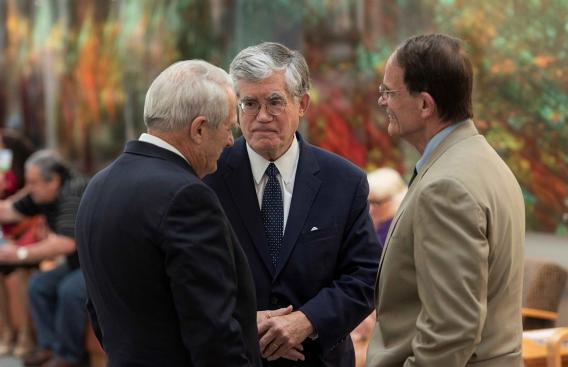 We are seeing more and more mental health issues in the courts every day. The courts can't solve the problem.
Vermont's Chief Justice Paul Reiber
 "The criminal justice system shouldn't be the default solution for mental illness and substance abuse," said Vermont Commissioner of Public Safety Thomas Anderson.
That was the consensus among the top law enforcement and judicial leaders from New Hampshire and Vermont, who talked about how they can help change the conversation when mental health issues result in criminal behavior.
The June 11 panel discussion, at Dartmouth-Hitchcock Medical Center in Lebanon, NH, included tours of the "99 Faces Project: Portraits Without Labels" exhibition, designed by Boston artist Lynda Michaud Cutrell. "My exhibit is designed to show a different face to mental illness beyond the hundred bad stories in the media," Cutrell said. "This exhibit is about hope."
Hope is a word rarely used when pairing mental illness and the law.
"I come from a career that viewed holding people accountable – 'lock 'em up and throw away the key,'" said New Hampshire's Supreme Court Chief Justice Robert Lynn. He now believes that "lock 'em up is not the complete answer."
Vermont's Chief Justice Paul Reiber agreed. "We are seeing more and more mental health issues in the courts every day. The courts can't solve the problem."
Attorneys General for both New Hampshire and Vermont concurred that the challenge is to understand how mental illness shapes behavior.
 "There isn't one aspect of the attorney general's office that isn't touched by mental health," said Jane Young, deputy attorney general of New Hampshire. "Until we begin to treat people with mental illness, we will spin our wheels." 
 "What we really need to do is envision a new system, using evidence-based science, [to develop] public health strategies to improve people's health," said T.J. Donovan, Vermont's attorney general. "It will be far cheaper."
All of the speakers lauded John T. Broderick, senior director of Public Affairs at Dartmouth-Hitchcock and the former NH Chief Justice, who has spoken in high schools around the region about overcoming the stigma of mental illness. About his work at Dartmouth-Hitchcock on the R.E.A.C.T. campaign, Broderick said, "I now realize mental health is more important than I thought. I didn't for much of my adult life."
John Kacavas, Dartmouth-Hitchcock Health's chief legal officer and general counsel, who moderated the panel, said that in his career as a state and federal prosecutor and as a criminal defense lawyer he "met people on their worst days of their lives. Many suffered from mental illness and substance abuse. They all were left to the criminal justice system to resolve. It's time to change that."
About Dartmouth-Hitchcock
DARTMOUTH-HITCHCOCK HEALTH (D-HH), New Hampshire's only academic health system and the state's largest private employer, serves a population of 1.9 million across Northern New England. D-H provides access to more than 2,400 providers in almost every area of medicine, delivering care at its flagship hospital, Dartmouth-Hitchcock Medical Center (DHMC) in Lebanon, NH. DHMC was named in 2019 as the #1 hospital in New Hampshire by U.S. News & World Report, and recognized for high performance in 13 clinical specialties and procedures. Dartmouth-Hitchcock Health also includes the Norris Cotton Cancer Center, one of only 51 NCI-designated Comprehensive Cancer Centers in the nation; the Children's Hospital at Dartmouth-Hitchcock, the state's only children's hospital; affiliated member hospitals in Lebanon, Keene, and New London, NH, and Windsor, VT, and Visiting Nurse and Hospice for Vermont and New Hampshire; and 24 Dartmouth-Hitchcock clinics that provide ambulatory services across New Hampshire and Vermont. The D-H system trains nearly 400 residents and fellows annually, and performs world-class research, in partnership with the Geisel School of Medicine at Dartmouth and the White River Junction VA Medical Center in White River Junction, VT.