In This Section
Joanne Conroy, MD Named One of 50 "Most Influential Clinical Executives"
By

Audra Burns

June 20th, 2019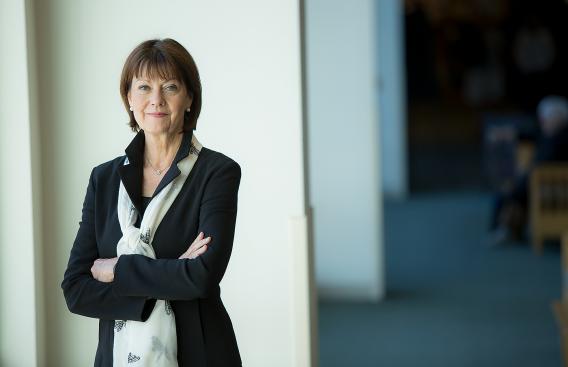 It is an honor to be recognized among such influential and dynamic leaders.
Joanne M. Conroy, MD
Dartmouth-Hitchcock Health (D-HH) and Dartmouth-Hitchcock (D-H) CEO and President Joanne M. Conroy, MD, has been named one of the 50 "Most Influential Clinical Executives" by Modern Healthcare magazine
Improving health system finances, advocacy efforts on behalf of women in leadership, and the expansion of D-HH operations were some of Conroy's accomplishments noted in her profile in the June 17 issue of the magazine, along with other leaders of the nation's top health systems, government agencies, and foundations.
"It is an honor to be recognized among such influential and dynamic leaders," said Conroy. "Delivering compassionate, high-quality care to the patients and communities we serve along with strengthening D-HH as an employer of choice is what we strive for every day and I'm humbled to lead this organization."
Leadership, workforce development, and addressing regional housing needs are some of the chief issues espoused by Dr. Conroy in her role as CEO. She is also one of the founders of "Women of Impact," a national organization advocating for development of women leaders in health care. She is actively working to help create the workforce of the future in health care, as D-HH continues to meet the needs of patients in northern New England, and to develop more, and better, housing alternatives for D-HH's staff and providers.
The "50 Most Influential Clinical Executives" acknowledges clinicians working in the health care industry who are deemed by their peers and an expert panel to be the most influential in terms of demonstrating leadership and impact. Others named to the list this year include Centers for Medicaid and Medicare Services Chief Medical Officer Kate Goodrich, MD, Cleveland Clinic President and CEO Tomislav Mihaljevic, MD, and U.S. Surgeon General Jerome Adams, MD.
"By putting former frontline clinicians in charge of leading the transformation in health care, organizations have leveraged their greatest assets. Throughout the country are examples of former and practicing physicians and nurses leading health care organizations towards greater quality of care, patient satisfaction and improved margins," said Aurora Aguilar, editor of Modern Healthcare. "Our 2019 class of the 50 Most Influential Clinical Executives is comprised of a doctor who has helped drive growth in value-based reimbursement at one of the country's largest providers, a physician who has revolutionized patient recovery in rehabilitation, a chief nursing officer who led efficiency efforts throughout the care process at a large health system, and a physician who managed to make huge waves at a federal agency while maintaining bipartisan support."
Modern Healthcare is a leading source of health care business and policy news, research and information, reporting on important health care events and trends, as they happen, through its weekly print magazine, websites, e-newsletters, mobile products and events.
About Dartmouth-Hitchcock Health
Dartmouth-Hitchcock Health (D-H Health) is a non-profit academic health system primarily serving New Hampshire and Vermont as well as patients from across New England. As the largest health care system and employer in New Hampshire, D-H Health is an integrated health care delivery network of providers and member organizations with the same commitment to provide the highest quality of care to the nearly 2 million community members we serve throughout the region.