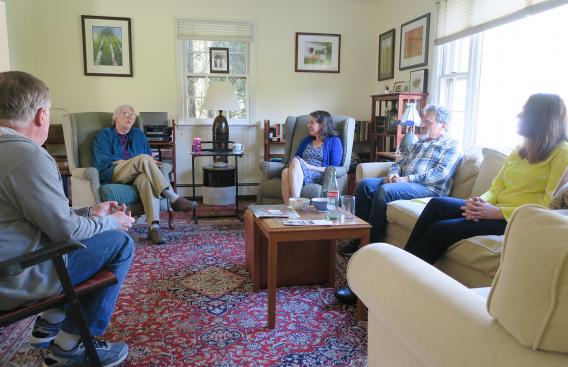 This is a place where you are accepted, regardless of what you need to talk about or if you don't want to talk at all. There is no judgement—only understanding that what you are going through is really hard.
Andrea Buccellato, manager of Patient and Family Support Services at NCCC
It started as a "Caring for the Caregiver" support group. Four people who found themselves in the same difficult situation: caring for a spouse with cancer. The responsibility of being a caregiver brings its own unique set of stressors and emotional tolls. Caregivers are often relied upon to be the strong ones while their loved ones go through treatment for cancer, and often need the support of others who understand what it's like to be in their unique position.
Caring for Caregivers
Cheryl Bromley looked to connect with others who understood first-hand what she was going through. "There's a lot that happens when someone is diagnosed with cancer. You have to deal with the insurance company and your employer, getting disability and fighting all those battles. Plus, I am a nurse. It was getting very stressful and hard being a caregiver at home, coming to work and caregiving for people with similar diagnoses as my husband's."
In the Infusion Suite at Dartmouth-Hitchcock's Norris Cotton Cancer Center (NCCC) with her husband one day, Peter Land approached Bromley and struck up a conversation about the challenges of caring for a spouse with cancer. Land understood Bromley's frustrations because he was caring for his wife, Loretta, during her cancer treatment. "He invited me to the caregiver meetings and I went. It was a game changer," says Bromley. "I was so stressed, and so tense, and so angry, and had no one to talk to, because no one understood. And then I was able to go there, diffuse a little and realize that we weren't the only ones facing these horrible things. There may not be solutions but at least we could share in the fact that we were all dealing with insurance companies and employers and all the other stressors."
Andrea Buccellato, manager of Patient and Family Support Services at NCCC, has had the privilege of facilitating the Caring for Caregivers support group for the past three years. "This is a place where you are accepted, regardless of what you need to talk about or if you don't want to talk at all. There is no judgement—only understanding that what you are going through is really hard," she says.
"When your spouse has cancer and you are a caregiver, you fall by the wayside," explains Bromley. "'How are things?' really means 'How is your spouse?' I understand that, but at the caregiver group at least we genuinely cared about how each other was doing also. It's hard to find time and to take care of yourself as a caregiver, but meeting with that group was a time where we actually could." Land could relate to that feeling. "It was a time that people were asking how you were who really wanted to know how you were. Often 'how are you' meant we would give an update on our spouse's medical situation, and our insurance situation and our travel situation. But that isn't really how we were."
A new kind of pain
In 2018, Land and Bromley both lost their spouses to cancer. They planned to attend a final caregivers meeting to say their farewells because they no longer fell under that category. But, just because the name did not fit anymore, it didn't mean that having an outlet for support, empathy, emotional connections and established trusted relationships was any less important. If anything, it was more important.
Wanting to fulfill a need that was clearly there, Buccellato formed a new group for these former caregivers. "We invited the group to come back together in December of 2018 after three of the members had lost their spouses. The group had become so important and we didn't want it to end. We talked about evolving into a group with a different emphasis. We decided to call the group, 'Beyond Caregiving.' It was a leap toward something Patient and Family Support Services hadn't done before—but it felt right."
A new kind of support
Jon Siegel had been the first to lose his wife in 2017, and stopped attending the caregivers group. "After Patrice died, I came to one more meeting to tell them that the support group really helped me. Although to this day it's hard for me to put into words exactly how. It was an emotional roller coaster. It just helped in some way." Five weeks after that meeting, Siegel's son in New York was hospitalized for bile duct cancer and died one year later, in the fall of 2018. "When I got the email [from Buccellato] saying that we could get back together again, it was kind of a miracle. I wanted to see everyone again. It was such a brilliant idea. Until I came to that first meeting, nobody knew what I had gone through that year. I lost my wife of 40 years and my only child."
Kay Yeagley also transitioned from the caregivers group to Beyond Caregiving after losing her wife, Mary, in 2018. Yeagley and Land were not only able to lean on each other throughout their journeys, but their spouses had as well. "My wife Loretta, and Kay's wife Mary, had the same diagnosis and the same doctor. So they became quite close," says Land. "Mary and Loretta became a support system for each other," continues Yeagley. "They used to email several times a day. That wouldn't have happened if I hadn't been going to the caregivers group with Peter. It wasn't part of the group but something special that came out of it."
Uniquely similar
Although each individual's situation is different, they share the ability to relate to the others in the group and also, for once, feel understood. "I'd never been to a support group before. I'm not a support group kind of guy. It's been a really terrible couple years for me. But I really like coming to this group," says Siegel. "In some ways we barely know each other. But in other ways we just connect automatically because we all know what each other is feeling. We're all feeling those same things. And we can talk about it."
"This is a horrible journey, too. Probably just as hard, harder in some ways, than being a caregiver," adds Bromley. "I found that we were able to come together over this, too."
The group has also provided a tremendous resource for exchanging coping ideas and solutions to challenges. "In spite of illnesses that can last years, when the time finally comes, you can't prepare for how you're going to feel and how you're going cope," explains Siegel. "And then the door opens and you walk through it into a completely new world. You leave behind pain, but enter into a different kind of pain. You don't know what you're going to do with all these clothes and papers and books." Siegel brought his wife's books to the art department library at Proctor Academy where she had taught for 35 years. He brought her jewelry and house plants to her memorial and gave them away. Yeagley, who struggles with the overwhelming thought of sorting through Mary's belongings, connected with Siegel's jewelry idea that he shared with the group, and will be offering Mary's earring collection to all the girls in their family.
A staple in their futures
Monthly meetings will continue indefinitely, though they have moved off site. "There's no reason to be at the Cancer Center anymore," explains Land, who generously opened his home for group gatherings. "I was there every week, sometimes twice a week. After my wife died, I couldn't walk down the corridor. Even though going there was a good thing for us, we needed to move on."
Each are learning to move on, at their own pace and as things feel right. Siegel has returned to writing for the Journal of the Guild of New Hampshire Woodworkers, of which he was a founding member 30 years ago. "I do these things because I've always done them and I know how to do them. It makes me feel like maybe my old self is there. I've made an effort to keep up social relations and make new friends. I read that that's important. And even though that's not like me exactly, I have made new friends this year." Yeagley bought a piano and is rediscovering her love for playing the piano. "And I want to read all of Mary's favorite authors. She was a mystery junkie." Land has turned to weight lifting and gardening and is looking forward to his trip to Greece later this year. "The focal point of my life for five years was my wife's cancer. But I still have time left, and I want to do some living."
The group hopes that sharing their stories will inspire and encourage others who are in their own difficult journeys to connect with people who truly understand what they are going through, both as caregivers and in bereavement. "At the Cancer Center, I could see on the faces of the caregivers, the people who were with the patients, that they were hurting," says Land. "I wanted to say to them if you do come to this group, it really can help you. You can get to know people who are really going to be interested in you also. Sometimes in the Infusion Suite people would want to talk right then and there. If they would come to the group, they could have that." Buccellato adds, "Being with others who understand how hard it is can help you develop the resilience you need, while spending time with an unlikely group of people who just may become your dear friends. And if that day comes when grief overcomes you, a community of support is waiting for you."
The need for support never goes away
As the facilitator, Buccellato has seen first-hand the core members become close to each other and look forward to seeing each other. "The other day I thought, there isn't much of the old world left. But, my next thought was this new world really isn't so bad. There are things I like. And I have new friends. And in a way I have a new family," Siegel says with a smile. "We're a strange group who probably wouldn't have reason to be friends if we weren't bonded by this common tragedy," adds Bromley. "While we don't understand each other's journeys completely because each of our situations is different, coming here gives us a chance to talk about what we've experienced, struggles we're having and how others have handled it. But we understand it better than other people. We're here and we get it. Unfortunately, we get it." "Having these people who know what I've been through still matters. It's still important," continues Land. "I care what's going to happen to these guys. I hope it's good things. I'm going to keep coming to make sure that happens."
Buccellato and the group encourage anyone whose spouse has been diagnosed with cancer to call Patient and Family Support Services and get connected to our community of support. "Our programs are for patients and caregivers," says Buccellato. "We offer support during and beyond cancer. Our programs give you the opportunity to spend time with people you can feel comfortable with.  It is only by taking care of yourself that you can care for another." For information about support groups and other programs, please call (603) 650-7751 or email CancerSupport@hitchcock.org.