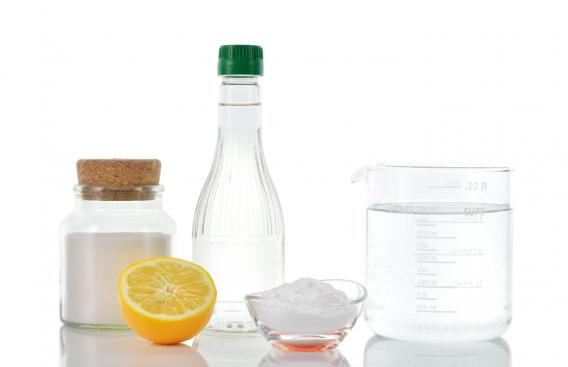 The best way to know what is in your household cleaners is to make them yourself. Here are some recipes for making simple, safe and affordable cleaners.
Come Clean with Green!
Dartmouth-Hitchcock's Environmental Services Department and the Upper Valley Lake Sunapee Regional Planning Commission (UVLSRPC), share a number of green cleaning approaches being used at the medical center and nontoxic cleaning recipes for home use.
Making your our own nontoxic cleaners will save you money, protect your family's health (including your pets) and contribute to a safer environment.
Here are some tips for green cleaning:
Go micro! Microfiber cloths are 99 percent effective in picking up dust and grime, and they last for up to 500 washings—10 times more than a cotton cloth.
 
Corporations that make cleansers are not required by law to list all the ingredients. They will often list "fragrance" and "preservatives" to cover a lot of chemicals that may contribute to health issues, such as eye, skin or respiratory irritation. You can buy many commercially-available green cleaners for home use. Look for independent testing and grading of products, such as the Environmental Working Group's Guide to Healthy Cleaning. Labels might claim a product is "environmentally friendly" or "natural," but the products may still contain harmful ingredients because these terms are not regulated.
 
Stay away from antibacterial products. Antibacterial soaps are no more effective than conventional soap and water, can create antibiotic-resistant bacteria and have been shown to interfere with hormone regulation in animal studies. After these products are washed down the drain, small amounts persist after sewage treatment and can have a negative impact on plant and animal life.
The best way to know what is in your household cleaners is to make them yourself. The recipes are simple and extremely affordable. A commercial window cleaning product costs around $4 per bottle while a non-toxic homemade version costs only 10 cents!
The most common ingredients you will need to make your own are:
White vinegar: Vinegar is a powerful, acidic sanitizer and deodorizer. It breaks down hard water buildup, dissolves metal tarnish and kills bacteria, molds and other microbes as well as helps whiten laundry. The strong smell will dissipate in a couple of hours.
 
Baking soda: This ingredient is slightly alkaline and neutralizes odors caused by acids. It is helpful for unclogging drains and neutralizing odors in garbage cans and disposals. Baking soda is slightly abrasive so it can be used for scrubbing sinks, counters, appliances and bathroom fixtures.
 
Liquid castile soap: Castile soap, made from oils like olive, coconut, jojoba and hemp, is biodegradable. Common brands include Dr. Bronner's® and Vermont Soap®.
 
Essential oils: Essential oils are extracted from flowers, fruits, leaves, roots and trees. There are many oils you can choose from to add a pleasant scent and sanitizing power to your cleaning solutions, such as lavender, citrus and mint. Tea tree oil is a natural antiseptic and kills mold. Only a few drops are needed per bottle of solution you make.
UVLSRPC offers these nontoxic housecleaning recipes (PDF).
Getting rid of hazardous cleaning products
If you decide to weed out the commercial cleaning products from under your sink, check with your town or city to see if they offer hazardous waste collections. You can bring any unwanted chemicals for disposal such as household cleaners, paint, automotive fluids and even unused medications in some locations. Visit the UVLSRPC household hazardous waste website for a schedule of these collection events in New Hampshire and Vermont.
Resources for green cleaning