In This Section
Dartmouth-Hitchcock Medical Center Honored With Quality Achievement Awards
By

Audra Burns

August 2nd, 2019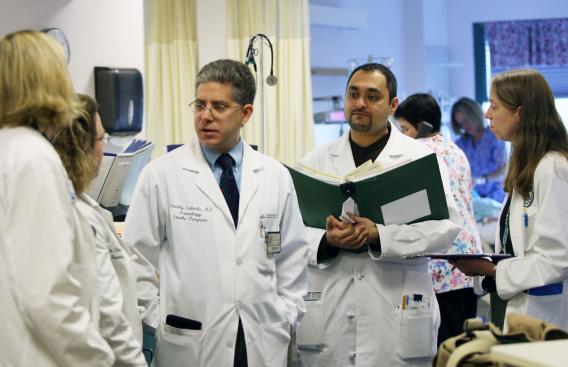 I'm proud that both our stroke and resuscitation teams have been recognized for providing the highest quality, evidence-based care which has significantly improved the number of lives we save every day
Dr. George Blike, Chief Quality and Value Officer
Dartmouth-Hitchcock Medical Center (DHMC) has received three Get With The Guidelines® Awards for implementing specific quality improvement measures outlined by the American Heart Association (AHA) for both the treatment of patients who suffer in-hospital cardiac arrests and treatment for stroke patients.
 "We are pleased to recognize Dartmouth-Hitchcock for their commitment in following these guidelines for resuscitation and stroke care," said Lee H. Schwamm, M.D., national chairperson of the Quality Oversight Committee and Executive Vice Chair of Neurology, Director of Acute Stroke Services, Massachusetts General Hospital, Boston, Massachusetts. "Research has shown that hospitals adhering to clinical measures through the Get With The Guidelines quality improvement initiative can often see fewer readmissions and lower mortality rates."
 DHMC received a Gold award for meeting specific measures in treating adult patients and a Gold Plus award for treating pediatric patients who suffer cardiac arrest while in the hospital. These recognition awards were developed by the AHA with the goal to save the lives of patients who experience cardiac arrests while in the hospital. They accomplish this by consistently treating them using the most up-to-date research-based guidelines for treatment. Guidelines include following protocols for patient safety, medical emergency team response, effective and timely resuscitation (CPR) and post-resuscitation care.
A Gold Plus with Honor Roll Elite Plus award was also awarded to DHMC for meeting specific quality achievement measures for the diagnosis and treatment of stroke patients. These measures include evaluation of the proper use of medications and other stroke treatments aligned with the most up-to-date, evidence-based guidelines with the goal of speeding recovery and reducing death and disability for stroke patients. Hospitals with this distinction must also meet quality measures developed to reduce the time between the patient's arrival at the hospital and treatment with the clot-buster tissue plasminogen activator, or tPA, the only drug approved by the U.S. Food and Drug Administration to treat ischemic stroke.
"I'm proud that both our stroke and resuscitation teams have been recognized for providing the highest quality, evidence-based care which has significantly improved the number of lives we save every day," said DHMC Chief Quality and Value Officer Dr. George Blike. "To be acknowledged for how we continue to improve patient care by consistently following the most up-to-date treatment guidelines is an honor."
About Get With The Guidelines Get With The Guidelines® is the American Heart Association/American Stroke Association's hospital-based quality improvement program that provides hospitals with the latest research-based guidelines. Developed with the goal of saving lives and hastening recovery, Get With The Guidelines has touched the lives of more than 6 million patients since 2001. For more information, visit heart.org.
About Dartmouth-Hitchcock
DARTMOUTH-HITCHCOCK HEALTH (D-HH), New Hampshire's only academic health system and the state's largest private employer, serves a population of 1.9 million across Northern New England. D-H provides access to more than 2,400 providers in almost every area of medicine, delivering care at its flagship hospital, Dartmouth-Hitchcock Medical Center (DHMC) in Lebanon, NH. DHMC was named in 2019 as the #1 hospital in New Hampshire by U.S. News & World Report, and recognized for high performance in 13 clinical specialties and procedures. Dartmouth-Hitchcock Health also includes the Norris Cotton Cancer Center, one of only 51 NCI-designated Comprehensive Cancer Centers in the nation; the Children's Hospital at Dartmouth-Hitchcock, the state's only children's hospital; affiliated member hospitals in Lebanon, Keene, and New London, NH, and Windsor, VT, and Visiting Nurse and Hospice for Vermont and New Hampshire; and 24 Dartmouth-Hitchcock clinics that provide ambulatory services across New Hampshire and Vermont. The D-H system trains nearly 400 residents and fellows annually, and performs world-class research, in partnership with the Geisel School of Medicine at Dartmouth and the White River Junction VA Medical Center in White River Junction, VT.