In This Section
Dartmouth-Hitchcock Health CEO and President Joanne M. Conroy, MD Named to American Hospital Association Board of Trustees
By

Rick Adams

August 7th, 2019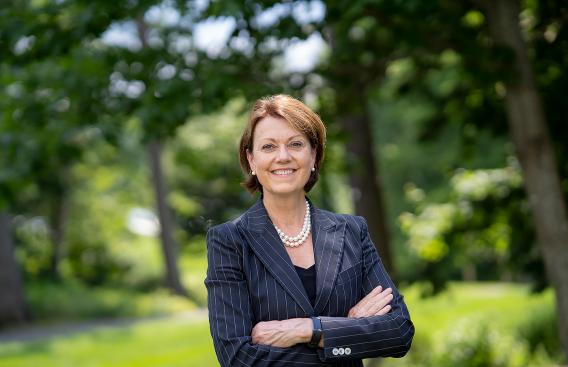 AHA's advocacy on behalf of our nation's hospitals, and the millions of patients cared for by them, is critically important in today's shifting health care landscape
Joanne M. Conroy, MD
Dartmouth-Hitchcock Health CEO and President Joanne M. Conroy, MD, is one of seven people who have been named to the American Hospital Association (AHA) Board of Trustees. The new members were announced today by AHA, for three-year terms beginning Jan. 1, 2020. The Board of Trustees is the highest policymaking body of the AHA and has ultimate authority for the governance and management of its direction and finances.
Dr. Conroy leads Dartmouth-Hitchcock Health, a nonprofit academic health system – New Hampshire's largest private employer – that includes Dartmouth-Hitchcock Medical Center, the system's 396-bed flagship teaching hospital; the Dartmouth-Hitchcock Clinic, a multi-specialty group practice employing more than 1,800 providers; the Dartmouth-Hitchcock Norris Cotton Cancer Center, one of 51 National Cancer Institute-designated comprehensive cancer centers; a children's hospital; four affiliated member hospitals; Visiting Nurse and Hospice for Vermont and New Hampshire; and 24 ambulatory care clinics around the state.
"AHA's advocacy on behalf of our nation's hospitals, and the millions of patients cared for by them, is critically important in today's shifting health care landscape," noted Conroy. "I'm proud and honored to be selected for the AHA board, and I look forward to fully engaging on the issues that are critically important to all of us who provide, and receive, care at hospitals."
Earlier in her career, Dr. Conroy served as CEO of Massachusetts-based Lahey Hospital and Medical Center (formerly Lahey Clinic).  She also served as Chief Health Care Officer for the Association of American Medical Colleges (AAMC) in Washington, DC, for more than five years. In this role, she advanced AAMC's strategic imperative of leading change to improve the nation's healthcare system. By working with member medical schools and teaching hospitals, Dr. Conroy helped establish national health priorities and developed best practices to improve health by focusing on medical education, care delivery, research, diversity and inclusion.
Dr. Conroy is board certified by the American Board of Anesthesiologists. She received her undergraduate degree in chemistry from Dartmouth College and a medical degree from the Medical University of South Carolina, where she completed her residency in anesthesiology and served as chief resident for one year.
The AHA is a not-for-profit association of health care provider organizations and individuals that are committed to the health improvement of their communities. The AHA is the national advocate for its members, which include nearly 5,000 hospitals, health care systems, networks, other providers of care and 43,000 individual members. Founded in 1898, the AHA provides education for health care leaders and is a source of information on health care issues and trends.
"We couldn't be more pleased with Dr. Conroy's appointment to the AHA Board of Trustees," said Steve Ahnen, president of the New Hampshire Hospital Association. "Her leadership and commitment to patients and health care transformation will serve as an excellent addition to the AHA Board and its commitment to shaping the future of the healthcare landscape in communities large and small all across the country."
Others named to the AHA board include ICON Hospitality CEO and President Michael Charlton; Vanderbilt University Medical Center Deputy CEO and Chief Health System Officer Wright Pinson, MD; Cape Fear Valley Hoke Healthcare President Roxie Wells, MD; Avera Marshall Regional Medical Center Regional President and CEO Mary Maertens; Augusta Health President and CEO Mary Mannix; Cottage Health President and CEO Ron Werft; and HCA Healthcare Continental Division President and CEO Sylvia Young.
About Dartmouth-Hitchcock
DARTMOUTH-HITCHCOCK HEALTH (D-HH), New Hampshire's only academic health system and the state's largest private employer, serves a population of 1.9 million across Northern New England. D-H provides access to more than 2,400 providers in almost every area of medicine, delivering care at its flagship hospital, Dartmouth-Hitchcock Medical Center (DHMC) in Lebanon, NH. DHMC was named in 2019 as the #1 hospital in New Hampshire by U.S. News & World Report, and recognized for high performance in 13 clinical specialties and procedures. Dartmouth-Hitchcock Health also includes the Norris Cotton Cancer Center, one of only 51 NCI-designated Comprehensive Cancer Centers in the nation; the Children's Hospital at Dartmouth-Hitchcock, the state's only children's hospital; affiliated member hospitals in Lebanon, Keene, and New London, NH, and Windsor, VT, and Visiting Nurse and Hospice for Vermont and New Hampshire; and 24 Dartmouth-Hitchcock clinics that provide ambulatory services across New Hampshire and Vermont. The D-H system trains nearly 400 residents and fellows annually, and performs world-class research, in partnership with the Geisel School of Medicine at Dartmouth and the White River Junction VA Medical Center in White River Junction, VT.