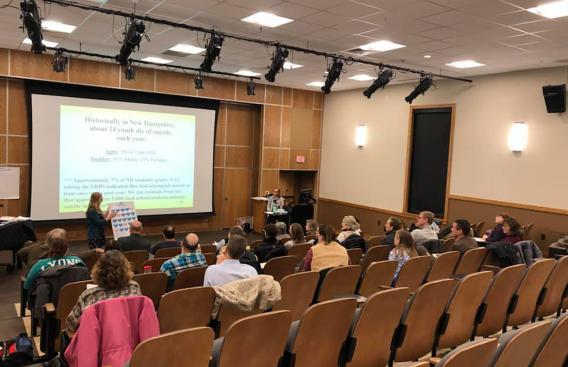 I believe if everyone had this information, we could save more lives. It empowers people to help—and it can make a difference.
Angie Raymond Leduc
Many of us know someone affected by suicide, as a shocking number of people—more than 34,000—take their own lives every year. According to the National Alliance on Mental Illness (NAMI), this public health crisis is currently the third leading cause of U.S. adolescent death, and the tenth among adults. Yet, there's good news: suicide prevention improves with increased community education and engagement.
Dartmouth-Hitchcock's (D-H) Community Health Improvement team works to positively influence various social determinants that affect overall health, including substance misuse, mental and behavioral disorders and suicide prevention. It partners with NAMI's New Hampshire chapter, NAMI-NH, and West Central Behavioral Health to expand suicide prevention and mental health first aid training.
Recently, Community Health Improvement sponsored a NAMI Connect Suicide Prevention/Intervention Train-the-Trainer event. This intensive three-day workshop produced 16 new trainers to facilitate Connect Suicide Prevention Education events in the community.
Connect: the impactful national standard 
NAMI-NH developed the nationally-renowned Connect Suicide Prevention program, which delivers an integrated, systematic approach to suicide prevention. It aims to save lives by helping individuals, stakeholders and organizations recognize and address early suicide risk factors. The multifaceted, evidence-based curriculum offers customized instruction in prevention/intervention, postvention (addressing healing after suicide), safe sharing of suicide loss and train-the-trainer. It is aligned with the National Strategy for Suicide Prevention's educational goals and practices.
Angie Raymond Leduc is one of six members of the Community Health Improvement team serving as a Connect trainer. The Connect trainers volunteer to co-facilitate free Connect trainings for various regional organizations upon NAMI-NH's request. Each trainer can work with up to 25 individuals per session. Recently, a group of D-H and local volunteers successfully trained 75 faculty members of Kimball Union Academy in suicide prevention.
"I believe if everyone had this information, we could save more lives," Leduc shares. "It empowers people to help—and it can make a difference."
Trainer education is the key
There are currently 16 volunteer Connect Trainers in the Upper Valley. D-H and NAMI-NH are committed to increasing the number of trainers to maximize suicide prevention and intervention education. Trainers must have the flexibility to participate in at least two Connect events over a two-year period.
According to NAMI-NH, the three-day Connect Train-the-Trainer curriculum "generates suicide prevention champions." The first day covers "gatekeeper training," encompassing six hours of suicide prevention education (e.g. learning safe language, participating in awareness activities). Day two offers small, intensive group trainings, including practice case scenarios and feedback. The last day provides specialization module training. Participants can select from schools, law enforcement, social services and health care (coming soon!), among others, and earn continuing education credits.
"D-H is serving as a launch pad for NAMI-NH's amazing work," Leduc explains. "I believe in this impactful training, and am so proud of our department and D-H for caring about the community and improving health outcomes."
If you and/or your team would like to participate in a free Connect training, or if you're interested in becoming a NAMI-NH Connect Suicide Prevention Trainer, contact Bridget.S.Aliaga@hitchcock.org.
Here are some additional suicide prevention resources: