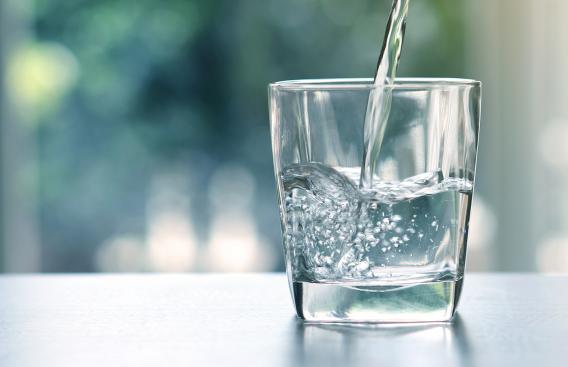 It is commonly recommended that adults drink eight, eight-ounce glasses of water a day, but this one-size-fits-all guidance may not be what you specifically need. Most fluids are considered hydrating, including caffeinated beverages. Heather Wolfe, MPH, RDN, LD, certified health & wellness coach, from Dartmouth-Hitchcock's Live Well/Work Well Employee Wellness program, recommends choosing water most often. "Most people can let thirst be their guide and look to their urine as an indicator of adequate hydration (pale yellow and odor-free being desirable)," she says.
Wolfe points to these guidelines from The Health and Medicine Division of the National Academies of Sciences, Engineering and Medicine Institute of Medicine on how much fluid to drink (for each, a cup equals eight ounces):
Children four to eight years old, five cups
Children nine to 13 years old, seven to eight cups
Children 14 to 18 years old, eight to 11 cups
Men, 19 years and older, 13 cups
Women, 19 years and older, nine cups
Pregnant women, 10 cups
Breastfeeding women, 13 cups
She recommends considering these factors on whether you should increase or decrease your fluid intake:
How active you are
Where you live
Health conditions, medications you are taking, or if you are ill
Body weight
Food is also a source of water. "In a healthy diet, food accounts for approximately 20 percent of our fluid intake," says Wolfe. Fruits and vegetables are mostly water by weight, which is one reason why dietary guidelines recommend half of our plate be filled with produce, she explains. "If you eat a highly processed diet, you will have increased fluid needs."
When it comes to fluids and fitness, water is all most people require. "In general, the average, everyday exerciser does not need a beverage with carbohydrates or electrolytes, like a sports drink. If you are eating a healthy, balanced diet you will get sufficient electrolytes and energy from food," she says, and adds, "Remember to listen to your body, paying attention to thirst, drinking fluids throughout the day, making water your first choice, and eating plenty of fruits and vegetables along the way."
Get more tips on how to stay hydrated from the Academy of Nutrition and Dietetics.
Need help on choosing which beverages to drink besides water? Wolfe shares this recipe for Cranberry Seltzer with Lime.
Serving size: 1 servings
Ingredients:
1 cup seltzer water, plain or flavored
½ cup 100 percent cranberry juice
Lime wedge
Instructions:
Pour yourself a glass of seltzer.
Add a splash of juice.
Squeeze the juice from the lime wedge into your drink and then put the wedge right into the drink, if you would like, a garnish.
Nutrition (per serving): Calories 7