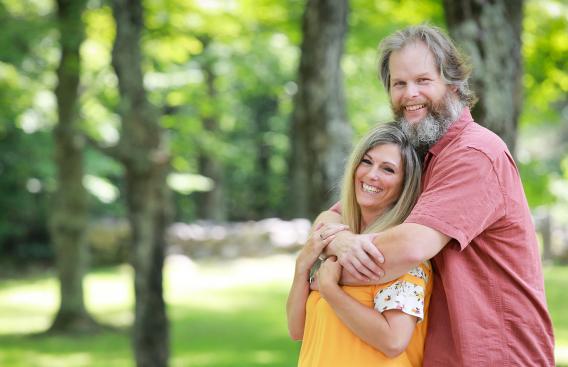 When Dale Wade-Warren and Alan Warren celebrated their one-year wedding anniversary on June 16, 2019, it was an especially joyous occasion. For even though Dale is the picture of health, she had nearly died a few years earlier due to acute pancreatitis, respiratory failure and other complications that kept her in Dartmouth-Hitchcock Medical Center (DHMC) for a year-and-a-half, off and on.
"She was one of the sickest patients we've ever cared for at DHMC who has survived," says Kurt Rhynhart, MD, Associate Section Chief General Surgery, Division Chief Trauma and Acute Care Surgery, who was part of the large team of clinicians who cared for Wade-Warren. 
Wade-Warren's pancreatitis was the result of fats, known as triglycerides, building up in her bloodstream. "Her pancreatitis was caused by hypertriglyceridemia, which is high triglyceride levels," says Surgical Intensive Care Unit Co-Director Joshua Mancini, MD. "It wasn't something she did, it's a hereditary condition. But she had the most severe form of pancreatitis, where the pancreas stops functioning and you become very ill."
"She was an innocent bystander to a bad problem that caused a catastrophic problem," adds Rhynhart.
Fighting for her life
Her medical saga began on April 22, 2016, with what Wade-Warren thought was a stomach bug. "Everyone at work thought I was playing sick so I could go home and spend the day with Alan, since it was the one-year anniversary of our first date," says 45-year-old Wade-Warren. After a day and night of chills, vomiting and diarrhea, Alan convinced her to go to Springfield Hospital the next day, near their home in Cavendish, VT. Her vomiting continued in the waiting room and, after examining her, the Springfield Emergency Medical Team requested that the Dartmouth-Hitchcock Advanced Response Team (DHART) helicopter transport her to DHMC.
Wade-Warren's first 48 hours at DHMC's Intensive Care Unit were touch and go. Her stomach was bulging and when a nurse took a sample of her blood, Alan recalls that "it wasn't even red; it looked like it was all fat." Her acute pancreatitis quickly developed into abdominal compartment syndrome, which caused so much swelling in her abdomen that she wasn't able to breathe anymore, says Mancini. They opened her abdomen to help reduce the swelling, but her respiratory status was worsening and it was difficult to connect her to a ventilator, a machine that would help her breathe.
"She was near death," Rhynhart says.
Her providers determined that the only thing that might save her was the ECMO (extracorporeal membrane oxygenation) machine, which was relatively new to DHMC. Anesthesiologist Athos Rassias, MD, and his team stepped in to begin Wade-Warren's ECMO "run." During an ECMO run, tubes circulate and oxygenate the patient's blood outside of the body, giving the heart and lungs a chance to recover. Due to her acute respiratory distress syndrome, Wade-Warren was put on the ECMO machine for close to 30 days.
"It took a massive amount of people power and effort to keep her going, and the level of difficulty was high because she had so many other medical problems going on at the same time," Rassias says. "She had a high mortality rate just from her pancreatitis, and the respiratory failure on top of that it made it a very tough medical situation. It was not a guarantee that she would have a successful ECMO run, but a lot of dedication and high-level teamwork is what saved her."
After the ECMO run, Wade-Warren went back and forth to the operating room every day for months. Her abdomen had to be kept open and regularly drained, she underwent regular pancreatic debridement (the medical removal of unhealthy and/or infected tissue) and she also suffered a life-threatening bleed from a vein in her spleen. Six months later, she recovered enough to be managed from home as an outpatient. But she had to be readmitted to DHMC several times, including in August of 2017 when she had another major surgery to repair a hole in her intestine. That surgery (her 45th) enabled Wade-Warren to eat and drink liquids again after 15 months, and finally put her on the road to recovery. She returned home for good on August 25, 2017 and has only returned to DHMC for periodic check-ups.
Getting her life back
Mancini and Rhynhart attribute Wade-Warren's recovery to outstanding teamwork among the countless DHMC clinicians who cared for her, her family's tireless support and her own resilience. "What she went through was very painful and difficult and she deserves all of the credit for coming through this," says Mancini. "For her to essentially be back to baseline normal is amazing. Her recovery was a complete DHMC team effort, but she also has an incredible family who supported her through the whole process, and Alan (her then-fiancé) really helped her a lot."
Wade-Warren agrees. "This guy sitting next to me is definitely number one for spending every night in a chair, not a bed, right next to me. He would go to work every day and come back each night. I don't know how he did it. He helped me keep fighting through it and so did my kids, John, Jillian and Samantha, and my parents, Charles and Carol Wade."
Wade-Warren looks and feels great now, and has returned to teaching at the Springfield Area Parent-Child Center in North Springfield, VT, where she works with pre-schoolers. What does she want people to take away from her story? "Always stay positive and never give up," she says. "I want people to know that anything is possible. But if it wasn't for the doctors, nurses, physical therapists, occupational therapists, nutritionists and everybody pushing me I wouldn't be where I am. Life is good now and I'm grateful to everyone who helped me get my life back. They were all so awesome. I love this hospital!"