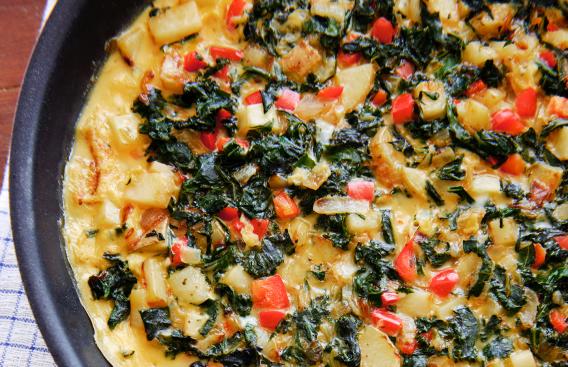 Dartmouth-Hitchcock's Culinary Medicine Program offers this Spinach Frittata filled with vegetables, black beans or chickpeas. Add some turkey sausage and enjoy for breakfast, lunch or dinner.
Portion size: 1/8th
Service size: 8 servings
Ingredients
6 eggs, whisked with salt and pepper
1 small onion, diced
1 small red pepper, diced
1 cup chopped spinach (fresh or frozen)
2 teaspoons olive oil or canola oil
Optional
Turkey sausage, diced and sautéed until brown
1 cup cooked or canned black beans or chickpeas
1/2 cup grated parmesan or cheddar cheese
Basil, chopped
Instructions
Sauté onions, peppers and spinach in 2 tablespoons olive oil until browned.
Add egg mixture, stir, cover and cook at low heat until set, about 7 minutes.
Cool, then slice and serve.
Nutrition (per serving):
Calories 70.6, Cholesterol 139.5 mg, Sodium 56.7 mg, Protein 5 g, Total Carbohydrates 1.8 g, Dietary Fiber .4g
Download a PDF version of this recipe.
Find more family-friendly recipes and healthy eating tips in the Cooking Up Health section of D-H Health and Wellness.