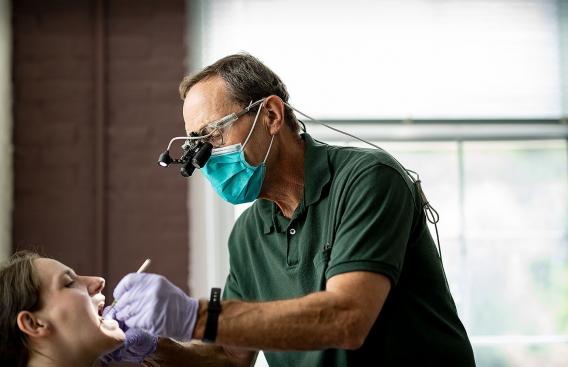 Kathryn sat patiently in a small corner office of the old mill building in Lebanon as retired dentist John Echternach examined her mouth.
"You really don't need to have all of your teeth extracted," he advised. "But you do need a good cleaning and some restorations."
She smiled, almost in disbelief. "That's [not] what they told me at the other clinic," she explained.
"We hear that a lot," the dentist said. "We'll set you up with some appointments and help."
It was the middle of a long day for Kathryn. She had already been at the Moms in Recovery program for two hours for counseling and group therapy with a dozen other young mothers in recovery. Her two-year-old son  raced around the Play Pals area of the clinic, where children can play while their moms receive treatment. And she is only a month away from delivering her second child.
"I can barely eat now," she said after the exam. "My teeth hurt so bad, but I need to do so many other things right now."
This is Kathryn's second time in the Moms in Recovery program; the first was two years ago before her son was born. She's still in recovery and came to the new free dental clinic "because it's a safe place and I trust these people."
The collaboration with the Red Logan Dental Clinic, in White River Jct., VT, is the most recent addition to Moms in Recovery, a Dartmouth-Hitchcock program which has grown during the past six years in response to the ongoing substance misuse crisis and the needs of a very vulnerable population of young mothers and children.
Bridging the gap
"Mental health and dental health are far too often treated as if they were different or less important than other health care concerns," says Daisy Goodman, DNP, CNM, one of the leaders at Moms in Recovery program that is effectively treating women trying to recover from substance use disorders. "We need to bridge that gap."
Lack of dental care is common, especially among low-income residents who have other medical issues and priorities. Many have no dental insurance and in New Hampshire, as in many states, Medicaid does not cover dental care until it becomes an emergency. Therefore, non-emergent dental care takes a back burner to other life issues—including safe housing, reliable transportation, sustainable employment and adequate childcare.
"In a recent survey almost all of our patients have a significant need for routine or emergency dental care," Goodman says. "More than 27 percent of our patients have been treated in the Emergency Department in the past year for untreated dental pain, and 30 percent report that they experience daily dental pain which impacts their quality of life. In addition, when someone has dental pain it is difficult to eat a healthy diet, which is very important both during and after pregnancy."
Moms in Recovery offers basic dental care through a partnership with the Red Logan clinic, funded through a variety of grants and individual donations. The goal is to provide a free assessment, cleaning and dental care plan for any of the 58 women in the program who don't have access to dental care.
"If you don't have a healthy mouth, you don't have a healthy body," says A.J. Kemon, RDH (VT), CPHDH (NH), a public health dental hygienist who is the clinic manager at Red Logan. "We will offer free screenings at Rivermill for the mothers in the Moms in Recovery program and offer treatment or make referrals for further care."
Each year the Red Logan clinic has 14 volunteer dentists and eight to 10 dental students from three universities who work with patients. Kemon says they anticipate most patients will need cleanings, restorations, extractions or dentures.  Clinicians also will offer tips on oral hygiene and nutrition.
"There's a lot of shame around your teeth," says Emily who has been in Moms in Recovery since February. She was aware of some problems with lost fillings in two back molars but didn't have dental insurance to see a dentist and out-of-pocket costs were too high.
 "It was reassuring and a kick in the butt to make an appointment," she said after her recent free assessment, noting that finding a local dentist can be a challenge. "For those of us in recovery, even if you know you need to do it, you most often don't.  So this is a good way to help us be healthier."
"Pain is a potential trigger for relapse when recovering from substance use," Goodman says. "The average age of our patients is 28, and most have not seen a dentist in more than three years. Dental issues also have a lot to do with self-esteem, employability and the ability to care for other aspects of health. Dental issues also can lead to more serious illness, such as an abscess in a tooth which can spread to the jaw, leading to a systemic infection that can be life threatening if not properly treated. In addition to not being safe or effective for the patients, it is also very expensive to treat dental problems in the Emergency Department."
The Moms in Recovery dental program is supported by grants from D-HH's Community Health Program as well as private donations.