By

Heather Wolfe

October 8th, 2019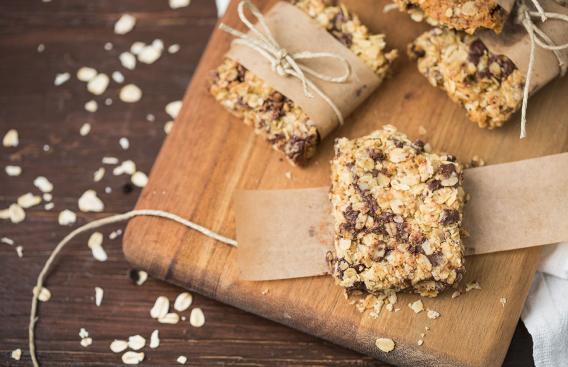 Homemade is healthier. These peanut-free bars do use tree-nuts (almonds), but can easily be modified to be entirely nut-free if needed (see hints below). Thanks to toasting ingredients ahead of time, these really do taste like you are eating granola in bar form.
Makes: 12 bars
Serving Size: 1 bar
Ingredients
2 cups rolled oats
½ cup almonds, chopped
½ cup shredded coconut
2 tablespoons sunflower seeds
2 tablespoons wheat germ (optional)
½ cup dried fruit, such as raisins or cranberry
¼ teaspoon salt
¼ teaspoon cinnamon
½ cup honey
¼ cup almond butter or sunflower butter
1 teaspoon vanilla
¼ cup chocolate chips (optional)
Instructions
Preheat oven to 350°F.
Mix oats, almonds, coconut, sunflower seeds and wheat germ together in a large bowl. Spread out oat mixture on a baking sheet. Toast for about 15 minutes.
Put toasted mixture back into the large mixing bowl. Add dried fruit, salt and cinnamon.
An optional step to make mixing easier: In a small saucepan, add honey, almond butter and vanilla. Warm over medium heat, mixing until everything is combined. Pour into bowl with oat mixture. Mix well until evenly coated.
Line an 8"x8" baking pan with parchment paper. Place mixture evenly into pan. If desired, sprinkle top with chocolate chips. Pack down firmly.
Bake for 30 minutes. Remove and let cool at room temperature for about an hour, then refrigerate for an additional hour as they will cut easier and stay together better. Enjoy within the week or freeze for longer shelf life.
 
Nutrition (per serving without optional ingredients):
Calories 200, Total Fat 8.5g, Saturated Fat 2.5g, Carbohydrate 30g, Fiber 3.5g, Protein 4.5g, Sodium 50mg

Heather's Healthy Hints
Go entirely nut-free: switch out the ¼ cup almonds for seeds: try a combo of sunflower, poppy, sesame and/or chia (perhaps a tablespoon of each). This is in addition to the 2 tablespoons sunflower seeds called for in the original recipe. Be sure to use the sunflower butter option.
Find more family-friendly recipes and healthy eating tips in the Cooking Up Health section of D-H Health and Wellness.