In This Section
Facebook Live with Dr. Joanne Conroy and Dr. Kari Rosenkranz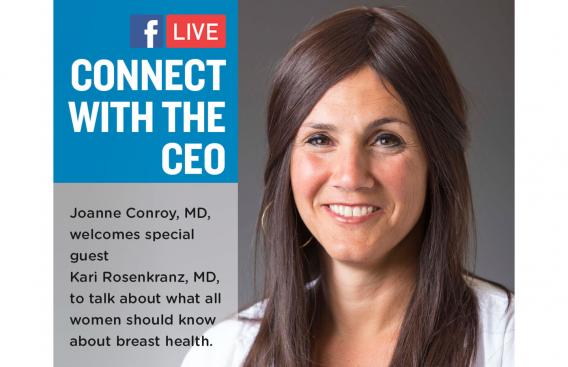 The next in a series of Facebook Live sessions, Dr. Joanne Conroy, CEO and President of Dartmouth-Hitchcock (D-H), will talk with Dr. Kari Rosenkranz, Staff Physician,
General Surgery at D-H and Associate Professor of Surgery, Geisel School of Medicine. They will discuss breast health and what women should know at any age. This Facebook Live session will be held on Wednesday, October 23, at 12 noon.
For those who want to tune in, go to the D-H Facebook page at the above date and time. To comment on or share the video, you will need to have a personal Facebook profile, but you can view the D-H Facebook page even if you are not logged in. On that day, if you are logged into your Facebook account and already "like" the D-H page, you will likely see a notification that the session is live. Submit questions in advance to social@hitchcock.org.
For those who are unable to tune in live, you can view an archived version on the D-H Facebook page. Dr. Conroy hosts the Facebook Live sessions monthly, featuring special guests to discuss topics of interest to the D-H Community. If you have suggestions for upcoming guests, please send your suggestion to social@hitchcock.org.