In This Section
D-H's Dr. Kari Rosenkranz Nominated for National Compassionate Caregiver of the Year Award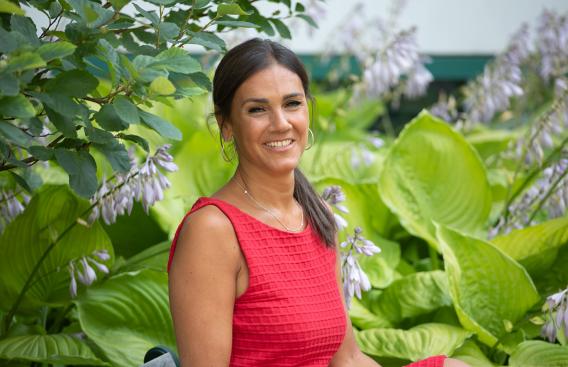 I am truly humbled to be considered among the nominees for the Compassionate Caregiver of the Year award.
Kari Rosenkranz, MD
Dartmouth-Hitchcock surgical oncologist Kari Rosenkranz, MD, is one of six finalists announced this week for the 2019 National Compassionate Caregiver of the Year® (NCCY) Award, presented by the Schwartz Center for Compassionate Healthcare, a national nonprofit dedicated to putting compassion at the heart of healthcare.
Rosenkranz, medical director of the Comprehensive Breast Program at Dartmouth-Hitchcock Norris Cotton Cancer Center, is among a group healthcare professionals who "make a profound difference through their unmatched dedication to compassionate care."
"I am truly humbled to be considered among the nominees for the Compassionate Caregiver of the Year award," said Dr. Rosenkranz. "Compassion is such an essential part of health care and I am so grateful that the Schwartz Center shines such a bright light on this aspect of our work.  I feel that compassion and empathy are as critical to living well – and dying well – as is technology, surgery and medications.  Compassion should emphasized not just with our patients, but its import should be instilled in our trainees as well."
In addition to her clinical practice, Dr. Rosenkranz has a strong interest in medical education. She serves as the Associate Chair for Education in the Department of Surgery, and the Associate Program Director for the General Surgery residency. She is a strong advocate for the educational mission at Dartmouth-Hitchcock. Dr. Rosenkranz, a member of the Dartmouth-Hitchcock clinical staff since 2006, also serves as a physician representative on the Dartmouth-Hitchcock Health Board of Trustees.
This year's award recipient will be announced on November 21, 2019 at the 24th Annual Kenneth B. Schwartz Compassionate Healthcare Dinner in Boston.
The NCCY Award program was created by the Schwartz Center in 1999 to honor outstanding healthcare professionals who display extraordinary devotion and compassion in caring for patients and families. Finalists are chosen by a national review committee, which includes past award recipients, in collaboration with representatives from the American Diabetes Association, the American Heart Association/American Stroke Association, and the National Hospice and Palliative Care Association.
About Dartmouth-Hitchcock
DARTMOUTH-HITCHCOCK HEALTH (D-HH), New Hampshire's only academic health system and the state's largest private employer, serves a population of 1.9 million across Northern New England. D-H provides access to more than 2,400 providers in almost every area of medicine, delivering care at its flagship hospital, Dartmouth-Hitchcock Medical Center (DHMC) in Lebanon, NH. DHMC was named in 2019 as the #1 hospital in New Hampshire by U.S. News & World Report, and recognized for high performance in 13 clinical specialties and procedures. Dartmouth-Hitchcock Health also includes the Norris Cotton Cancer Center, one of only 51 NCI-designated Comprehensive Cancer Centers in the nation; the Children's Hospital at Dartmouth-Hitchcock, the state's only children's hospital; affiliated member hospitals in Lebanon, Keene, and New London, NH, and Windsor, VT, and Visiting Nurse and Hospice for Vermont and New Hampshire; and 24 Dartmouth-Hitchcock clinics that provide ambulatory services across New Hampshire and Vermont. The D-H system trains nearly 400 residents and fellows annually, and performs world-class research, in partnership with the Geisel School of Medicine at Dartmouth and the White River Junction VA Medical Center in White River Junction, VT.