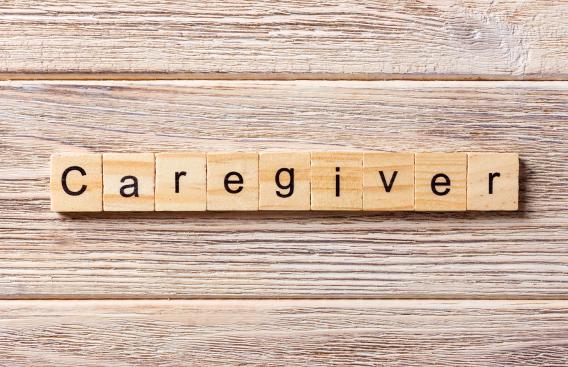 An opportunity to meet others online or on the phone can be really helpful to know caregivers are not alone in the challenges they're facing.
Andrea Buccellato
Caring for someone who has been diagnosed with a serious illness can be stressful. Caregivers can often feel isolated and lack resources for support, especially in rural areas like New England. Funded by a grant from the Gordon and Betty Moore Foundation, a diverse co-design team is using person-centered design principles to create a peer-to-peer community network for serious illness caregivers in our region. The network is designed to help caregivers be more prepared to cope with the surprises that arise during the illness and in bereavement. Both an online component as well as options to connect caregivers in person are being explored.
The Purpose
Caregivers are often not fully prepared to cope with the circumstances that arise with a loved one's diagnosis of a serious illness. The additional distress can impact their own health and wellbeing. "We're asking: how can we, outside of the health care system and in the community, wrap around care support people and complement what we're already doing in palliative care and serious illness?" asks Beth O'Donnell, MPH, who leads the network development team at The Dartmouth Institute for Health Policy & Clinical Practice. "How can we connect people who are sharing similar hardships so they can support one another and also exchange information and materials? If we can facilitate these connections, it means caregivers can access the 'lived' experience any time they want. They can talk to other people who have lived it and who 'get it.'"
The network is one component that focuses on caregivers, in a larger Learning Health System model. Kathryn Kirkland, MD, section chief and director of Palliative Medicine at D-H is co-investigator on the Moore Foundation-funded Learning Health System project. "People living with serious illness spend most of their time outside of health care facilities, facing day-to-day challenges and surprises that do not need clinical solutions, but that can be unsettling or stressful. We think that caregivers of people living with serious illness have a particular expertise gained from their own lived experience. A network that could link caregivers with each other may help them share this expertise and improve their sense of wellbeing and create connections that lessen isolation," says Kirkland.
Creating a Safe Place
Earlier this spring, project leaders put together a team of patients, family caregivers, clinicians including palliative care specialists, researchers, and representatives from local agencies such as Dartmouth-Hitchcock Norris Cotton Cancer Center (NCCC) Patient and Family Support Services, the Aging Resource Center, the Jack Byrne Center for Palliative & Hospice Care, and organizations around the community. Using a unique person-centered design framework, the group is identifying needs and co-designing a network to be usable and of value to the people who need it, including those who are unable to attend regular in-person support groups. Andrea Buccellato, manager of NCCC Patient and Family Support Services is also a member of the network co-design team. "While caregivers support groups are offered, many cannot spare the time to attend," says Buccellato. "An opportunity to meet others online or on the phone can be really helpful to know caregivers are not alone in the challenges they're facing."
The group has been researching online platforms and other similar systems, forming focus groups and conducting surveys in the community to gather information about what matters most. The online peer connection will be designed to provide 24-hour access and a way for active caregivers who are unable to leave the house to avoid feeling disconnected. These individuals can still connect with people in similar situations to ask questions, offer advice, exchange resources or just share stories. The online aspect also allows those who want to remain anonymous to still have access to a community, and it can be customized by each user. "This is a vulnerable population so we need to be mindful of how to create a safe place for them," says O'Donnell. "We also think there's value in incorporating face-to-face components. People who aren't apt to go online might feel more comfortable messaging someone after they have met them in person." 
What Truly Works for Caregivers
The design team is looking for 25 caregivers to create two groups--one group currently providing caregiving support and another group of caregivers who have experienced a loss--to participate in a prototype network and provide feedback to the design team. "We have hypotheses for what we think will work but need to get out and see what truly does work for caregivers in our community. If we can connect people, normalize some feelings or help them navigate resources we could have a real impact on the caregiving experience," says O'Donnell.
If you are currently caring for someone with a serious illness or are a caregiver who has experienced the loss of a loved one and are interested in participating and providing feedback on a caregiver support network, please contact Beth O'Donnell at Elizabeth.A.O'Donnell@hitchcock.org.
***
On Wednesday, November 20th from 9 am to 12 pm on Level 3 of the East Mall outside the NCCC (3K) reception area, in recognition of National Family Caregivers Month, caregivers are invited to come enjoy some rest, relaxation, support and refreshments. Members of the palliative care, support services and chaplaincy teams will be present to share resources and support.