In This Section
Two Grant Awards Target Children and Youth Impacted by Trauma and Parental Substance Misuse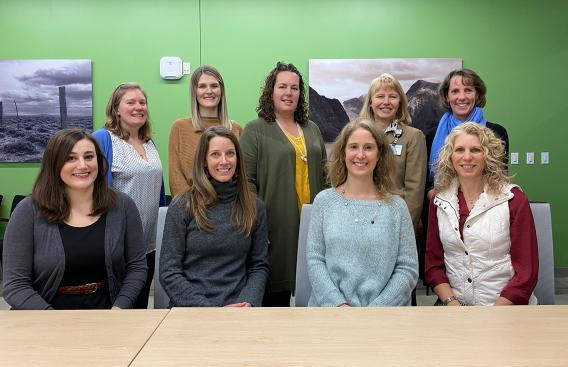 Two recently awarded federal grants are helping Dartmouth-Hitchcock (D-H) expand support for children and families impacted by trauma and parental substance misuse. Project Launch, funded by the Substance Abuse and Mental Health Services Administration (SAMHSA), as well as Partners to Promote Safety, Permanency and Well-Being for Families Affected by Substance Abuse (P2P), funded by the Children's Bureau of the Administration for Children and Families, will support program delivery and evaluation for five years.
"Community Needs Assessments are showing that childhood maltreatment and trauma are increasingly due to parental opioid misuse," says Erin Barnett, PhD, Department of Psychiatry, Dartmouth Trauma Interventions Research Center. "The SAMHSA and P2P grants are building on work we're already doing to protect vulnerable children."
Under the leadership of Kay Jankowski, PhD, director of the Dartmouth Trauma Interventions Research Center, Department of Psychiatry, Project LAUNCH began in September and builds upon many aspects of the Strong Families, Strong Starts program, which originated with D-H's Community and Population Health Department through support from the Couch Family Foundation and New H Charitable Foundation. Project LAUNCH focuses on prevention of later behavioral health problems by addressing the needs of at-risk and trauma-affected young children and their caregivers. The combination of federal and philanthropic funding allows for increased reach and capacity for services and support, which provides the opportunity to impact a larger population across different sectors.
"LAUNCH deliverables will include behavioral health consultation, evidence-based parenting programs, enhanced access to community resources and a public awareness campaign," says Holly Gaspar, MED, MPH, Community Health Partnership coordinator.  Funding targets children from newborns to eight years of age and their families in Windsor County, Vermont, and Sullivan and Grafton Counties in NH.
Initiated on October 1, 2019, under the leadership of Barnett and Jankowski, P2P funding supports programming for children (ages 0 – 18 years) who live in Sullivan and Grafton counties and are at risk of being removed from their home due to parental substance misuse. D-H serves as the program hub and collaborates with child welfare district offices and family courts, as well as local recovery and family resource centers, primary care offices, behavioral health providers and social service organizations. Together, these organizations identify children in need and connect families with coordinated services, including substance abuse treatment, parenting skills, family supports, peer coaching and help with addressing social drivers of health such as housing, food and employment.  
Both grants also involve cross collaboration across different departments of D-H, including psychiatry, population health, pediatrics and obstetrics and gynecology.  "We have a good history of securing grants and applying funds to programs that already have some infrastructure in place," says Barnett. "A lot of that infrastructure comes in the form of partnerships with local organizations." Both the LAUNCH and P2P grants seek to build community collaborations that support and foster relationships and to develop partnerships that strive to improve child and family outcomes.
"Substance abuse and trauma are often hidden and untreated," says Diana Edwards, family support team manager at the TLC Family Resource Center in Claremont, NH, a partner organization on both the LAUNCH and P2P grant programs. "Treatment increases outcome success. Our partnership with D-H increases awareness of available services so area professionals can help clients get the assistance they need."