In This Section
DHMC Becomes Northern New England's First Accredited Pulmonary Hypertension Care Center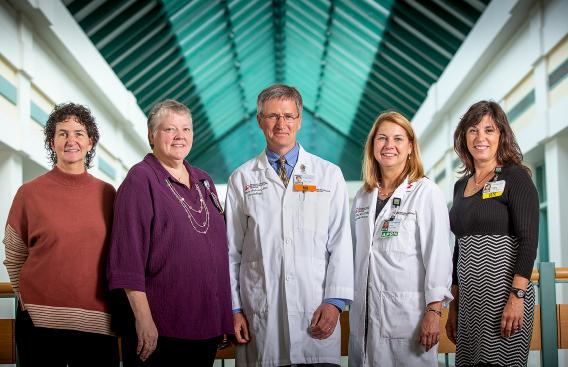 The Pulmonary Hypertension Program at Dartmouth-Hitchcock Medical Center (DHMC) in Lebanon, New Hampshire, has been designated a Regional Clinical Program, a designation of the Pulmonary Hypertension Care Centers accreditation program launched in 2014 by the Pulmonary Hypertension Association. DHMC earned this distinction by assuring that individuals with pulmonary hypertension, a life-threatening lung disease, receive care following expert consensus guidelines from clinicians who specialize in their often-misdiagnosed condition.
"This designation signals to patients and their families that our program has met the rigorous standards of the Pulmonary Hypertension Association," says Bruce Andrus, MD, director of the Pulmonary Hypertension Clinic at DHMC. "We are proud that our work as a team of clinicians, nurses, care managers, pharmacists and rehab staff has been recognized by the Pulmonary Hypertension Association."
Pulmonary hypertension, also known as high blood pressure of the lungs, affects children and adults of all ages and ethnic backgrounds. It can result from the arteries in the lungs becoming damaged, narrowed or stiffened, forcing the right side of the heart to pump extra hard and leading to right heart failure and death. Symptoms of pulmonary hypertension are non-specific—they include shortness of breath, fatigue and chest pain. People with pulmonary hypertension can go months, even years, believing they have less life-threatening illnesses, such as asthma and chronic obstructive pulmonary disease (COPD).
"Our success with this designation is based on work started in 2003, when the program was founded by Ed Catherwood, MD, MS, Susan D'Anna, APRN, and Sherry Duveneck RN," Andrus says. "Thanks to their foundational work, we now have a very experienced team and provide a systematic and comprehensive evaluation of patients with suspected pulmonary hypertension. We're supported by top-notch echocardiography and cardiac catheterization laboratories and radiology services. Our strong partnership with the pulmonary hypertension program at Brigham and Women's Hospital in Boston allows for collaborative care for patients in our region with advanced disease."
To be accredited, a Regional Clinical Program must demonstrate a commitment to providing expert-level care, proficiently evaluating pulmonary hypertension patients based on published evidence-based guidelines and providing expert treatment of patients with pulmonary arterial hypertension. Pulmonary Hypertension Association rolled out the Pulmonary Hypertension program to improve the quality of care and outcomes for people with pulmonary hypertension. A full list of accredited pulmonary hypertension programs is available on the Pulmonary Hypertension Association website.