By

Heather Wolfe

December 20th, 2019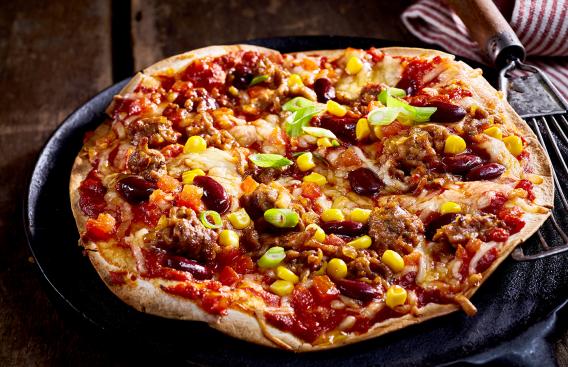 Here's a quick after-school snack or an easy dinner during the hustle and bustle of the holidays.
Makes: 1 personal pizza
Ingredients
1 whole-wheat tortilla
⅛ teaspoon olive oil
2 tablespoons sauce of your choice (such as marinara or pesto)
¼ cup (1 ounce) cheese of your choice (such as mozzarella or cheddar)
Toppings of your choice (veggies and fruits are best)
Instructions
Directions
Position an oven rack so that it is 6-8 inches from the top broiler element. Preheat broiler on high. Preheat your pan as well: use a cast iron skillet if you have one (they heat evenly) or a baking sheet.
Take your tortilla and drizzle oil on top. Rub oil in evenly over the tortilla. (You can use cooking spray to coat the top of the tortilla.)
Remove preheated skillet or baking sheet from the oven. Place the tortilla onto the skillet, oiled side facing up.
Place under broiler for about 1 minute, or until just starting to bubble and brown (toasting the tortilla first prevents it from getting soggy when you add the toppings). If you like a very crispy crust, flip tortilla over and broil about another 30 to 60 seconds. Remove from oven.
Spread sauce evenly over the top of the now toasted tortilla. You can bring the sauce right up to the edges, or leave a small perimeter of "crust."
Add cheese sprinkled over top.
Top with favorite pizza toppings.
Broil until cheese has melted and turns golden brown in spots. This only takes a minute or two. If not quite ready, check again every 30 seconds until starting to brown. It can go from brown to burnt quickly.
Nutrition (per serving for plain cheese):
Calories 235, Total Fat 10g, Saturated Fat 4g, Carbohydrate 25g, Fiber 3.5g, Protein 11g, Sodium 540mg
 
Find more family-friendly recipes and healthy eating tips in the Cooking Up Health section of D-H Health and Wellness.

Heather Wolfe, MPH, RDN, LD, CHC, is a registered dietitian and certified health coach with Dartmouth-Hitchcock's Live Well/Work Well Employee Wellness Program.