In This Section
New Poll Shows NH Voter Health Care Reform Policy Preferences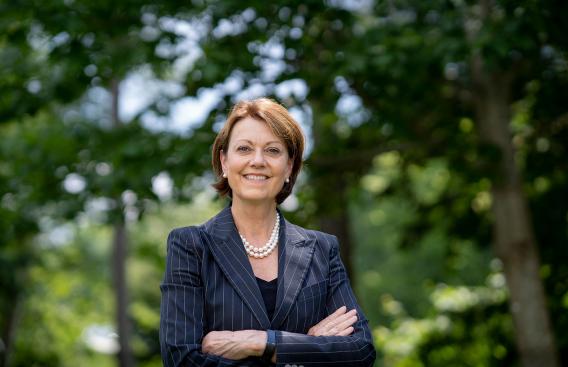 Editor's Note: Media Contacts Listed Below
Dartmouth-Hitchcock Health shares voter attitudes and discusses public health issues concerning early Primary voting states at Washington, D.C. event.
Lebanon, NH – More than 68-percent of registered New Hampshire voters support policies that will expand health care coverage, according to a recent survey conducted by the Saint Anselm College Survey Center. Dartmouth-Hitchcock Health (D-HH), which delivers care to a population of 1.9 million across Northern New England and operates New Hampshire's only academic health system and top hospital, according to US News & World Report rankings, released the poll results. D-HH CEO and President Joanne M. Conroy, MD, discussed those results as well as state and national health care policy views alongside experts from the early voting states of Iowa and South Carolina at a Bipartisan Policy Center event in Washington, D.C. this morning.
"As New Hampshire's largest provider of health care services and the state's only academic health system, Dartmouth-Hitchcock Health is on the front lines of health care delivery to first-in-the-nation primary voters," said Conroy. "With varying visions on the future of health care policy in the U.S. and its central role in the 2020 presidential primary and election, we and our counterparts from Iowa and South Carolina believe it is critically important to share the sentiments of our respective states' voters with candidates and Beltway decision-makers."  
The Saint Anselm College Survey Center conducted a poll from November 13-19, 2019, in which 512 registered voters in New Hampshire were asked to identify which of the following health care policy proposals they preferred. The results were as follows:
Current system with a Medicare option for those who choose – 29%
Keep the current system as-is – 25%
Strengthen the Affordable Care Act (ACA) – 21%
Medicare for All – 18%
No opinion – 4%
Other – 3%
Dr. Conroy shared the New Hampshire results and discussed leading approaches to health care reform alongside experts from Iowa, South Carolina and the national media at the Bipartisan Center 20/20 Health Care Series event this morning.  Joining Dr. Conroy on a panel moderated by  Margo Sanger-Katz, domestic correspondent for The New York Times were Anthony Carroll, associate state director of AARP Iowa; Meg Kinnard, national politics reporter for the Associated Press, South Carolina;; Caroline Bye, managing director, Morning Consult; and Mollyann Brodie, executive director, Kaiser Family Foundation Public Opinion and Survey Research.
In addition to the Saint Anselm College Survey, Morning Consult, on behalf of the Bipartisan Policy Center, conducted an online survey among a national sample of 1,988 registered voters to understand where health care falls among other issues entering the 2020 election. Key findings of the Morning Consult Survey:
Importance of Health Care on 2020 Vote
Similar to a trend seen in the 2018 midterm elections, health care policy remains a top-of-mind issue for over half of all registered voters (56%) heading into the 2020 presidential election.
Health care is the most bipartisan issue heading into 2020. Of the issues tested, 66% of Democrats, 54% of Independents, and 46% of Republicans selected health care as one of the most important issues in their 2020 vote choice.
Sixty percent of New Hampshire voters selected health care as a top issue, followed by the economy (49%), immigration (31%), gun control (30%) and environmental policy (28%).
Public Health Issues & Health Care Concerns
Of the public health issues tested, half of voters say illicit drugs and opioids (48%) are common in their local communities, and 41% say mental health and behavioral health issues are common. A third of voters also say smoking and vaping are among the top three public health issues common in their local communities.
Seven in 10 New Hampshire voters (69%) select illicit drugs and opioids as the most common public health issue, followed by mental and behavioral health issues (47%) and smoking and vaping (37%).
Health Care Costs
Over half of voters select out-of-pocket costs (64%) and prescription drug costs (57%) as their most significant health care concerns.
Seventy-one percent of New Hampshire voters said out-of-pocket costs were most significant, followed by prescription drug costs (60%) and difficulty getting affordable or sufficient insurance (42%).
Health Care Reform
While 21% say they support transitioning to a single-payer system with a limited role for private insurance, 20% support improving the current system under the Affordable Care Act.
A plurality of New Hampshire voters (27%) support transforming to a single-payer system with a limited role for private insurance. Nineteen percent would like to improve the current health care system under the ACA, and 18% want to repeal and replace the ACA.
Health Care Funding
Assuming federal spending on health care programs will increase, voters are most likely to support increasing federal taxes on the wealthy segment of society to fund health care programs. On the other hand, voters oppose making changes to Medicare to fund health care programs.
"These results reinforce D-HH's ongoing efforts to address the opioid, mental health and vaping epidemics facing our state," added Conroy. "From our Mom's in Recovery program for pregnant and parenting women who struggle with substance misuse, former NH Supreme Court Chief Justice John Broderick's tireless efforts to destigmatize mental health issues and urge young people to seek help, to our recent multi-state No Safe Vape anti-vaping campaign, D-HH is dedicating our resources and expertise on the public health issues and topics that concern New Hampshire voters the most. As we look towards the 2020 election, we hope all candidates will share their visions for addressing these critical issues facing our nation."
About Dartmouth-Hitchcock: Dartmouth-Hitchcock Health (D-HH), New Hampshire's only academic health system and the state's largest private employer, serves a population of 1.9 million across northern New England. D-HH provides access to more than 2400 providers in almost every area of medicine, delivering care at its flagship hospital, Dartmouth-Hitchcock Medical Center (DHMC) in Lebanon, NH. DHMC was named in 2019 as the #1 hospital in New Hampshire by U.S. News & World Report, and recognized for high performance in 13 clinical specialties and procedures. Dartmouth-Hitchcock also includes the Dartmouth-Hitchcock Norris Cotton Cancer Center, one of only 51 NCI-designated Comprehensive Cancer Centers in the nation; the Children's Hospital at Dartmouth-Hitchcock, the state's only children's hospital; affiliated member hospitals in Lebanon, Keene, and New London, NH, and Windsor, VT, and Visiting Nurse and Hospice for Vermont and New Hampshire; and 24 Dartmouth-Hitchcock clinics that provide ambulatory services across New Hampshire and Vermont. The D-HH system trains nearly 400 residents and fellows annually, and performs world-class research, in partnership with the Geisel School of Medicine at Dartmouth and the White River Junction VA Medical Center in White River Junction, VT.
Media Contacts:
Rick Adams
603-653-1910
rick.adams@hitchcock.org
E.J. Powers
603-644-3200 ext. 11
epowers@montagnecom.com
###
About Dartmouth-Hitchcock Health
Dartmouth-Hitchcock Health (D-H Health) is a non-profit academic health system primarily serving New Hampshire and Vermont as well as patients from across New England. As the largest health care system and employer in New Hampshire, D-H Health is an integrated health care delivery network of providers and member organizations with the same commitment to provide the highest quality of care to the nearly 2 million community members we serve throughout the region.
About Dartmouth-Hitchcock Norris Cotton Cancer Center
Norris Cotton Cancer Center combines advanced cancer research at Dartmouth College and the Geisel School of Medicine at Dartmouth with patient-centered cancer care provided at Dartmouth-Hitchcock Medical Center, at Dartmouth-Hitchcock regional locations in Manchester, Nashua, and Keene, NH, and St. Johnsbury, VT, and at 12 partner hospitals throughout New Hampshire and Vermont. It is one of 50 centers nationwide to earn the National Cancer Institute's "Comprehensive Cancer Center" designation. Learn more about Norris Cotton Cancer Center research, programs, and clinical trials online at cancer.dartmouth.edu.