In This Section
Dartmouth-Hitchcock Achieves Strong Standing in Centers for Medicare and Medicaid Services' Value Payment Program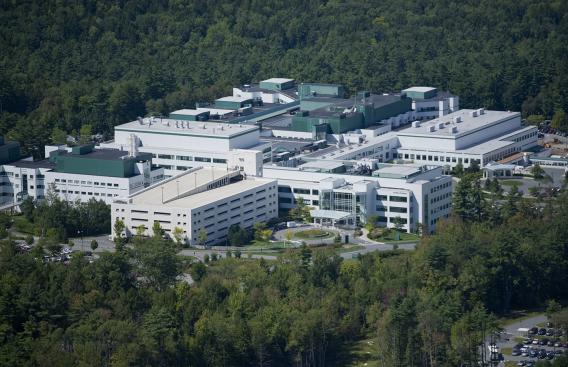 DHMC is the only hospital in New Hampshire to have never incurred a readmissions penalty since the program's inception in 2012.
Dartmouth-Hitchcock Medical Center (DHMC), the flagship hospital of the Dartmouth-Hitchcock Health academic health system, has achieved strong standing in the Centers for Medicare and Medicaid Services (CMS) Value-Based Programs for federal fiscal year (FFY) 2020.
The Value-Based Programs, instituted under the Affordable Care Act (ACA), are intended to drive hospitals toward better reporting and improvements on specific value measures and consist of several smaller, more focused programs, including the Hospital Readmissions Reduction Program (HRRP), the Hospital Acquired Conditions Reduction Program (HACRP), and the Hospital Value-Based Purchasing Program (HVBP), as well as the Medicare Access and CHIP Reauthorization Act (MACRA), the 2015 law that establishes a payment system for physicians who treat Medicare patients.
Again in FFY 2020, DHMC was held without penalty for patient readmissions. DHMC is the only hospital in New Hampshire to have never incurred a readmissions penalty since the program's inception in 2012. Similarly, DHMC earned a bonus of $1.1 million under the MACRA reporting program for its outstanding performance.
In total, DHMC earned $7.3 million in incentives from the Value Payment Program, despite being subjected to a penalty of approximately $1.5 million for Hospital Acquired Conditions (HACs) under the HACRP provisions of the program.
"Continuous improvement – in all of our clinical programs – has been, and remains, a high priority at Dartmouth-Hitchcock, and we have made significant positive strides in our efforts to decrease Hospital Acquired Conditions among our patients," said George T. Blike, MD, Chief Quality and Value Officer for Dartmouth-Hitchcock. "Since the HAC Reduction Program began in 2014, our dedicated and hardworking staff has reduced HACs by almost 15 percent, preventing hundreds of infections, surgical complications, and other conditions and saving many lives in the process. However, as we have noted in the past, we and others assert that the CMS Value Based Payments program is flawed, and the HAC measurement in particular unfairly penalizes tertiary care centers such as DHMC that see higher volumes of high-acuity, complex patients." Many academic medical centers, often revered for cutting-edge treatments and their top specialists, also received penalties. DHMC typically cares for the very sickest patients in our region. These patients, many of whom already have compromised health, seek care at a tertiary care center due to their highly complex and chronic illnesses such as diabetes, COPD, and cancer.
Blike also notes that DHMC received no HAC Reduction Program penalties in 2018 and 2019, after seeing a one percent reduction in payments from 2015-17 based on complications in patients treated at the medical center.
Of particular note, Blike says, is reporting of Surgical Site Infections (SSI), one of the HACs that are the focus of the CMS program. For the reporting period, from July, 2016 through June, 2018, DHMC reported an increase in two types of SSIs, but internal analysis of that reporting shows that some patients referred or transferred to DHMC had infections prior to arrival. Under CMS's complex and stringent reporting requirements, DHMC was held accountable for infections that likely did not originate at the hospital.
"From the beginning of the program, we have taken an aggressive approach to reporting," said Blike. "In the case of SSI, we identified that we likely over-reported, but have since implemented measures to improve our process, and we were able to reduce the number of reportable SSIs by more than 60 percent in the last quarter."
The CMS penalty findings contrast with CMS's own "Hospital Compare" star ratings. The 2020 ratings, expected to be released later this month, will show that DHMC improved from a three-star rating to a four-star rating, putting DHMC in the top quarter of academic medical centers in the country.
"I'm incredibly proud of the work done by George and all of our team at DHMC," said Dartmouth-Hitchcock Health CEO and President, Joanne M. Conroy, MD. "We fully embrace patient quality and safety, in the best interest of the patients we serve. Despite the flaws we see in the program, we acknowledge and accept the CMS Value Payment Program bonuses and penalties, and we continue every day to drive toward more aggressive goals in improving patient care in our hospital. Our patients deserve nothing less."