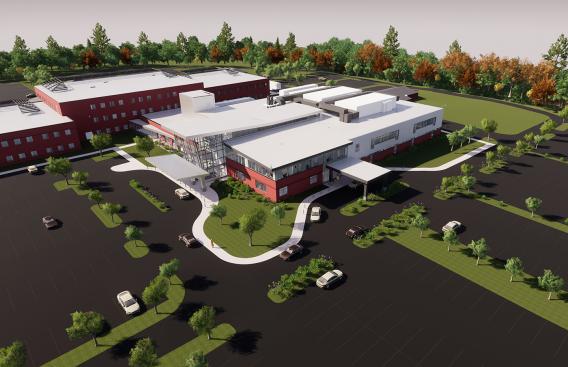 The expansion project at the Dartmouth-Hitchcock (D-H) Clinic on Hitchcock Way in Manchester is the first major project in the city, since the original clinic was constructed almost 30 years ago. The past 19 months have been focused on planning, approvals and breaking ground. Today, we have a new parking lot and the makings of a new building taking shape. We recently interviewed three key individuals for their perspectives and updates on this project: Richard Pizzi, CEO of Lavallee Brensinger Architects; D-H Facilities Management Tom Goins; and former D-H Senior Medical Director Steve Paris, MD.
The Architect
Richard Pizzi has worked with D-H on more than 30 different projects, including the Children's Hospital at Dartmouth-Hitchcock (CHaD) inpatient renovation at Dartmouth-Hitchcock Medical Center and the Heater Road facility in Lebanon, NH.
Can you describe the new space to us?
The first floor has an Ambulatory Surgery Center designed to provide 23-hour care, with six operating rooms and three endoscopy rooms that can be that be easily converted into future operating rooms.
The program on the second floor includes outpatient specialty clinic space and an eight-bay Medical Infusion Suite. It is also designed for flexibility to accommodate primary care, should the need arise.
You've done several projects for D-H. What's different about this one?
From the beginning, we challenged ourselves to be innovative and focus on clinical and operational flexibility, with the goal of enabling D-H to provide team-based care in a state-of-the-art environment. Our team worked collaboratively with D-H to develop a flexible outpatient prototype informed by research, lessons learned from recent D-H facilities projects and industry best practices. This prototype was then further developed, customized and applied to this project. Among many innovations, the design includes clinical pods with decentralized support space and team rooms on the outside walls so everyone can enjoy natural light. We also embedded provider offices in the team room, which provides for a co-located group of providers and staff to promote collaboration, but also to provide acoustical privacy when needed.
How did stakeholder feedback inform the workspace designs?
Having influence in the design process creates buy-in. From the location of exam tables, electrical devices, etc., the clinical teams play a vital role in the design process. We worked with several different groups during the design process. These groups included all the clinical teams and support teams such as information technology, environmental services, food service, clinical engineering, materials management, security and safety, etc. Our end goal was the same: to ensure we create a high performing facility to help staff provide great care for their patients in an environment that promotes collaboration and a high degree of staff satisfaction.
How will you measure success on this project?
The ultimate measure of success is how the new space enhances the patient and staff experience and improves patient outcomes. Hopefully the process improvements we've worked on translate to excellence in patient care. Are workflows better? Are patient satisfaction scores better? Are physician and staff engagement scores better? Is the building more energy efficient? These are some of the metrics we can test six months out and we hope to see measurable improvement in all those areas. If we do, then we know we've done our job well.
The Facilities Leader
Tom Goins has spearheaded many projects to improve our ability to deliver care for patients through space optimization. One thing he's learned over the four years he has been here is that at every step of the way, D-H puts patients first. Goins credits Dave Stiger, director of Project Management, as being a key contributor to this project. Over his 13-year career at D-H, Stiger has overseen many projects including the Faulkner Building, The Jack Byrne Center for Palliative & Hospice Care, Heater Road and the Outpatient Surgery Center all in Lebanon.
Of the projects that you done at D-H, what is different about this one?
The operating rooms. The square footage of the operating rooms are larger than usual to provide flexibility for accommodating different equipment for performing different types of surgical cases.
We've also placed tremendous focus on employee engagement—from ensuring light infiltration to the provider spaces and enhancing the patient experience for expeditious registration and throughput. We've expanded the level of technology and added some important staff satisfaction components from our original scope, while staying within budget.
Where are we in the project timeline?
We are about a third of the way through the whole timeline. We are currently on schedule with steel erection currently taking place. We are racing against the weather and want to get the building shell enclosed as soon as possible so we can stay on schedule and get the interior built out.
The building is located in a fairly populated area. What have we done to minimize the impact on the neighbors around the building?
From the beginning, we have been sensitive to maintaining the continuity of the neighborhood. As much as possible, we are maintaining the natural landscape, including the walking paths around the building. 
When we received approval to move forward with the project, we engaged our neighbors in a public meeting so they could voice concerns about the project. Some concerns included noise levels and traffic congestion.
We work within certain hours, as set by the City of Manchester's noise ordinances. As we further enclose the structure and seal the building, the noise levels will decrease.  We will be doing additional site work (including blasting some additional ledge) in the spring, which will cause some noise for a brief time.
We understand that traffic can get somewhat congested at the beginning and end of the work day. As part of our commitment to the neighborhood, we will be making some roadway improvements in and around the intersection of Edward J. Roy Drive, which will help ease the traffic a bit. In addition, we are working with the state on exit ramp improvements at the southbound exit on 93. This work will start in the spring.
When the building is complete, how long before the first patient walks through our doors?
Once the construction is completed, there is typically a 60-day period where we need to outfit the interior before welcoming our first patients, including installing furniture and exam room materials, outfitting the operating rooms with lighting and technical equipment, cleaning, stocking of supplies and more. Once these tasks are complete, the staff will undergo training to be ready to welcome and provide excellent care for our first patients.
Also, during this time, we will turn our attention to the original building and make necessary modifications to enable us to expand our clinical offerings.
What's been the most rewarding part of this project so far?
My favorite part of this project is working with really smart and dedicated people who have the same goals in mind: to create an efficient, high-performing facility that promotes a positive experience for our patients and also supports employee satisfaction and retention.
What's been the most challenging?
We've had some components that we needed to keep in service despite the construction so we've had to relocate the landing dock and create a new pad for the temporary MRI. These came with challenges but we've managed to successfully complete both projects.
The Provider
Steve Paris, MD, (recently retired) started as medical director in Manchester in 2000 and led the practice for more than two decades. During this time, the practice expanded primary and specialty offerings and grew into multiple off-site locations as well as formed clinical partnerships with local community hospitals. In 2014, Paris became the regional medical director for the Community Group Practice. He has been instrumental in the Manchester campus expansion—a project he describes as long in the works and much needed to care for our patient population in the southern region.
How does this project improve our ability to deliver care to our patients?
We will be able to better control the cost and quality of care by providing services within our own system. The new Ambulatory Surgery Center will enable us to truly provide comprehensive care close to home in one location for patients. From doctor visits, lab testing, pre- and post-operative appointments and procedures, patients do not have to travel far to receive great care. Our 23-hour surgery center will offer patients cost effective surgical care, with convenient access and parking, and an on-site café for families.
How many new employees will work in the new building, and what is the timeline for starting recruitment?
There will be more than one hundred new positions created to staff the surgery center and Infusion Suite as well as support some growth in Radiology and other clinical services. Physician recruitment will begin early in 2020 and other positions will open up late summer, early fall.
What types of procedures and surgeries will take place in the new Ambulatory Surgery Center?
We are pleased to host the expansion of an important center for D-H called the Center for Pain and Spine. The Ambulatory Surgery Center will support this service for pain procedures. Other outpatient procedures and surgeries will include endoscopy, ear, nose and throat, gynecology, pediatrics, orthopaedics, general surgery and more.
As a pediatrician by training, can you tell us if there will be child-friendly spaces and why this is important?
We recognize that children's needs differ from adults. Whenever we serve children, our goal is to help them feel welcome and safe no matter the reason for their visit. There will be pediatric-friendly spaces in the pre- and post-operative areas as well as in infusion that are designed to comfort and heal, and help children feel at ease.
What changes will be taking place in the existing building once select services move into the new expansion?
We will be able to accommodate natural growth in primary and specialty care on the second floor. On the first floor, we will be expanding Radiology by adding a fixed MRI, which will allow us to serve more patients, and not be limited to offering this service only a couple times a week.
Why is this expansion important to our overall Dartmouth-Hitchcock Health (D-HH) strategy?
The expansion at Hitchcock Way is an important and very good first step in D-HH's larger strategy to care for patients in the southern part of the state. Even with the addition, this is not sufficient for the ambulatory space needed for primary and specialty care growth in this region. We will continue to work with the system on growing services that offer patients the opportunity to stay close to home, whenever possible.