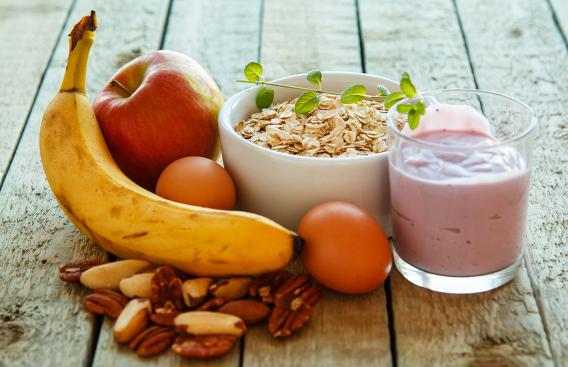 Amidst the flurry of activity getting ready to go to work and children off to school in the morning, it can seem difficult to find time to make a heart-healthy breakfast. Here are some simple tips, even if you are on the go!
Instant Oatmeal
When you only have five minutes to spare, grab a packet of instant oatmeal, place it into a bowl with water (per the instructions), heat it in the microwave and then stir in a tablespoon of flax seed. Try topping it with a sliced banana or cut-up strawberries for some extra sweetness.
Quick Eggs
Eggs get a bad rap for being high in cholesterol, but there are ways to make them heart-healthy—eating egg whites, skipping the salt and using hot sauce instead.
For an extra boost, scramble your eggs and toast two pieces of whole-grain bread at the same time. When your toast is ready, spread a tablespoon of peanut butter on top and then eat them with your scrambled eggs on the side. Total prep and cook time: less than 10 minutes.
Yogurt and Muesli
Yogurt is a smart and easy option for breakfast. It also protects against gum disease, which can lead to heart disease if unchecked. Top one cup of plain, low-fat yogurt with a half cup of muesli. From there, add a half-cup of sliced grapes and one tablespoon of chopped walnuts.
Homemade Smoothie
The night before, put half of a peeled banana in small freezer bag with a cup of frozen berries. In the morning, empty the bag into a blender with a half cup of low-fat yogurt and add ice until it blends smooth. Grab it with a handful of almonds and you will be out the door with a healthier, more affordable option than what you would find in a drive-thru.
Find more heart- and family-friendly recipes and healthy eating tips in the Cooking Up Health section of D-H Health + Wellness.