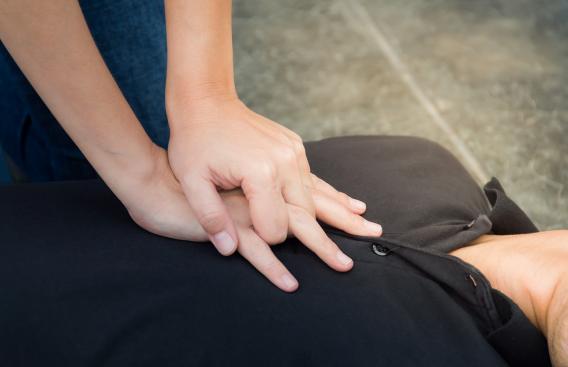 Together, the American Heart Association (AHA), Dartmouth-Hitchcock Health and the New Hampshire Department of Education, Bureau of Career Development are working together to bring "Hands Only CPR" (cardiopulmonary resuscitation) training across the state of New Hampshire.
Only 46 percent of out-of-hospital cardiac arrests get the immediate help that they need before professional help arrives. "Hands Only CPR" can double or triple a person's chance of survival. This CPR initiative is a statewide campaign with a year-round Hands Only CPR Training Challenge. The goal is to train as many people as possible in this life-saving skill. Ultimately focusing on promoting heart health and saving lives.
This effort is a train the trainer model. The AHA and Dartmouth-Hitchcock's Heart & Vascular Center will provide instruction to New Hampshire Career & Technical Education Program students. These students will then execute the Hands Only CPR trainings—training their peers, middle school students and the greater community populations. There are 25 Career & Technical Schools in New Hampshire, with 9,000 Career & Technical School students. Hands-Only CPR instruction will complement the current curriculum and include AHA's Life's Simple 7 health directives and AED (automated external defibrillator) training.
These life-saving skills, combined with the introduction and exposure to careers in health care is a unique collaborative partnership that has great potential to be a model nationally for the American Heart Association.