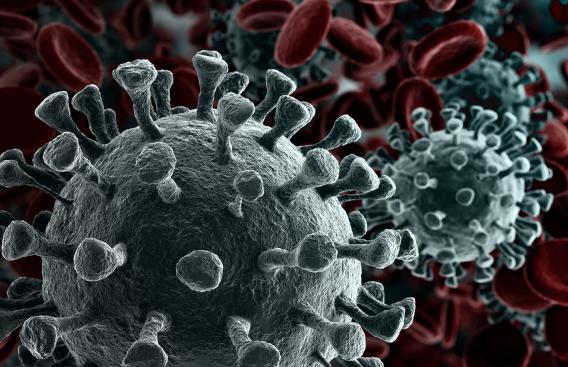 For the most current information about COVID-19, please visit our information page or call the information hotline: 603-650-1818.
Media Contact
Audra Burns, Media Relations Manager (Audra.M.Burns@hitchcock.org 603-650-5000 Pager: 6115)
March 27, Managing Stress and Anxiety in the Face of COVID-19: Anxiety and Mental Health Tips from Dartmouth-Hitchcock Health
During these uncertain times, anxiety and depression can be heightened, so it's important to take care of your mental health. Dartmouth-Hitchcock Health's Chief Human Resources Officer, Aimee Giglio, and Director of Dartmouth-Hitchcock's Anxiety Disorders Service, Robert Brady, PhD, discuss how to cope with anxiety and mental health concerns in today's video update. Dr. Brady offers these 5 tips to manage anxiety:
Accept the uncertainty. It's an uncertain time, however uncertainty is not dangerous. Think about how many things you accept when it comes to uncertainty during the day. Accepting and understanding that not everything needs to be 100% under your control in your life can be a true source of inner peace.
Control the amount of information flow. Non-stop access and updates from news channels can be overwhelming. Consider watching in the morning and at the end of the day, and then looking back ask yourself what came up in those news headlines that really changed your action or your behavior? Now, ask yourself how much of that was truly necessary?
Establish a worry period. Put some boundaries around what you worry about, then try to control those worries by jotting them down and finding time to reflect about those concerns. Try to designate 20 minutes during the day to do as much worrying as you want. If at the end of that 20 minutes you find that you're running out of things to worry about, that's okay, your worrying is done for that period of time. Tomorrow, attempt scale it back a few minutes.
Don't fall into the nap trap. Maintaining good sleep behaviors is important. People may fall into the 'nap trap' now that they are working from home. Try to resist the urge to nap so you are able to maintain your sleep pattern in the evening.
Reflect on what matters most to you. The change in daily routines and limited socialization puts us at risk of worsening moods or even depression. Take time to reflect on your normal socialization behaviors and values. Consider what's important to you about being a good friend and family member. While thinking about these vital aspects of your life, seek to find ways to adapt your behavior to stay true to what's most important to you during these times of restricted social interactions.
EDITORS Note: Media file can be downloaded here for distribution
March 26, Pregnancy During a Pandemic: Dartmouth-Hitchcock Health Shares Information for Expectant Mothers
Pregnancy is one of the most exciting times in a woman's life, but carrying a child during the COVID-19 pandemic can make for an unsettling experience.
"This is a scary and stressful time for everyone, and I think it's only natural for pregnant women to be nervous about the virus and its potential implications during pregnancy," said Julie Braga, MD, Director of general obstetrics and gynecology at Dartmouth-Hitchcock. "However, from what we know thus far, it appears that this novel coronavirus is not any more dangerous for pregnant women than it is for anyone else. This is in contrast to some other viral infections, such as influenza, where we know that pregnant women can have much more serious complications."
While data is limited, so far there is no evidence of congenital infection. Fetuses seem to be protected from infection while in the womb. When the baby is born, however, they are as vulnerable to infection as anyone else in the room without a mask. If the mother is infected or suspected of having the novel coronavirus infection, Dartmouth-Hitchcock Medical Center and other hospitals are following the Centers for Disease Control and Prevention's recommendations to separate the mother and baby. While this is an incredibly emotional and difficult step to take, it is the right thing for the health of the baby. In order to prevent separation, we are recommending that pregnant women try to minimize their risk of exposure to the virus as much as possible.
Expectant mothers are encouraged to follow the same recommendations as given to others:
Wash your hands often with soap and water for at least 20 seconds.
Cover your mouth and nose with a tissue when you cough or sneeze or use the inside of your elbow.
Avoid people who are sick.
Practice social distancing.
Video update: March 24, 2020
In today's briefing, Edward Merrens, MD, Chief Clinical Officer, shares updates about our testing capabilities, mask usage, limiting staff entrances to the medical center, temperature screenings, the success of our fabric mask donations, and acknowledging that we are all trying to adapt during these unsettled times.
Update, March 23, 2020: Dartmouth-Hitchcock Health develops COVID-19 testing to be used for hospitalized patients and health care workers
Dartmouth-Hitchcock Medical Center's (DHMC) laboratory is now able to test for Novel Coronavirus n2019-CoV, the virus which causes the COVID-19 respiratory illness.
Building on the expertise of the DHMC laboratory for Clinical Genomics and Advanced Technology (CGAT) and the Microbiology laboratory, testing became available on Wednesday March 18. Implementing this testing required complex evaluations and validations of new testing protocols set forth by the FDA and CDC.
The number of tests that can be performed daily could be up to 1,000, but because of the ongoing shortages of test collection supplies and personal protective equipment (PPE), DHMC is limited to testing only hospitalized patients within the Dartmouth-Hitchcock Health system and healthcare workers, including first responders, who have direct contact with patients. Once fully operational over the next week to ten days, the turnaround time from test to results should provide results to patients within 24 hours or less.
"Our testing capability continues to grow and evolve, and being able to test here at DHMC allows us to more rapidly screen patients and make best use of our resources," said Dartmouth-Hitchcock Health Chief Clinical Officer Edward J. Merrens, MD. "We also believe the ability to test here will help relieve pressure on the New Hampshire state laboratory, enabling the state to assist other hospitals. Our priority remains to care for our sickest patients and support those who care for them."
(EDITORS NOTE: Courtesy video from the DHMC Microbiology laboratory, including an interview with CGAT Director Gregory J. Tsongalis, PhD, can be downloaded from this Dropbox link.)
In other news from Dartmouth-Hitchcock Health:
Dartmouth-Hitchcock Health reminds the community that anyone who has symptoms including fever, cough, and shortness of breath should self-isolate at home. The recommendation for the duration of home isolation period is at least seven days from the onset of symptoms, and at least three days of no fever, and resolution of symptoms. It is recommended that others in the home also quarantine during this time to help limit spread. If, however, patients at any time feel that their situation is worsening and might require hospitalization, they should call their health care provider or call their local emergency department.
Dartmouth-Hitchcock Health is planning now for the long term, to ensure our ability to best care for our most vulnerable patients when most needed.
-----
To view our past COVID-19 communications, please refer to our archive Community Updates web page.
Wash your hands often with soap and water for at least 20 seconds.
Cover your mouth and nose with a tissue when you cough or sneeze or use the inside of your elbow.
Avoid people who are sick.
Practice social distancing.

More than 1,500 members of the D-H staff have been trained in the proper wearing and safe use of Personal Protective Equipment (PPE), greatly expanding the number of staff in place to work with increasing numbers of COVID-19 cases.
Additionally, more staff are being trained in the use of mechanical ventilators, to ensure adequate staffing for patients who will require ventilation.
Donations of PPE – masks, gloves, gowns, face shields and other protective equipment – continue to stream in from the community to Dartmouth-Hitchcock Health. These donations will supplement what we have here, and will help us continue to keep our staff safe as we work to meet this challenge." says Supply Chain Manager David Coombs.
Dartmouth-Hitchcock volunteers have joined a national movement of volunteers who have started to sew masks for hospital staff and patients. DHMC is preparing kits with fabric and elastic for local pick-up and launched a website with directions on how to sew the masks. "Sewing masks gives them, and others across New Hampshire and Vermont, the opportunity to band together as a community to serve something bigger than ourselves, which is what our volunteers do every day," noted Kristin Roth, Director of Volunteer Services at DHMC.