Photography by

Mark Washburn

August 2nd, 2013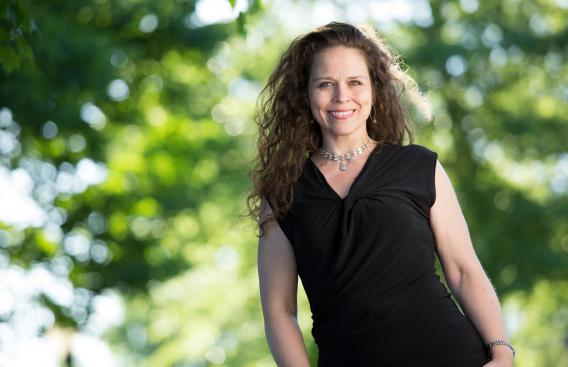 I'm so grateful to my care team at Dartmouth for giving me a chance to get my life back. That's exactly what it did.
Brenda McEachern
The spot on Mount Chocorua—a 3,490-summit in the White Mountains of New Hampshire—became a turning point, both literally and figuratively, for Brenda McEachern.
"While hiking there in the summer of 2009, I had to stop partway up the trail," recalls McEachern, who couldn't push her 5-foot-5, 250-plus pound frame any further. "Hiking had become so physically hard for me; I thought I was going to have a heart attack. I told my fiancé to go on without me. I laid on a rock and it took a long time for me to catch my breath."
Lifelong Struggle
McEachern had battled obesity since childhood. "I don't ever remember a time in my life where I didn't struggle with it. I was on my first diet at age 7," she says. "Over the years, I tried everything to lose weight. I think I stopped around the 12th time with Weight Watchers. In college, I got so desperate I even ordered these rubbing ear pieces to try to stimulate some gland."
She would make progress for a little while, sometimes losing as much as 40 pounds. "But that still wasn't close to what I needed to lose, and I would always gain it back and then some," says McEachern, who by 2003 was on a healthier track when she met her future husband. "He's an avid hiker and kayaker. We both love being outdoors and those activities became a huge part of our relationship."
But in 2005, she tore cartilage in her knee while playing tennis. "That put me out for quite some time, and I got so depressed because I couldn't be active," she says. "I really packed the weight on after that. I was in denial and never stepped on the scale. I kept telling myself, 'I'm big but I'm still healthy.' That was always my excuse."
Then in 2009 came the "failed" hike, the fear that she would soon not fit into her kayak, and a visit with her doctor, which provided the wake-up call she needed. "He told me I was pre-diabetic and that I was going to die young if I stayed on the same path. That scared me," says McEachern, who'd lost several older relatives to diabetes. "I knew something had to be done, and that I couldn't do it on my own."
Finding Help, Hope
After doing extensive research on bariatric surgery options and gaining approval from her insurance company, she attended an information session in March of 2010 at Dartmouth-Hitchcock Medical Center (DHMC) in Lebanon.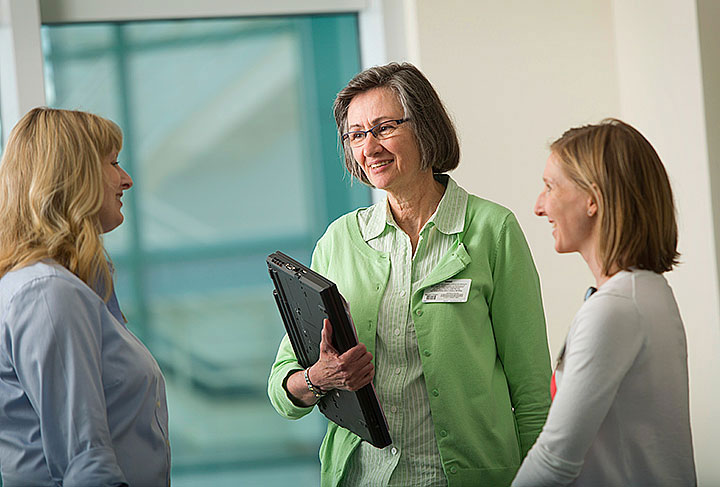 One of only a few institutions in northern New England with the highest level of accreditation from the American College of Surgeons Bariatric Surgery Center Network Accreditation Program—DHMC has also been named a designated bariatric center by CIGNA, Harvard Pilgrim and MVP health plans.
Hearing patient stories at the information session had a powerful impact on McEachern and her family. "I was able to relate to the patients' physical and emotional struggles, and what their experiences had been prior to surgery," she says. "Then seeing that they'd had the surgery and were living healthy and normal lives—that gave me hope. And it convinced my parents and my fiancé that it was the right thing for me to do."
Initially, she considered laparoscopic adjustable gastric banding, which restricts the size of the stomach with a band that needs periodic adjustments. But after meeting with her DHMC care team—clinical program director Maureen Quigley, APRN; surgeon Thadeus Trus, MD; and a dietician—McEachern decided that gastric bypass surgery would give her better long-term results.
"The procedure allows us to significantly reduce the size of the stomach, so patients have a much more restricted ability to eat and absorb calories," explains Trus. "The main reason that we do this operation is not to make people thin. It's to lower their body mass index, so that they're much less likely to develop an obesity-related illness like diabetes, heart disease or cancer. There's plenty of data in the literature that suggest that we improve not only their quality of life, but their actual life expectancy by anywhere from eight to 13 years."
New Life Plan
McEachern underwent gastric bypass surgery at DHMC (with Dr. Trus) in January of 2011 and has had excellent results. "It took me about 10 months to get to my goal of losing 100-plus pounds and I've kept it off," she says, noting that working with a personal trainer and practicing a separate eating and drinking schedule helped prepare her for life after surgery.
"Dr. Trus was great—I would recommend him to anyone," she says. "And I adore Maureen. She has been so interactive, completely approachable and very caring."
"Brenda has been a role model as a patient," says Quigley. "She's very responsible, she has good social support and she follows through on recommendations. This is very much a behavioral surgery, meaning a patient's behavior after surgery largely determines their success. It's not a quick fix. Those patients that stay committed to healthy eating and exercise do really well."
For McEachern, these changes have become routine. "Before, I never felt full. I didn't know what that felt like," she says. "Now I do, and I'm able to push the plate away. But I still blow it sometimes. Like last week, I had a little too much frozen yogurt and was quite sick afterwards. It was a reminder that I have to always know what my limits are. I can still gain all the weight back if I go back to my old way of eating. Some people do."
Remembering where she came from helps her stay focused on a healthy future. "After I lost all the weight, I went back to Mt. Chocorua to try it again," says McEachern, who got married last fall. "I stopped at the spot where I had stopped before and kind of paid a little homage to it. Then I blew right by it and went to the top."
"I'm so grateful to my care team at Dartmouth for giving me a chance to get my life back. That's exactly what it did."
Brenda's Story
If you, or a loved one, are struggling with your weight the Live Well Work Well health coaches are available to help. Please contact them at (603) 650-5900 or livewellworkwell@hitchcock.org.