In This Section
Conquering COVID-19: Patient Reconnects with Family After Discharge from Dartmouth-Hitchcock Medical Center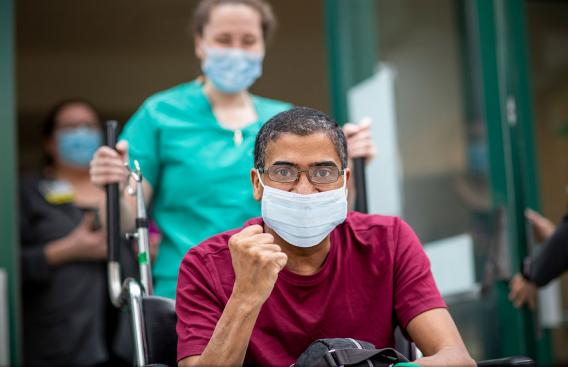 Flanked by his caring nurses, Elizeu was wheeled out of Dartmouth-Hitchcock Medical Center (DHMC) early Friday evening where his family waited eagerly to embrace him for the first time since his COVID-19 diagnosis.
Elizeu, a resident of southern New Hampshire, was transferred from his local hospital to DHMC on April 2nd after his illness worsened and he needed critical care level treatment and a mechanical ventilator. He spent nine long days in DHMC's intensive care unit (ICU), and on the 10th day, he showed enough improvement to be transferred out of the ICU and to a lower-level of specialized care in another section of the hospital. Finally, after 16 days of hospitalization, he was able to hug his loved ones on Friday, April 17th.
Elizeu describes his caregivers and experience on his Instagram account, "They look like science fiction movie characters, but, no. The coldness of the costume at no time was a barrier to feeling so much love, affection, respect and a tireless dedication to keep me alive. Despite the gloves, despite the mask and plastic protection on my face, I looked into their eyes and felt, I felt love, for life, love for my life. I confess that several times, while taking care of me, these lab coats would open two holes in the back and spread wings and they would fly like angels back to heaven after each day that alleviated my suffering, but, no. After finishing the work, they asked, looking into my eyes 'do you need something?' and then leave the room through the door. My eternal gratitude to these professionals and my cry to GOD to keep and protect them in this battlefront where they are fundamental." *This was translated to English from his original post.
About Dartmouth-Hitchcock Health
Dartmouth-Hitchcock Health (D-H Health) is a non-profit academic health system primarily serving New Hampshire and Vermont as well as patients from across New England. As the largest health care system and employer in New Hampshire, D-H Health is an integrated health care delivery network of providers and member organizations with the same commitment to provide the highest quality of care to the nearly 2 million community members we serve throughout the region.