In This Section
Base Camp COVID: Dartmouth-Hitchcock Health CEO and President Tours COVID-19 Unit
By

Audra M. Burns

May 1st, 2020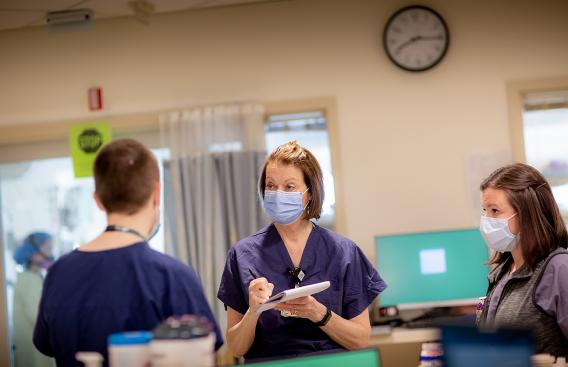 When Joanne M. Conroy, MD, joined Dartmouth-Hitchcock Health as CEO and President in August, 2017, she quickly established "Joanne's Journal," a weekly staff update covering topics that range from updates on internal initiatives to her insights on topical issues. This week, Dr. Conroy took her notebook and observation skills to visit Dartmouth-Hitchcock Medical Center's (DHMC) Medical Intensive Care Unit (MICU), where critically ill COVID-19 patients are cared for. Tucked away on the third floor of DHMC's 390-bed facility, she had the chance to experience the work flow, challenges in communicating through closed doors, resources needed and challenging work of caring for COVID-19 patients. She reflects on her experience in this week's journal entry, published below.
*Dartmouth-Hitchcock Health grants permission for distribution and broadcast of this video file.

Recently, I was invited to visit the COVID-19 Intensive Care Unit (ICU) here at Dartmouth-Hitchcock Medical Center (DHMC). Several of the staff had been approached by colleagues in other departments, wondering, "What is everyone so concerned about?" because the volume of patients has not been as significant compared to other hospitals. The COVID-19 ICU staff thought it would be helpful to share their experience because they want others to better understand the intensity of the work involved in caring for COVID-19 patients and the many COVID-19 PUIs (Patients Under Investigation…people with symptoms who are awaiting results of laboratory testing). These patients are currently cohorted on the third floor (3 East) of the DHMC inpatient tower. We have repurposed our new Neurocritical Care Unit (NCCU) and the adjacent 3 East Unit for intensive care for this population. Those patients that do not require intensive care are moved to 2 East.
When a large portion of the hospital is far removed from the challenges of caring for these patients, sharing direct experiences does bring validation to those who are on the front lines. It is important for all staff to understand that while our total COVID-19 patient numbers may be less than other places, Dartmouth-Hitchcock Health (D-HH) is indeed being impacted like the rest of the country.
Here's what it's like to care for a COVID-19 patient at DHMC
On any given day, the number of COVID-19 patients averages between 10 to 30 positive and PUIs. It has become far easier now that we receive results from tests within 24 hours. Most of the results for PUIs come back around 3 in the afternoon setting off a flurry of activity to send the now non-COVID-19 patients to another floor and to get ready for a new wave of admissions.
Staff have been floating from other units so everyone can acquire the skills they need should we move from a Level 2 Surge Plan to Level 3, which would involve nearly doubling the ICU capacity to care for COVID-19 patients.
The teams working in the NCCU are transplants from the Medical Intensive Care Unit (MICU), and they have been here since we admitted our first COVID-19 patients. No one on the team said no to the commitment. While caring for the first patient, they were not sure about what the bedside demand would be so one of the nurses suited up in their personal protective equipment (reusable gowns over hospital scrubs, gloves, PAPR or 7700 respirator and face shield) and stayed in the room for a two-hour shift. If you have ever worn a 7700 respirator for that period of time…you know that it is hot and sweaty! The average COVID-19 patient's care team has 20 to 30 PPE changes a day.
The team is a bit more relaxed now since they have cared for a number of patients, and organize their work so they can multitask when they enter a patient's room to titrate medications (monitoring dosages), adjust ventilator settings and assess status. The biggest challenge is when a patient cannot be oxygenated effectively and needs to be flipped to a prone position for approximately 12 to 16 hours per day. This has to be done with the ventilator attached…to disconnect the patient from it would result in loss of positive airway pressure that is helping to keep the small airways open, blood oxygenated and the patient alive. It takes at least seven people to flip a patient, including a combination of physical therapists, respiratory therapists, nurses and even some of our orthopaedic residents who all make up the newly created "proning" team dedicated to our COVID-19 patients.
The virus has changed their work practices. Staff has had to watch their patients in distress when there was a break in the seal of the mask or an endotracheal tube (which is the tube that connects the trachea to the ventilator) while they take the necessary time to don their PPE. These patients can get sick really fast…and can go from looking very comfortable on a nasal cannula (a device to deliver supplemental oxygen) to decompensating quickly as they rapidly develop acute respiratory distress syndrome known as ARDS.
We do have an airway team that manages the intubations, which is when an endotracheal tube is inserted through the mouth and then into the patient's trachea so they can be placed on a ventilator. The reason to have a dedicated team is that airway manipulation can be a source of the virus spreading, and if these patients are treated with an "ambu" (a bag and mask manual means of ventilation) it spews the virus out from the patient's mouth and nose as air is forced into their upper airway.
Getting creative
The staff has become very creative. With our no visitor policy, across the hospital, the staff are using iPads inside the rooms so patients can FaceTime with their families. In the Emergency Department (ED), patients who are PUIs are evaluated in a separate area, and staff is using iPads so consultants can evaluate a patient and take a history from outside the room.
One of the COVID staff created pre-made supply bags to cut down on preparations before staff enter a patient's room. If they forget something once in the room, they've learned to write backward on the glass door to ask for help. They have even perfected the process of taking X-rays through the glass walls to avoid having both the technician and the X-ray machine in the room…and the images are surprisingly good!
One of the ED physicians, Matt Roginski, said that the intensity of effort is tremendous. They have to be thoughtful of every intervention because these patients can become critically ill so fast that it is breathtaking. You have to be prepared for it. We are fortunate that only one D-HH patient has died, given that the mortality rate for intubated patients is quite high. The ICU staff have been exchanging experiences with colleagues at Maimonides Medical Center, which has been hard hit in the New York City area.
The challenges
The intensity of care is experienced not just in the ED, and in the ICU…even our emergency transport team, DHART, has had to develop a process for management and post-transfer decontamination of the ambulances and helicopters to protect each other, and the next patient.
Julia West, MD, and Amelia Kerner, MMS, PA-C, had a patient who tried to extubate himself. The intensivists try to lighten the sedation to allow patients to assume part of their respiratory effort, which is a precarious part of their recovery. Some patients become delirious as they emerge from their sedation. In one case, a patient had his hand on his endotracheal tube, and his nurses had to resist rushing into the room (as they would normally do) because it would put themselves and their colleagues at risk. So while they tried to distract the patient from the window, someone quickly suited up.
Laura Lornitzo, RN, and Chelsea Whitney, RN, said that to prepare for the surge, the core MICU nursing team is hosting a wide variety of re-deployed hospital staff whose home departments are either closed or drastically less busy than normal. To be able to welcome this extra influx of trainees while continuing to give excellent care to very sick patients in a foreign physical environment speaks volumes of the MICU nurses' commitment.
Jeff Munson, MD, who is the medical director of the COVID-19 Unit, said that things have changed dramatically over the last few weeks. "There was initially a lot of uncertainty and distress about PPE supplies, but now that we have addressed much of that, the level of anxiety has decreased." They have learned to be extra kind to each other. Because of the required processes to keep everyone safe, there are frustrating times. Masks get in the way of lots of things, such as communication and expression of emotions. People are heartbroken about restricting visitors…and need to give one another permission to be angry or frustrated. Not once, has Jeff seen a caregiver even hesitate to do what was needed. They have rolled with every change from Incident Command (IC) and learned to respect the rapidity of the IC decision-making process. They understand that this is a new and evolving environment. It is really impressive the amount of work that has been accomplished in just a few weeks:
Care protocols
PPE guidelines
Testing guidelines
Associated checklists
Staff training
Crisis standards of care
It has all been in service of being proactive, not reactive, and having the right processes in place to do things right.
Hillary Way, APRN, said that it has been tough to respond quickly to changing guidelines…and that this will most likely continue to evolve. They frequently talk to families of patients, and they can hear the pain in their voices.
Some staff have made personal decisions to limit exposure to their own families. When they do see their families, they think about their patients who cannot enjoy the warm presence of their loved ones. Each and every one of the staff I visited with talked about stress…you can choose one of two paths…you can go to your "wit's end" or you can join together. This COVID-19 team has chosen the latter!
Laura Lornitzo, RN, the nurse manager, has been so impressed by the ingenuity and the bonding that has taken place. "This was a great MICU team to begin with and they have become even more cohesive. They have stepped up their skills and fostered a welcoming and warm learning environment."
One of the toughest challenges of this environment is that because we need to restrict visitation for everyone, staff are often taking the place of family throughout the facility. An ICU fellow and a nurse worked together to provide end-of-life medications and held the hand of a dying patient who couldn't be with her family. They worry about how to communicate effectively with families who can't be present at the hospital. Not surprisingly, they have met with many families who are worrying about the ICU team, asking how they are doing. However, the staff remains courageous and resilient in this uncertain and quickly changing environment.
Preparing for the future
Our epidemiologists have been modeling surge possibilities, and the models have become more refined as we integrate our own data in addition to the national experience. The variables we look at include:
Population.
Date of the first hospitalized patient.
Date when social distancing measures were implemented.
Percent reduction in COVID-19 positives after these measures.
Current number of hospitalized COVID-19 patients.
Number of patients that have to be admitted to the ICU.
Our D-HH COVID-19 length-of-stay for the ICU and non-ICU care is shorter than in the published literature. If we substitute the lower length-of-stay, the peak date is slightly earlier (by one week), and the peak census is lower (about a 25 percent reduction in peak hospitalization census, and a 40 percent reduction in peak ICU census). This is a math major's dream! HealthData.org is the most popular data source...not surprisingly, it is also the most optimistic one. According to this analysis, we have already seen our surge. Right now, these models are at best educated guesses...but the increase in cases can be tracked. So, whatever model we think is most accurate, the surge (or mini-surge) should not be a surprise. In none of the projections, do we exceed capacity from a bed, PPE or staff resources with the current surge plans.
Our experts' assessment:
We will not peak until the summer/fall.
We should peak at a COVID-19 hospital census of 76 patients (34 in the ICU, 22 vented).
We will continue to run numbers weekly.
This supports moving toward increased non-COVID-19 operations.
With the outstanding work of our Incident Command, providers, nursing teams and support staff, we feel ready to manage whatever COVID-19 throws at us!
About Dartmouth-Hitchcock
DARTMOUTH-HITCHCOCK HEALTH (D-HH), New Hampshire's only academic health system and the state's largest private employer, serves a population of 1.9 million across Northern New England. D-H provides access to more than 2,400 providers in almost every area of medicine, delivering care at its flagship hospital, Dartmouth-Hitchcock Medical Center (DHMC) in Lebanon, NH. DHMC was named in 2019 as the #1 hospital in New Hampshire by U.S. News & World Report, and recognized for high performance in 13 clinical specialties and procedures. Dartmouth-Hitchcock Health also includes the Norris Cotton Cancer Center, one of only 51 NCI-designated Comprehensive Cancer Centers in the nation; the Children's Hospital at Dartmouth-Hitchcock, the state's only children's hospital; affiliated member hospitals in Lebanon, Keene, and New London, NH, and Windsor, VT, and Visiting Nurse and Hospice for Vermont and New Hampshire; and 24 Dartmouth-Hitchcock clinics that provide ambulatory services across New Hampshire and Vermont. The D-H system trains nearly 400 residents and fellows annually, and performs world-class research, in partnership with the Geisel School of Medicine at Dartmouth and the White River Junction VA Medical Center in White River Junction, VT.