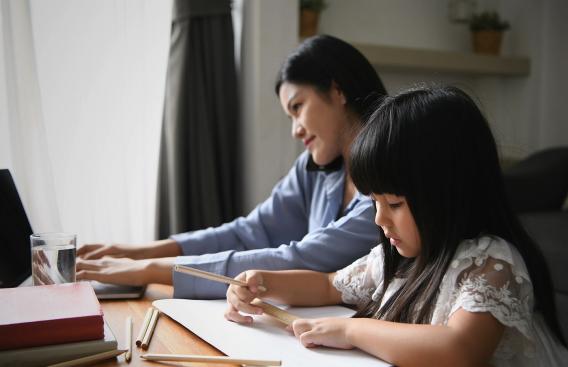 COVID-19's impact on daily life continues to make its mark. Dartmouth-Hitchcock (D-H) recognizes the challenges facing parents and children as they navigate the new normal of homeschooling, social isolation and absence of peer activity. The "Heads Up: Coping through COVID-19" webinar series provides strategies and tips for juggling responsibilities and maintaining health and wellness during this unprecedented time.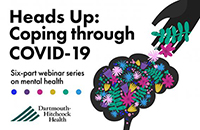 The first webinar focused on parents of infants through sixth graders, and featured the expertise of Erin Barnett, PhD, child psychologist and assistant professor of Psychiatry, Dartmouth Geisel School of Medicine, and Caroline Christie, MSW, clinical social worker, Dartmouth-Hitchcock Medical Center (DHMC) Intensive Care Nursery.
Coping with anxiety, homeschooling, working and more
Survival Tips
Explain to kids they're safe at home and are protecting others who could get really sick.
Do your best with homeschooling. Choose your relationship with your child over battles.
Mix-up the schedule with music, going outside and setting up FaceTime or Google Hangout sessions with friends and family.
Praise your kids in good moments: when they are kind, helpful and work hard.
New moms should focus on eating, hydrating and getting a boost of energy by going outside–and share how they're feeling with others.
Contact your health care provider if you are struggling with anxiety, depression, substance misuse or addictions, like online shopping or excessive eating.
The webinar kicked off with tips on parent-child communication. It's important to discuss the current situation with children in terms they can understand, based on their age. Explain that COVID-19 is like the cold or flu for children, but more dangerous for older people. Emphasize they are safe, and everyone is staying home to protect people that might get really sick. Keeping it brief and simple will reduce anxiety for you and your children.
"We are meant to be in villages, and this social isolation is really hard on us. I've been talking to people about how, if we were to design an environment that made people depressed and anxious, this would be it," Barnett said. "We would say, 'Stop working or be isolated in your work,' which reduces a purpose in life and reduces social companionship. We'd say, 'Don't go out and enjoy activities, don't see friends, don't have routines, don't get out of the house–but do worry about the safety of your family, and do add an immense amount of stress to you and your children.'"
Remember that everyone is anxious right now as they juggle their various responsibilities, especially those dealing with job loss. We are working from home, doing more housework and meal preparation, and simultaneously helping children with schoolwork, staying in touch with their friends and refereeing sibling rivalries. The stress, combined with loneliness and being disconnected from others, puts people at higher risk for substance misuse and other addictions.  
Barnett encouraged parents to do their best and stay connected to themselves. Don't worry about things like too much screen time, or focusing too hard on homeschooling on days when it just isn't working for your child. Give up the battles, praise children in their good moments and connect with family and friends as much as possible. 
Bringing home baby during a quarantine
Families with new babies are not able to receive crucial in-person support of family and friends due to the pandemic. According to Christie, one in seven women have postpartum mental health issues, but experts believe this number is likely higher under these current circumstances. Typically, new moms have close family and friends to help with meals, housework or just simple visits to check-in and discuss the birth experience and daily feelings. Without this support, mothers may be keeping anxiety to themselves.
"We're supposed to come home and be overjoyed and completely fulfilled, and that's just not true," Christie says. "And if you're feeling shame and you speak your truth, that shame can't survive. It really survives in darkness and not speaking."
She emphasizes the importance of having a partner help prepare high protein, quick snacks for the mother, and making sure moms hydrate and get a bit of fresh air daily. If mothers are struggling with anxiety or depression, they should reach out to their primary care provider or obstetrician/gynecologist for support.
Christie fielded a question sent by a viewer at social@hitchcock.org, who was wondering about the effects of social isolation on infants. "That caregiver-infant bond is the foundation for positive development. So I think that focusing on your relationship with the baby, singing to the baby, reading to the baby, the baby will be fine," she answered.  "For now I would focus on the health of the parent and that will translate to the development of the child."
View the webinar in its entirety on the D-H Facebook page or on the D-H  YouTube channel. Additional webinars focused on different age groups and populations are also available for viewing.