In This Section
Helmsley Charitable Trust Funds Dartmouth-Hitchcock to Expand Telehealth across Northern New England
By

Audra M. Burns

May 19th, 2020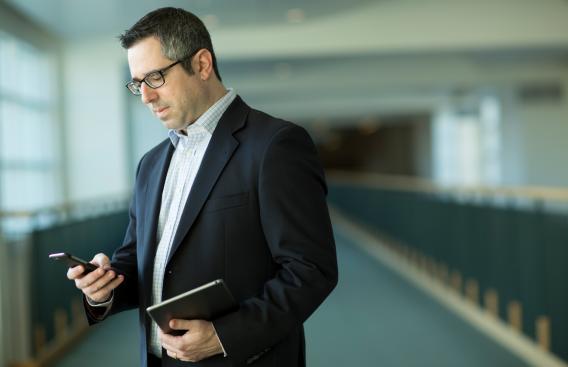 Today, The Leona M. and Harry B. Helmsley Charitable Trust announced a grant of $593,736 to Dartmouth-Hitchcock to improve access to specialty care for people living with Crohn's disease across northern New England. Dartmouth-Hitchcock will expand its current telemedicine program for Inflammatory Bowel Disease (IBD), creating a Virtual IBD Center to extend its Crohn's disease expertise across the region. Based at the Dartmouth-Hitchcock Medical Center in Lebanon, NH, the Virtual IBD Center will serve Vermont, New Hampshire and Maine. 
Nationwide, there is a shortage of specialists for Crohn's disease. This shortage is especially acute in rural communities. Northern New England is no exception. As a result of limited access to gastroenterologists in general, and specifically those with Crohn's expertise, people living in rural regions with Crohn's disease have a higher risk of emergency department visits and hospitalizations compared to those with reliable access to an expert care team. 
With Helmsley funding, the Dartmouth-Hitchcock Virtual IBD Center will expand access to its holistic care for people with Crohn's disease and ulcerative colitis. This will include gastroenterologists with expertise in Crohn's disease management and treatment, a Crohn's disease nurse coordinator, and additional support from a psychologist, dietician, and a pharmacist. 
"Living with Crohn's disease is a daily, life-long challenge that requires a team of support to do well. Access to expertise makes an enormous difference in treatment plans, outcomes, and quality of life," said Sandor Frankel, Trustee of the Helmsley Charitable Trust. "Dartmouth-Hitchcock's Virtual IBD Center will offer comprehensive care that meets people where they are, partnering with individuals and their local providers, all enabled by technology, and can serve as a model of care for others." 
Led by Dartmouth-Hitchcock's Section Chief of Gastroenterology and Hepatology, Dr. Corey A. Siegel, this project was planned in late 2019 and early 2020 to address the needs of a widely dispersed rural patient population, and is now all the more timely in light of the COVID-19 pandemic, which has demonstrated the tremendous value of telemedicine to bring care to people wherever they may be. 
"As a physician, I've dedicated my career to building an expert team to help as many people as possible lead healthy lives. By leveraging telemedicine, we can extend the reach of the care my team and I provide," said Dr. Siegel. "Too often, people living with Crohn's come to our clinic after they have already endured too much suffering. The best way to treat Crohn's disease is to be proactive and out in front of the disease as opposed to treating the complications that Crohn's can cause. This requires a team of providers focusing on all aspects of how Crohn's can impact people living with this disease. The Virtual IBD Center will make a great stride towards increasing access to this support."
"Helmsley is committed to ensuring that geography does not limit a person's access to the health care that they need to thrive," said Pretima Persad, Program Officer of the Helmsley Charitable Trust. "A decade ago we were among the first foundations to invest in telehealth, and it's a milestone moment for Helmsley to extend support for this 21st century model of care to those living with Crohn's disease."
                                                                                                         ###
About the Leona M. and Harry B. Helmsley Charitable Trust
The Leona M. and Harry B. Helmsley Charitable Trust aspires to improve lives by supporting exceptional efforts in the U.S. and around the world in health and select place-based initiatives. Since beginning its active grantmaking in 2008, Helmsley has committed more than $2.5 billion for a wide range of charitable purposes. Helmsley's Crohn's Disease Program supports impactful ideas and mobilizes a global community committed to improving the lives of Crohn's disease patients while pursuing a cure.  For more information, please visit helmsleytrust.org.
About Dartmouth-Hitchcock
DARTMOUTH-HITCHCOCK HEALTH (D-HH), New Hampshire's only academic health system and the state's largest private employer, serves a population of 1.9 million across Northern New England. D-H provides access to more than 2,400 providers in almost every area of medicine, delivering care at its flagship hospital, Dartmouth-Hitchcock Medical Center (DHMC) in Lebanon, NH. DHMC was named in 2019 as the #1 hospital in New Hampshire by U.S. News & World Report, and recognized for high performance in 13 clinical specialties and procedures. Dartmouth-Hitchcock Health also includes the Norris Cotton Cancer Center, one of only 51 NCI-designated Comprehensive Cancer Centers in the nation; the Children's Hospital at Dartmouth-Hitchcock, the state's only children's hospital; affiliated member hospitals in Lebanon, Keene, and New London, NH, and Windsor, VT, and Visiting Nurse and Hospice for Vermont and New Hampshire; and 24 Dartmouth-Hitchcock clinics that provide ambulatory services across New Hampshire and Vermont. The D-H system trains nearly 400 residents and fellows annually, and performs world-class research, in partnership with the Geisel School of Medicine at Dartmouth and the White River Junction VA Medical Center in White River Junction, VT.