Photography by

Mark Washburn

December 12th, 2013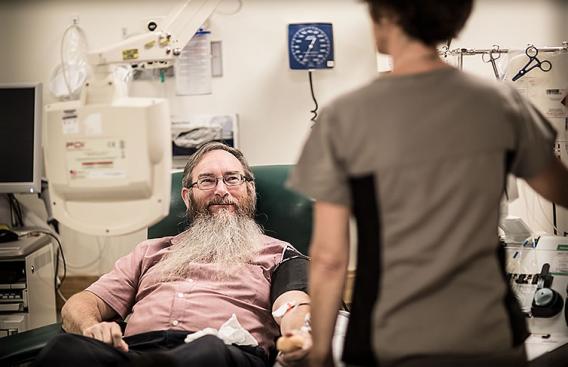 There is a sense of doing something right and all you have to do is lie there and squeeze a little ball, that's it.
They never set out to be role models; it's likely they will never be honored as heroes. Yet, with quiet nobility, every few weeks they give strangers the possibility of a better or longer life. The chances are, that because of them—and others with the same magnanimity and dedication—the life of someone in your community, or even in your very family, has been, or will be saved.
A retired Marine master sergeant and current outreach volunteer; a piano restorer and music instructor; a married police chief; a heavy equipment mechanic and driver; a fundraiser for Geisel School of Medicine at Dartmouth College and Dartmouth-Hitchcock. What do these men have in common? They care. They give. They make the time.
Blood donors often play a silent yet crucial role in patients' lives. They donate whole blood, platelets, or plasma that is used for surgical procedures, cancer treatments, and innovative research. However, the closest a patient generally comes to a donor is a tethered bag of healthy donated fluid coursing through their veins when their very life may depend on it.
Throughout this holiday season we will highlight just a few of the names, faces and lives that are represented in each drop of the precious lifesaving donations. Come back over the next few weeks and meet five of the Dartmouth-Hitchcock Blood Donor Program dignitaries.
Dignitary: one who possesses exalted rank or holds a position of dignity or honor
Merriam-Webster.com
Donation: the making of a gift; a free contribution
Merriam-Webster.com

Name: Dean Peel
Age: 58
Profession: retired Marine master sergeant/OSHA compliance officer; currently a fulltime outreach volunteer who ministers to inmates at state prisons, drives disabled veterans and "makes what I hope is a joyful noise" at eldercare facilities.
Status: single
Donates: platelets
Frequency: every three weeks
History: The first time I gave was in college in 1974. A friend wanted to beat his father's record for blood donations and wanted his friends to go along. Since then if I could I would when I thought about it. Then I started giving at D-H and have donated regularly since 2011.
The process of giving: The actually sticking of the needle is no pain for me. Sometimes I might have a bit when they are trying to make an adjustment. The most pain is when they are removing the bandage that holds the needle in place off my hairy arms.
I read the standard questions they need answered before donating, because I think it's quicker than listening to the audio. Dartmouth-Hitchcock uses a one-arm technique for the process that works better for me because I used to go somewhere that used both arms. The donation takes about an hour and a half. I usually watch TV or bring a book. The drawing is about 45-50 minutes, and then I have some snacks and liquids. It's worth putting up with 30 seconds of discomfort to save someone's life. They often offer gifts for donors, but just doing the donation itself is enough for me.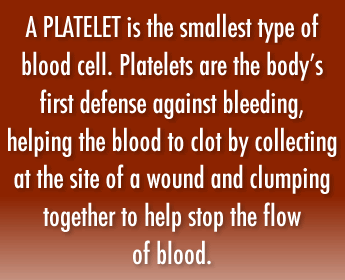 Why do you donate, and why should anyone else? Because I can. There is a sense of doing something right, and all you have to do is lay there and squeeze a little ball, that's it.
Close to home: My brother had serious health issues and had his care at D-H. That's when I found out it was the closest place for me to donate.
Other thoughts:There's the thought that everyone should try some type of service or volunteering within the community. Well, I would say try this. It's a whole lot easier and a whole lot less time. And you don't have to do anything—and then you get free snacks.