In This Section
Dartmouth-Hitchcock Now Offers In-house COVID-19 Antibody Test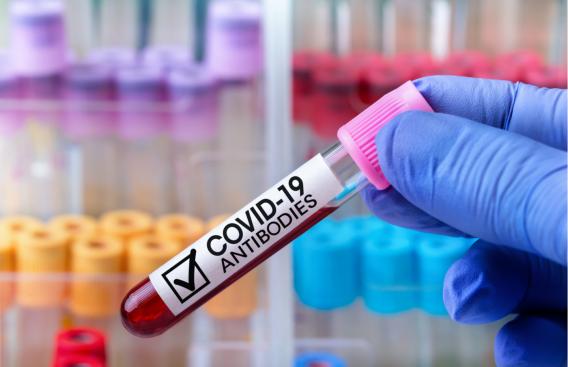 We don't know at this point whether patients who have antibodies can get re-infected, nor how long the present antibodies last. Just because somebody has antibodies it doesn't mean they can disregard safety recommendations.
Jacqueline Hubbard, PhD
Dartmouth-Hitchcock (D-H) conducted an urgent yet thorough in-house review of COVID-19 antibody tests, and is now offering antibody testing using a method with optimal performance characteristics.
The process has been led by Robert Nerenz, PhD, and Jacqueline Hubbard, PhD, assistant directors of Clinical Chemistry at Dartmouth-Hitchcock Medical Center. The team identified two finalists from a large pool of available test methods and compared them head-to-head to identify the method that met all performance and logistical criteria. Performance characteristics include sensitivity—ability of the test to detect antibodies present in the blood after a person recovers from COVID-19 infection, and specificity—the ability of the test to give a negative result in people who have not had a COVID-19 infection.
"The distinction is important because there are lots of different coronaviruses," says Nerenz. "It was important that we would get a negative result if a person had not been infected by COVID-19, and we would get a positive result if a person had been infected by COVID-19, and that positive results were caused by this particular coronavirus rather than another infectious agent." In the manufacturer's hands, the test had a sensitivity of 100% at least 14 days after molecularly confirmed disease and a specificity of 99.8% from more than 5,000 specimens collected before the COVID-19 outbreak.
Typically, a validation like this takes between four and six weeks. "We were fortunate to have very dedicated lab technicians who were willing to put their lives on hold and work around the clock which helped move the process along and make the test available for patients in nine days," says Hubbard. This particular test was also granted Emergency Use Authorization by the FDA, a pared-back approval process used in urgent situations.
D-H Hospital Epidemiologist and Infectious Disease Physician Antonia Altomare, DO, MPH, notes that rarity of disease within a population can affect test accuracy rates. "When interpreting the results you have to take into account the prevalence of disease. A positive test result is more likely to be a false positive when looking for a disease that is relatively rare in a given population. So a positive test result from someone in an area with a high number of COVID-19 cases, like New York City, may be interpreted differently than someone in New Hampshire, where the number of cases is lower."
COVID-19 antibody results can be generated within an hour of a blood sample collected at any Dartmouth-Hitchcock Health phlebotomy station arriving at Dartmouth-Hitchcock Medical Center in Lebanon, while results take a few days to be returned from a commercial lab. Specific to home test kits, errors in collection, storage and transportation of the specimen can cause misleading results, even when using the best methods for antibody detection. "Because so many commercial test kits were popping up, and urgent care facilities were offering testing and the state was recommending it, we wanted to have a method at our fingertips for when our patients and their providers would ask about it," says Altomare.
Antibody testing is used only to measure the body's ability to mount a response to the COVID-19 infection. That information can be used clinically in one of three ways:
To evaluate the suitability of people who have had a documented infection to then donate convalescent plasma to be used in the treatment of other COVID-19-positive patients.
To provide a sense of how many people in a particular population or region have had the virus and mounted an immune response, and whether attempts to slow the spread have been effective.
To satisfy curiosity of individuals who think they may have had COVID-19 but did not undergo diagnostic testing while they were sick.
Hubbard emphasizes that antibody testing does not impact clinical management of patients with COVID-19. It is not meant to diagnose an active virus, nor meant to grant immunity. "We don't know at this point whether patients who have antibodies can get re-infected, nor how long the present antibodies last," says Hubbard. "Just because somebody has antibodies it doesn't mean they can disregard safety recommendations such as wearing masks, washing hands and social distancing. People still need to follow the guidelines, such as when to return to work, etc. The presence or absence of antibodies doesn't change that."
A patient's decision to get tested should be through conversation with their physician. "The first step is for patients to talk with their providers about the reasons for testing and for providers to make sure their patient understands what the test result can and cannot tell us," explains Nerenz. "If the patient wants to undergo testing and their provider is willing to place an order, then it works like any other clinical blood test."
Once more is known about what an antibody response means, serologic testing could be useful to make statements about immune status or response to vaccination when one becomes available. But such information for COVID-19 may be many months or years down the road. "We're gathering data at this point, trying to determine the rate of positive tests and laying the groundwork for what the future might hold as research continues," says Altomare. Adds Nerenz, "Once we know how these antibodies work, how long they stick around, if they're able to neutralize the virus, then there may be a role for antibody testing in determining immunity. Right now, an antibody test can tell us if antibodies are present and that's it."
About Dartmouth-Hitchcock Health
Dartmouth-Hitchcock Health (D-H Health) is a non-profit academic health system primarily serving New Hampshire and Vermont as well as patients from across New England. As the largest health care system and employer in New Hampshire, D-H Health is an integrated health care delivery network of providers and member organizations with the same commitment to provide the highest quality of care to the nearly 2 million community members we serve throughout the region.