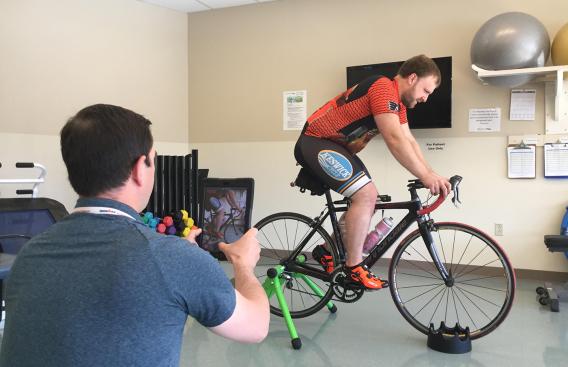 It's more than a bike fit—it's a fit from a medical professional who understands both bike fitting and the biomechanics involved that can lead to injury.
Matthew Geary, PT, DPT
Dedicated bicyclists, and even those new to the sport, may encounter periods of pain while cycling. Physical therapists at Dartmouth-Hitchcock (D-H) Heater Road in Lebanon have a solution. Avid cyclists Matthew Geary, PT, DPT, and Laura Jorgensen, PT, DPT, have launched a medical bike fitting program. To participate, all you need is a physical therapy referral.
The program features an assessment both on and off the bike. Cyclists bring their bikes to the Heater Road Clinic for a 90-minute physical therapy evaluation. The session starts with an assessment of the individual's overall mobility and strength off the bike, followed by a biomechanical assessment using an indoor bike trainer. With the cyclist riding their bike on the trainer, the physical therapist records a video to analyze the cyclist's posture and movements. Using the results of both assessments, the physical therapist is able to make needed bike adjustments and suggest exercises to address any underlying problems.
"In talking with patients over the years, many mention they have pain while riding or they avoid cycling because of pain," explains Geary. "It's often a mechanical issue we can fix when traditional bike shop solutions aren't working."
Geary has been bike fitting for 10 years, and received clinical certification from BikeFit. Jorgensen has extensive cycling experience and is currently seeking certification; once completed, she will do bike fits as well. "If a cyclist with an injury wants to get evaluated by someone with cycling experience, this is a good place to go," Geary says. "It's more than a bike fit—it's a fit from a medical professional who understands both bike fitting and the biomechanics involved that can lead to injury."
The bike fit is a single visit and is billable through insurance like any other physical therapy session. If the physical therapist determines the cyclist requires additional physical therapy, those visits can be scheduled with D-H or another provider.
Stronger bodies, fewer injuries
Tips for Cycling Injury Prevention
Make sure your bike fits you well.
Visit BikeFit.com for a Foot Fit Calculator (shoes to pedals) and tips on equipment for a better fit, like pedal extenders and wedges.
Stretch prior to and following riding.
Cross-train with weight-bearing exercises like hiking, running or walking to prepare for longer rides and races.
If you experience any pain while riding, consult a physical therapist (preferably one with cycling expertise) for assistance.
Improper positioning and lack of mobility or strength can lead to cycling injury. "Number one, you need an appropriate-fitting bike—and the combination of flexibility and mobility to assume a comfortable posture on the bike," says Jorgensen. "Number two, you need the strength and endurance to be able to maintain that position over a long period of time."
Jorgensen often sees cervical spine and shoulder issues among her cycling patients, as well as low back pain, which often are a result of poor endurance or a lack of mobility elsewhere in the body. "When you're lacking flexibility and strength, you'll try to make up for it somewhere in your body to keep your wheels moving and your eyes on the road. Especially when you're tired, it's easy to fall into old habits," Jorgensen says.
Jorgensen recommends physical therapy as well as strength and flexibility exercises that help cyclists achieve and maintain comfortable posture on the bike. Once taught the proper way to perform these exercises, they can be done regularly at home. But, "If cyclists have symptoms like severe numbness or tingling in the feet or hands while riding—or if they've experienced a fall or other trauma—they need to see a provider," Geary says.
For more information or to schedule a bike-fitting appointment, call (603) 650-3600. The scheduling staff member will provide details on visit requirements.