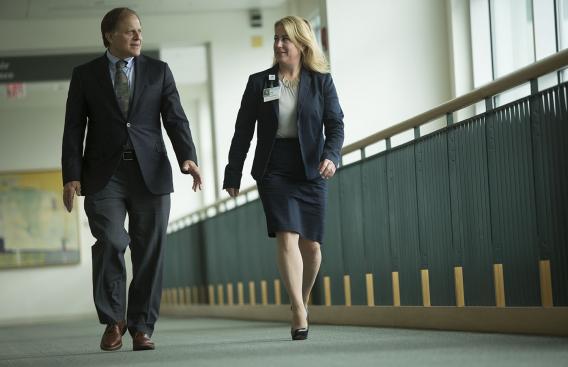 As an academic medical center, Dartmouth-Hitchcock (D-H) has a three-pronged mission—patient care, clinical research and education. Medical Director of Research Operations Richard I. Rothstein, MD, and Vice President for Research Operations Leigh Burgess, MHA, MEd, MA, serve as a bridge to D-H's partners within the Geisel School of Medicine at Dartmouth, D-H's Norris Cotton Cancer Center (NCCC), the Dartmouth SYNERGY, The Dartmouth Institute for Health Policy and Clinical Practice (TDI) and Dartmouth's Thayer School of Engineering. They will be working in close collaboration with Chief Nursing Executive Susan Reeves, EdD, RN, who was recently named the senior leader responsible for our research and education efforts. Reeves, Rothstein and Burgess are now concentrating on helping D-H sharpen its focus on research.
"We have an extraordinary opportunity to build an effective infrastructure for research within D-H and to reinvigorate our academic mission," says Rothstein, a gastroenterologist who is the Joseph M. Huber Professor and Chair of the Department of Medicine, and the senior associate dean for Clinical Affairs at Geisel. "That's exciting for me, for our researchers and for our patients, since the research we do should ultimately improve the lives of the people in our region and beyond."
To help build this infrastructure, Rothstein recruited Burgess, "a sophisticated VP for research operations," to D-H from the Duke Cancer Institute. She started her new role in January 2017 and is responsible for providing strategic vision, direction and the day-to-day management and oversight of all research operations, including clinical trial activities occurring at D-H. She also provides support and guidance to affiliated Dartmouth institutions that are conducting clinical research.
"There has always been a focus on research at D-H, but now there is a point person engaged in intentional planning and strategy across the entire research continuum," says Burgess. "We are very active in clinical research. My responsibility is to strengthen our strengths and focus in on the interplay of clinical and research operations so that we can help translation (editor's note: translational research uses knowledge from basic sciences to produce new drugs, devices and treatment options for patients) get from the laboratory bench to the patient bedside faster, and ultimately give our patients more options. I'm really excited about the opportunity to be a part of this work."
D-H and Geisel currently have 544 active research studies that are enrolling patients. NCCC is conducting the largest number of studies with more than 177 while the Department of Medicine has 138 studies actively enrolling. To date, in calendar year 2017, there have been over 2200 enrollments and 166 new studies opened across all divisions/departments. D-H has clinical research units in D-H Lebanon and D-H Manchester, and research is also conducted at regional sites in D-H Nashua, D-H Concord and multiple other sites throughout Vermont and New Hampshire.
"When I visit our basic research labs, I get to see the research being done and how the investigators work with our clinicians," says Burgess. "Then Rich (Rothstein) and I work with our clinical chairs and clinical directors on how to take what our researchers are learning at the bench and advance it into the clinical setting for the benefit of our patients." This bidirectional relationship between the D-H clinical enterprise and the academic one is a focus done together with the important shared institutional resource of SYNERGY, Dartmouth's Clinical and Translational Science Institute, led by Alan Green, MD, as well as the D-H/TDI Collaboratory led by Stephen Bartels, MD, MS. These partnerships have and continue to be integral to driving the advancement of research translation at D-H.
Burgess explains that while D-H formerly had a vice president of clinical research, her expanded research operations role "looks across the entire translational pipeline from basic to clinical to translational research. This enables us to understand all the supporting mechanisms, the shared resources and the financing across the pipeline." Working in partnership with Rothstein, she says the pair will increasingly engage with the clinical chairs and center directors, to "know what research is in the pipeline, how it's performing when it goes from the bench to bedside, how it translates then to scholarly publications and the impact it has on the body of work within a disease area."
Rothstein knows what it is like to be a clinician/researcher since he has been conducting continuously funded research at D-H for more than 30 years. He is currently the principal investigator of a large national study that is examining the endoscopic treatment of obesity through the implantation of a device in patients' stomachs, which changes their appetites and how their stomachs function. Rothstein, in addition to his administrative positions, also still sees patients. "I love that in an academic medical center and system, I can take care of people, create new knowledge that will hopefully help our patients, and transmit and teach that knowledge to learners at all levels," says Rothstein.
In the months ahead, Rothstein, Reeves and Burgess will finish defining D-H's research priorities and designing the budget for "what it will take to do research at a level of excellence that we hold ourselves accountable for in clinical care," says Rothstein. "Leigh, Sue and I are working to be responsible stewards of the resources that will bring us to the highest quality and value in doing academic research and academic activities."
Burgess notes that it is also important to remind the community that D-H is an academic medical center engaged in cutting-edge research that may prove to be a care option for many. "Patients know that D-H offers the highest quality care, but they should also know that the research we do here provides different avenues of care for them," she says.
"Our primary responsibility is to patient care. By studying how we provide that care, by creating the new knowledge about the study of our care, we will impact the future health of our population," Rothstein says. "I often simplify our activities in an academic medical system when I talk to my faculty about our mission: You take care of patients, you study what you do and/or create new knowledge that may prove useful, and then you teach other people about it. By doing this, you raise the level of care throughout the whole region and the rest of the country. I think about this for basic research, translational research and clinical research. All of this is working to increase the health of the population, whether you're studying genes, or a new drug, or how you study the outcomes of a surgical procedure. Whatever you're doing in a study, taking care of people better is at the heart of it."